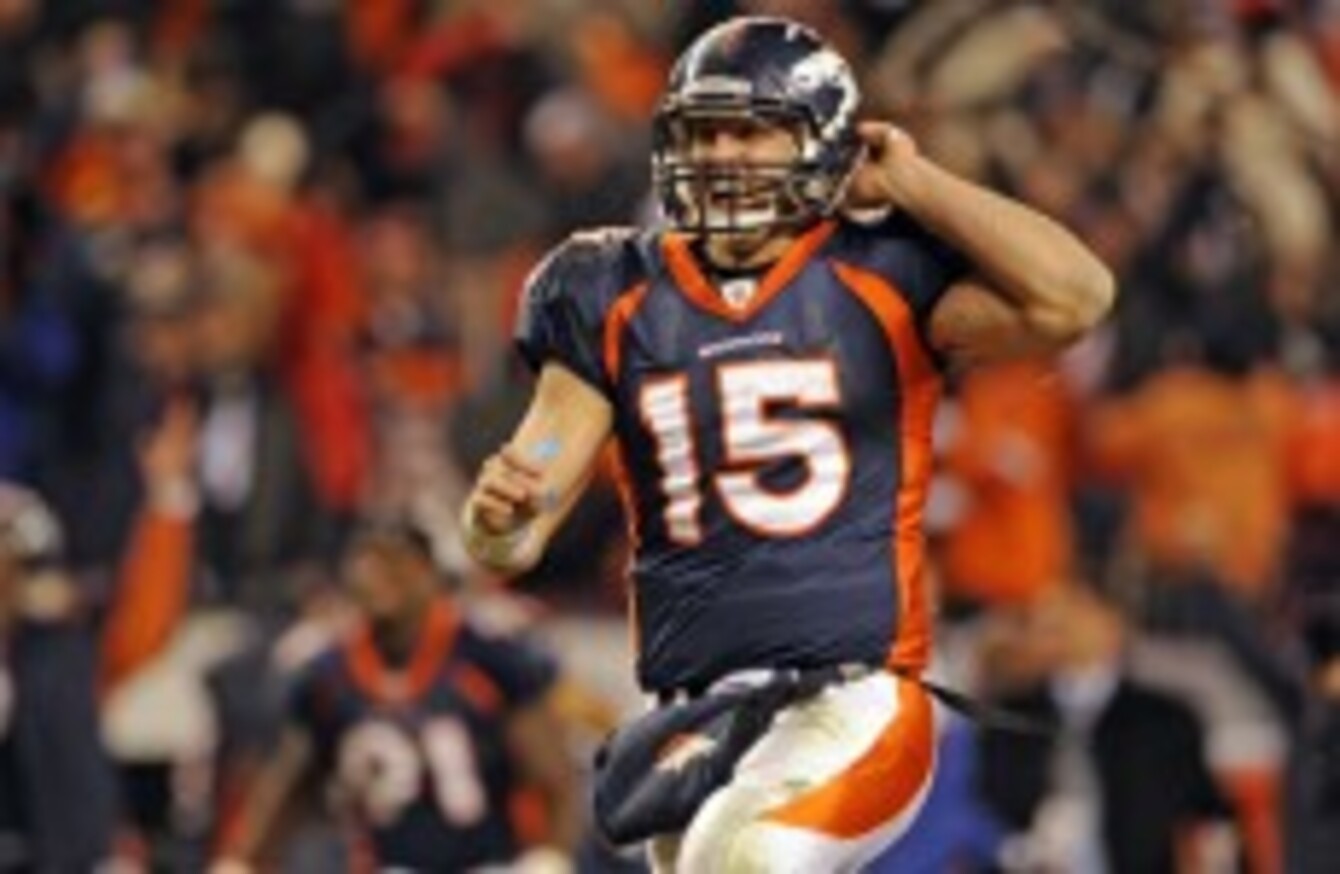 Tim Tebow celebrates the Broncos' dramatic victory.
Image: AAron Ontiveroz/AP/Press Association Images
Tim Tebow celebrates the Broncos' dramatic victory.
Image: AAron Ontiveroz/AP/Press Association Images
'PULL THE TRIGGER,' John Elway told his Denver Broncos star, Tim Tebow, trying to shake the quarterback from a three-game funk.
Tebow went one better — he pulled off an upset.
A rejuvenated Tebow connected with Demaryius Thomas on an electrifying 80-yard touchdown pass on the first play of overtime and the Broncos defeated the stunned Pittsburgh Steelers 29-23 in the AFC wild-card game on Sunday.
Wild doesn't begin to describe it. The play took 11 seconds and was the quickest ending to an overtime in NFL history. It was also the longest overtime touchdown in playoff history.
Thomas hauled in a high play-action pass at the Denver 38, stiff-armed Ike Taylor and then outraced backup safety Ryan Mundy to the end zone.
"I was just saying, 'Man trust your speed. Trust your speed. Don't cut back. Don't cut back.' And he kept it straight. He outran the guy," said Willis McGahee, whose fourth-quarter fumble helped Pittsburgh tie it.
"I was like, 'Oh my God, is he still running?' Please just go. Please. Please."
Tebow, who had done next to nothing in the second half after a 20-point explosion in the second quarter, looked as startled as everyone else. He chased down Thomas and knelt on one knee — Tebowing as it's known — in the end zone while the crowd was going crazy. Then he pounded a fist in triumph and took a victory lap.
"When I saw him scoring, first of all, I just thought, 'Thank you, Lord,'" Tebow said. "Then, I was running pretty fast, chasing him — like I can catch up to D.T! Then I just jumped into the stands, first time I've done that. That was fun. Then, got on a knee and thanked the Lord again and tried to celebrate with my teammates and the fans."
Behind Tebow's season-high 316 yards passing, the Broncos (9-8) are heading to New England for a second-round game against the top-seeded Patriots (13-3) on Saturday night.
The Patriots walloped the Broncos 41-23 last month, sending Tebow into a funk that included seven turnovers and a 40 percent completion clip — and prompting Elway to implore him to "pull the trigger" in the playoffs.
Did he ever.
And unlike Elway, who lost his first postseason start — to the Steelers at home in 1984 — Tebow is 1-0 in the playoffs.
"We're just a fighting team. A lot of resilience," cornerback Champ Bailey said. "In any adverse situation, we'll find a way to get out of it. Everybody says we backed into the playoffs, we're in. We did something right along the way. We're in it. We won a game. Now, we've got to go try to win another one."
The Steelers (12-5) lost despite Ben Roethlisberger rallying injury-depleted Pittsburgh from a two-touchdown halftime deficit with 10 points in the final 10 minutes.
Pittsburgh called tails for the overtime coin toss, and it came up heads.
Tebow, who engineered five fourth-quarter comebacks and three OT wins in the regular season, wasted no time finding Thomas over the middle with just his second pass on first down all night — and his first completion.
Here's the game-winning moment:

YouTube credit: TheRealWWEKingHD
Earlier, the New York Giants routed the Atlanta Falcons to book their passage through.