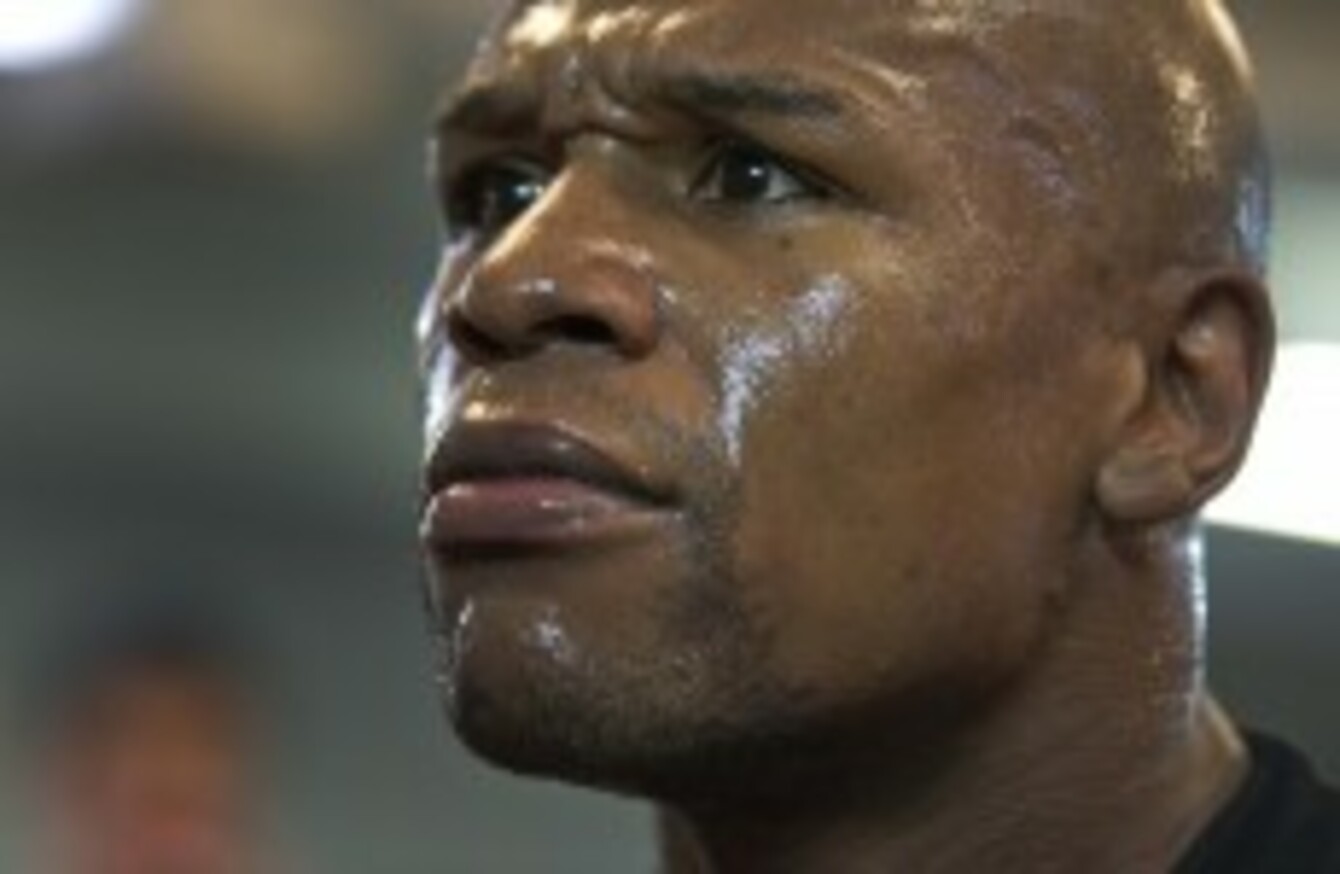 Image: Julie Jacobson/AP/Press Association Images
Image: Julie Jacobson/AP/Press Association Images
JAIL IS LOOMING for champion boxer Floyd Mayweather Jr, who will give up his training schedule, club-hopping and relaxation in his million-dollar country club home after the New Year's holiday to serve a three-month sentence at the Clark County Detention Center in Las Vegas.
Mayweather's lawyers and his promoter-manager wouldn't say yesterday whether the 34-year-old Mayweather will file documents asking a Las Vegas judge to reconsider her decision to sentence the undefeated prizefighter to 90 days in county jail for misdemeanor battery domestic violence and harassment.
Las Vegas Justice of the Peace Melissa Saragosa on Wednesday called jail time appropriate for Mayweather for attacking his ex-girlfriend, Josie Harris, and threatening their two sons while the children watched a hair-pulling, hitting and arm-twisting argument in September 2010 at Harris' home. The judge ordered Mayweather to surrender Jan. 6.
Mayweather got credit for three days previously served in jail and was ordered to complete a yearlong domestic violence counseling program, 100 hours of community service and pay a $2,500 fine.
Jail will upset the routine of a man characterized by his defense lawyer as fastidious and "meticulous in how he presents himself," who practices and works hard, and whose "off then on" relationship with Harris is sometimes volatile.
Harris, now 31, lives in the Los Angeles area with the couple's two sons, now 12 and 10, and a daughter age 8. Harris' lawyer, Charles Kelly, declined to say what city they live in.
Las Vegas police administer the high-rise Clark County jail in downtown Las Vegas. Officer Bill Cassell said Thursday that as a high-profile inmate, Mayweather will probably be segregated for his protection from the other nearly 3,400 other prisoners — at least for the first week.
Protected inmates are those deemed by jail administrators to be at risk from inmates in the general jail population, said Cassell said.
Prison life
Behind bars, Mayweather will get a standard-issue blue jail jumpsuit with the letters CCDC and orange slippers.
He'll be held in a standard administrative segregation cell, about 6-by-10 feet, or "about the size of a small walk-in closet," Cassell said. Cells have a bunk, stainless steel toilet and sink, a concrete desk with a permanently bolted stool and two small vertical windows.
Former football hero and actor OJ Simpson was housed in a similar cell before and after his 2008 conviction in the armed robbery of two sports memorabilia dealers in Las Vegas. Simpson was allowed to have religious books and up to two other books or magazines. He is now serving a nine-to-33 year prison term at a Nevada state prison in Lovelock.
Cassell said Mayweather will be able to deposit any amount of money into a jail account to purchase snacks, candy, soap and personal hygiene items from the jail commissary. Pop Tarts cost $1. Pencils cost a dime, playing cards $2.50, and bottled water 75 cents. Reading glasses, $7, are the most expensive items available.
During his first week in jail, Mayweather would have about an hour a day out of his cell with access to an exercise yard, Cassell said. Depending on his behaviour, the boxer could later get several hours a day for exercise with other inmates also being held in protective custody.
Living in a cell of some 60 square feet would be a far cry from Mayweather's nearly 12,800-square foot, two-story mansion with two garages, five bedrooms, eight bathrooms and a swimming pool and hot tub. It sits on nearly an acre surrounded by green fairways and leafy trees at the Southern Highlands Golf Club several miles south of the Las Vegas Strip.
Good behavior and work time could knock up to 30 days off Mayweather's sentence, Cassell said, but the time behind bars will cut into training time for a May 5 date that Mayweather's promoters have reserved at the MGM Grand Garden Arena in Las Vegas for a Cinco de Mayo fight against an as-yet unnamed opponent.
The jail sentence also raises doubts about scheduling a long-anticipated fight between Mayweather and Manny Pacquiao, a fight champion from the Philippines regarded — along with Mayweather — as among the best boxers of his generation.
Mayweather returned to the ring in September after a 16-month layoff to win a controversial knockout of Victor Ortiz in Las Vegas, stretching his undefeated streak to 42 professional bouts.