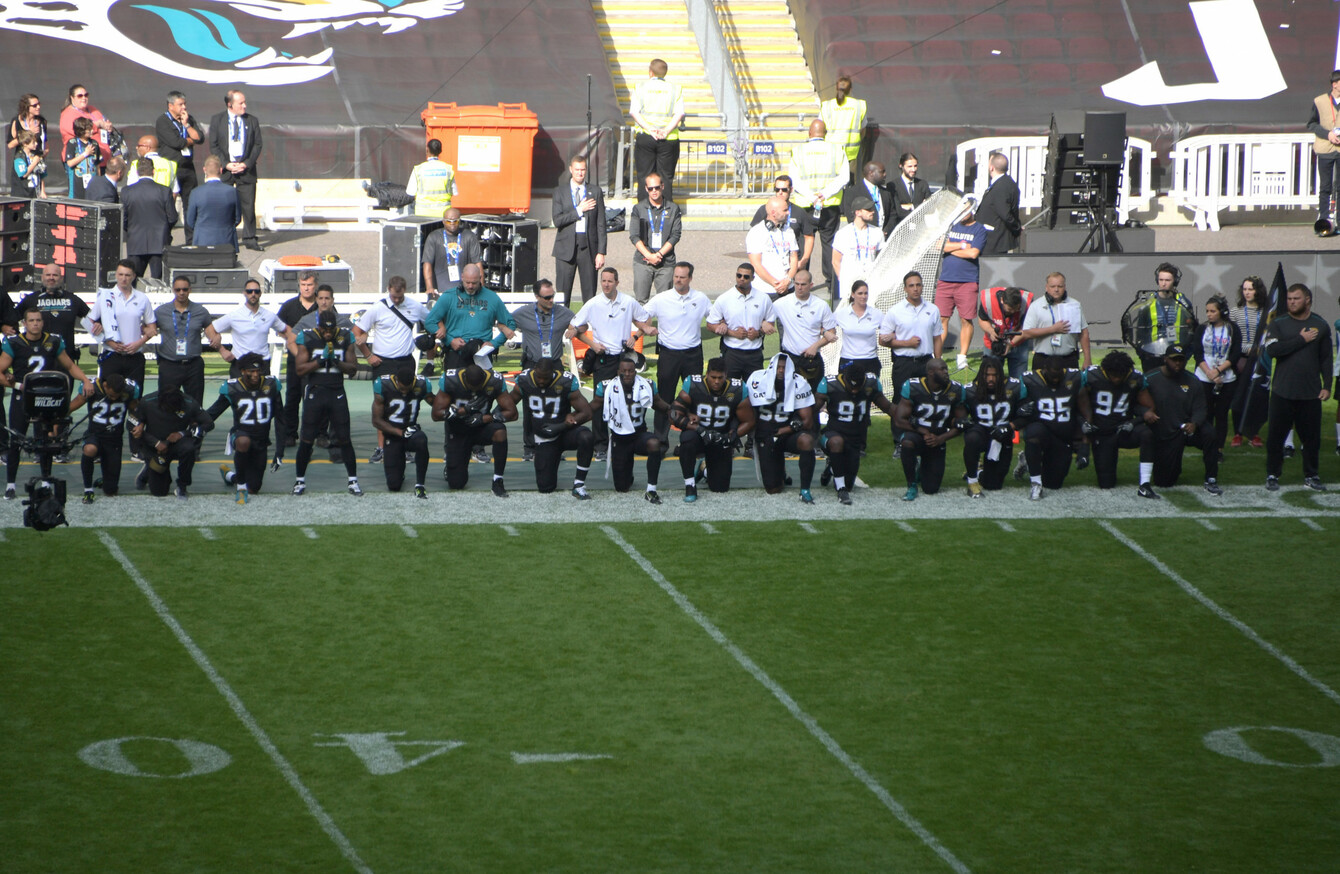 The Jags were the first of many teams to protest during the US national anthem last week.
Image: SIPA USA/PA Images
The Jags were the first of many teams to protest during the US national anthem last week.
Image: SIPA USA/PA Images
WHEN 16-YEAR-old Barbara Rose Jones and John Arthur Stokes walked out of Robert Russa Moton High School in Virginia in 1951, they weren't protesting the syllabus.
When Rosa Parks refused James Blake's order to give up her seat to a white person in Montgomery in December 1955, she wasn't protesting public transportation.
And when Colin Kaepernick first sat during the US national anthem in August 2016, he wasn't protesting the Star Spangled Banner or the US flag.
The former San Francisco 49ers quarterback  — who, following consultation with a US army veteran, Nate Boyer, changed his protest to taking a knee instead of sitting — was instead drawing attention to the treatment of people of colour at the hands of police.
There is police brutality. People of colour have been targeted by police. So that's a large part of it and they're government officials. They are put in place by the government.
"So that's something that this country has to change. There are things we can do to hold them more accountable. Make those standards higher."
Kaepernick's protest continued for the entirety of the 2016/17 NFL season but, since walking away from the 49ers earlier this year — the team is on record as saying they would have cut him anyway — he has yet to find a job.
For most teams — some of whom are relying on quarterbacks who should be paying in to see NFL games instead of getting paid to play in them — not having the 29-year old on their roster is a political decision.
But for the Seattle Seahawks, one of the most progressive teams in the NFL, the decision not to hire Kaepernick after he visited with them earlier this year, was purely a football one.
That's the view of Seahawks beat writer Gregg Bell who works for The News Tribune.
"It was really close to happening," he told The42 this week:
But I think it turned out to be a football decision with the Seahawks not wanting Colin Kaepernick to be sitting behind Russell Wilson.
"They just didn't want to pay multiple millions of dollars to a guy to be a back-up, a quarterback who was in a Super Bowl.
"I really think that's the only reason. They brought him in, they were the first NFL team to bring him in, but they didn't want him to threaten Russell Wilson's position as the clear starter here in Seattle.
"Nobody on the team has ever said that publicly, but that's what I believe from what I've seen."
Seattle, of course, has been at the forefront of NFL protests with defensive end Michael Bennett sitting during the national anthem since he was subjected to what he called racial profiling and excessive force when Las Vegas police detained him last month.
Last weekend, alongside their opponents the Titans, the entire Seattle team stayed in their dressing room during the playing of the national anthem in Tennessee, in protest at Donald Trump's comments calling for NFL players to be fired for that very act.
"It wasn't a huge surprise," says Bell.
"I've been told they decided to stay in the locker room on Saturday night, before the Steelers did it.
"And the Seahawks have really been at the forefront of these protests since last year when Doug Baldwin was meeting with State Attorney-Generals about police reform and police departments about how they could better police and change their laws and policies.
"Doug is son of a current law enforcement officer in Florida.
Michael Bennett has obviously been talking about social issues for years, he's gone to Haiti and Africa to talk about a pipeline disagreement. He's spoken on women's issues and has not stood for the national anthem.
"The focus of this team and the message from [head coach] Pete Carroll has always been 'come to Seattle and be yourself, be the personality you are off the field but be what we need you to be on the field come game day.'
"Now the whole NFL has taken on this charge and Seattle feels like something of an epicentre to it.
"Of course, Kaepernick started all this and Baldwin and Bennett have both spoken to him about it and supported his cause from the start."
As Bell points out again and again, this is not about an anthem or a flag or the military or anything else those criticising NFL players would like to believe. It's about equality, it's about fairness and everything else is just noise.
The message from the likes of Bennett, Baldwin and Richard Sherman has always been, 'Let's not lose sight of why this protest is happening.'
"Their stance has always been that it's not about the anthem or the flag.
Instead, they're using their platform as players and the anthem as a vehicle to deliver their message that the mistreatment of minorities is wrong and that police action against minorities is something that needs reform and that's the message they've been citing over and over again.
"What's gotten lost in this country is that the act of protesting during the national anthem is seen as disrespecting the flag or disrespecting military veterans and disrespecting the country and there's a segment of our population that will always believe that, no matter what those players are sitting, kneeling or staying in the locker room for."
And Bell offers a unique perspective on the protest.
"I'm a former military man, myself. I graduated from the US Military Academy at West Point. I served five years as an army officer, an intelligence officer, and I personally stand for the anthem in the press box every game.
"I stand with my hand over my heart, my feet at 45 degrees and my heels locked at attention. But I, along with many of the military officers who served with me, respect the right to protest, we served to protect that right and the freedom that these players have to protest.
Just because I don't agree with the act, doesn't mean I don't agree with their message or their right to share that message however they see fit."
And whether it's walking out of a classroom or refusing to give up your seat on a bus, Bell says that freedom of expression is something those criticising the protests are losing sight of.
"This country was founded on a protest. As Doug Baldwin brought up the other day, the Boston Tea Party was a protest, the revolutionists in New England weren't agreeing with the British, they were protesting.
"The founding fathers would be the first to defend the free speech these players are exhibiting. And look, I get it, I get the symbolism and so does Doug Baldwin and Michael Bennett. They get the symbolism of the national anthem and of the flag and the fact that people will disagree with people not standing for it.
But that is the attention-grabbing vehicle they felt they needed to use and it's what Colin Kaepernick felt he needed to use when he started this movement. If there was some other form of protest, their message would never have gotten out and we wouldn't be talking about this right now.
"And just because you disagree with something, it doesn't mean it should be outlawed, that's not how the First Amendment works.
"Just because you happen to disagree with someone doesn't mean they should be fined or shamed or kicked out of the league or called a son of a bitch."
The reaction to the protests in Seattle has been mostly positive, but that doesn't mean fans, or even team-mates, are fully supportive of Bennett's decision to sit during the anthem.
"Mostly it has [been positive]. Seattle is a progressive city and I was in Nashville with the team last weekend and I can't say it was the same. It's a more traditional city with more conservatively held beliefs and outward opposition.
No Seahawks fan has booed Michael Bennett at any home game I've been at but there are fans who have reached out to me online who are very against it and have said so in very pointed and, sometimes, off-colour terms so there is a segment of the fan base turned off by this.
"I have people send me pictures of Seahawks sweatshirts being burned or telling me they're never watching the NFL again but that's very much the minority here in Seattle. There were a few threats of protests outside the stadium but I've never seen it.
"I should also tell you that not everyone was happy with the protest last week. There are President Trump supporters in the Seahawks locker room who did not feel comfortable with sitting or kneeling and that's the reason they stayed in the locker room.
"That is ultimately the reason the protest played out the way it did."
Moving ahead, Bell believes that, if the whole team protests again, we could see them remain in the dressing room when they take on the Indianapolis Colts on Sunday Night Football [1.30am Irish time].
"I think the prevailing thought is that the protests will continue in some form. I think the symbolism from the weekend, that both teams stayed in the locker room, is why it was so effective.
It's the first time both teams have done that since the league started bringing teams out for the anthem.
"They're in the Sunday night prime time game against the Colts and I'm sure something will happen. I'm guessing it will be a whole team protest, it may be that they stay in the locker room.
"But, whatever the form, I think the protests will continue.
"This country needs to do something about race relations and, anybody who doesn't see that either hasn't experienced it first hand or doesn't care how the other side lives."
Subscribe to The42 podcasts here: