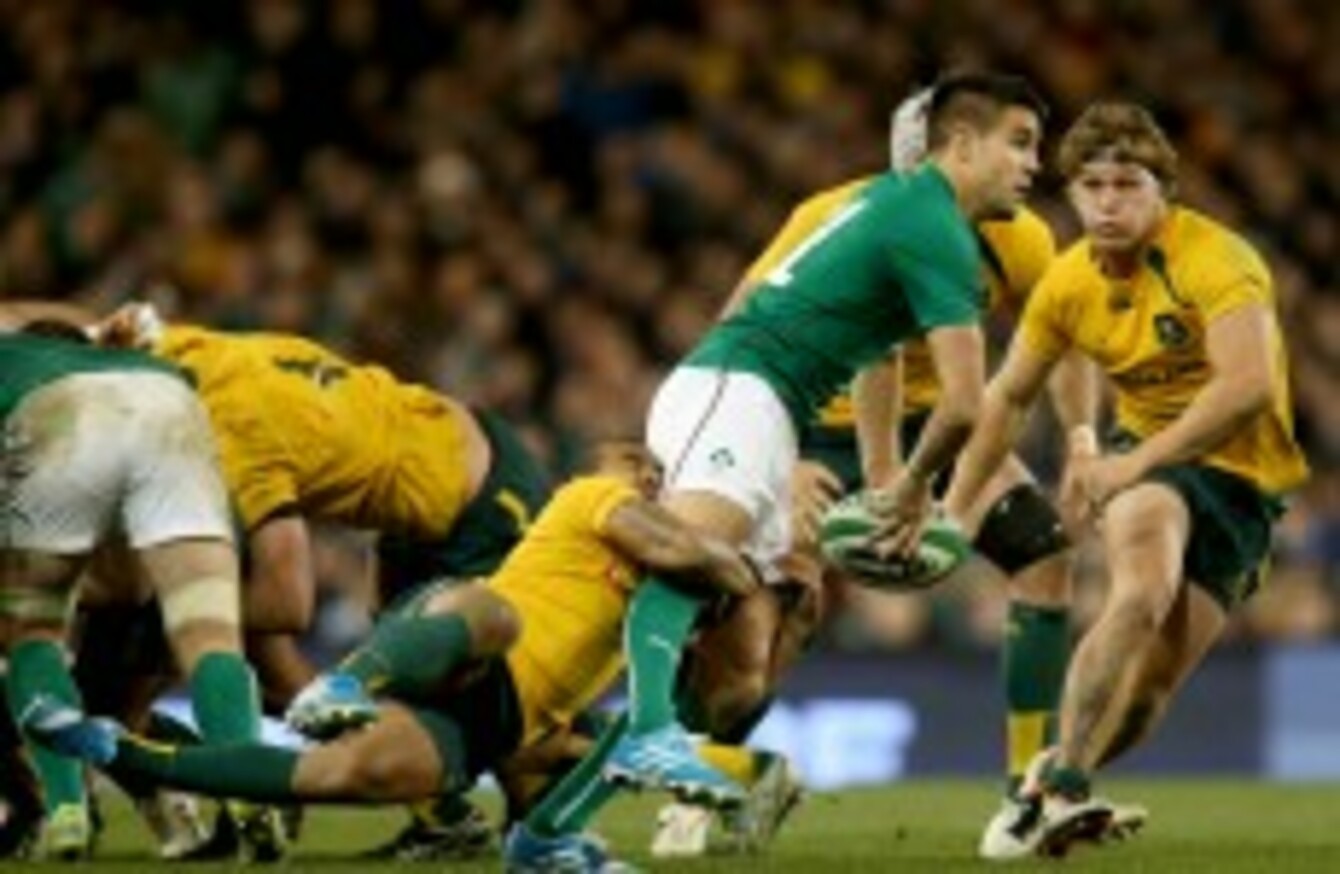 Conor Murray is in for a big test against Will Genia this weekend.
Image: Ryan Byrne/INPHO
Conor Murray is in for a big test against Will Genia this weekend.
Image: Ryan Byrne/INPHO
IT MUST BE a strange time in the career of Will Genia. This time last year Ireland had just been trounced by Australia and once again Genia had been immaculate in victory, outplaying his opposite number Conor Murray.
12 months on and Genia is returning from injury – and struggling a bit for form – in a side who are on their third coach since the summer of 2013. The fortunes of the two number nines who lined out last year couldn't have been any different in the last few months, and now Genia is answering questions about Murray's rise to becoming the premier scrum-half in the world.
You wouldn't say that Murray knocked Genia off his perch, but they are certainly sharing a ledge at the very least.
"He has been an outstanding player the last two or three seasons," Genia said.
"He's world class and he has got a great pass. He can run the ball well and he is a big physical nine.
"He and Johnny Sexton have formed a great partnership at nine and ten."
Genia is now fit to play and his tandem cameo off the bench last weekend against France with Quade Cooper hinted that the old magic can be recaptured by the duo.
Yesterday, Genia was asked whether last weekend was the first time he had suffered the ignominy of starting on the sideline but he laughed off the question and said that actually, he and Cooper were able to see areas to exploit from the touchline.
"I've been dropped before," Genia laughed.
"I don't want to sound like I'm being arrogant but not too many times though. You get to see different perspectives [on the bench]. It is good because you look at the game from another point of view.
"Sitting on the bench with Quade at the weekend, we were saying potentially we could have done this or that or 'we should try this when we get on'."
Ireland's rucking was tigerish against South Africa and the pack made life unbearable for the previously in-form Francois Hougaard.
Genia suffered similar treatment at the hands of a bloody-minded pack at the 2011 World Cup and after being reminded of this tackle from Stephen Ferris, the scrum-half acknowledged that his forwards would have to work hard to protect him.
Source: Tap Tackle/YouTube
"Ireland pressure your breakdown so you don't get momentum," Genia said.
"We need to really clear out the threats so the nine can get quick ball and give it out to the backs."
One issue really impacting Australian rugby at the moment is the mass exodus of players. Overseas players are ineligible to be picked for the national team which rules out the talented Toulon trio of Matt Giteau, Drew Mitchell and James O'Connor. Former captain Ben Mowen willingly gave up the honour to earn a higher wage in the northern hemisphere too.
Genia says the squad don't focus on all of the talented players who they're missing because they are confident of the quality that remains. However the scrum-half, who has recently been linked with a big-money move to Bath after the World Cup, didn't exactly pour cold water on leaving himself once the tournament is over, saying he has thought about it.
"I'm not going to lie; definitely [has thought about moving]," Genia said.
Post World Cup there are a lot of options available and we will just have to see what happens. These guys were aware of the rules when they made their decision. When you make the decision to go overseas you know you can't get picked. They are obviously comfortable with it. We are as well. It is not a question of what you could have [on the team] but more about what you do have.