Reproduced with permission from HarpinOnRugby.net.
WHAT FOLLOWS WAS originally supposed to be a write-up of Ireland's loss to France in the Women's Rugby World Cup third place play-off. but instead I'll harp on some more about how I feel the women's game can move forward.
I have said countless times on social media how proud I am of the Irish squad and their progress throughout the tournament… and it's important that we judge their achievements over recent weeks as a whole and not the last couple of results.
Besides…though the girls have said on many occasions since the semi-final that they feel they have let fans down, we all know they have done nothing of the sort.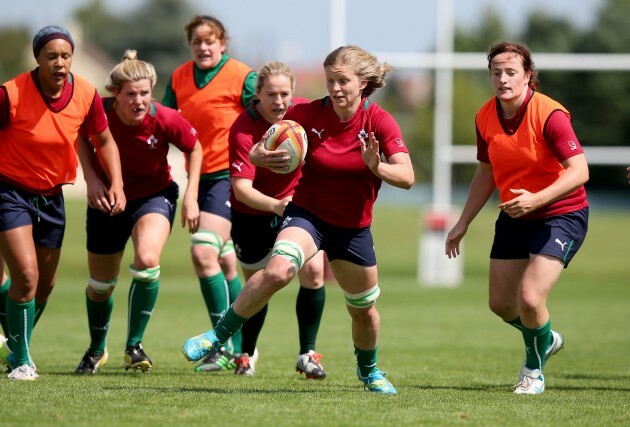 Dan Sheridan / INPHO Claire Molloy makes a break as Ireland prepared to face France. Dan Sheridan / INPHO / INPHO
Beat New Zealand and only fall short against the hosts and eventual champions?  Given we could barely get our senior national team to the south of France a couple of years ago, I reckon they have done more than enough to show they belong at the top.
Plus, we must not lose sight of the fact that these games signalled the end of the road for key figures in the Irish set up – many have deservedly become household names over the past fortnight and certainly those who succeed them will have massive boots to fill.
Dan Sheridan / INPHO Greg McWilliams and Philip Doyle are among the post-World Cup exodus from this Ireland squad. Dan Sheridan / INPHO / INPHO
But for the women attempting to fill those boots, I reckon the game needs to be brought forward sooner rather than later, and a good start could be the creation of a women's version of the Heineken/Rugby Champions Cup, and if this were to be done in time for the 2015/16 season we'd need to start talking about it now.
Now, just so we're clear; I still don't think I've suddenly become an expert on the topic. I'm merely offering an opinion and I hope it shows that I want the sport to progress between now and the next Women's World Cup, which is only three years away don't forget, and could well be here in Ireland the way things are shaping up.
Philip Doyle, who's second spell in charge of the squad has come to an end, reckons there should be November women's internationals. I agree there should be top level women's rugby in and around that time, but I think a provincial European competition would suit the game more. And it doesn't have to mimic the men's version in format, or at least not as it stands now.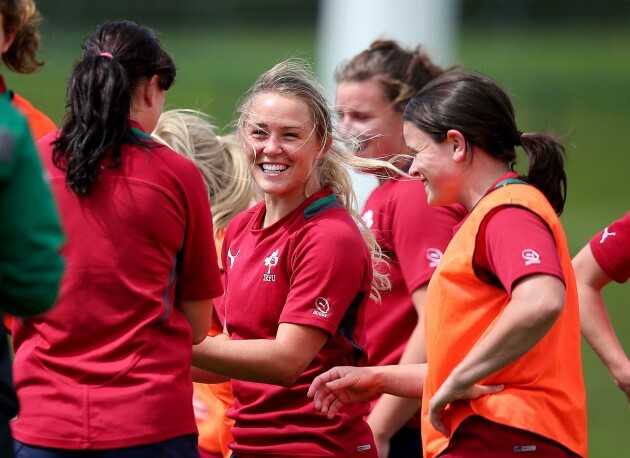 Dan Sheridan / INPHO Asheligh Baxter training in Marcoussis. Dan Sheridan / INPHO / INPHO
The very first version of the Heineken Cup back in 1995/96 had just 12 teams, and I believe this could be an ideal way to introduce a women's competition. 
Just for starters I'd say have three teams each from England and France, two each from Ireland and Wales, and one each from Scotland and Italy. Three pools of four would produce four semi-finalists.
Such a tournament would provide Test coaches not only with a platform where their elite squad members can get top level competition ahead of the Six Nations, but they can give fringe players a run as well.  And given the success of WRWC2014, I'd be reasonably confident the international component could attract interest in the form of TV coverage and sponsorship.
Yes, I know if Ireland have only 2 representatives then two provinces will miss out, but on the plus side our Inter-pro competition can have a bit of edge as well with qualification at stake. (What about test players from the two provinces who don't make it?  Maybe the qualifiers can draft in a few extra players to their squads. Or perhaps a junior competition like the Amlin.  But something could be done, I'm sure.)
James Crombie / INPHO Leinster and Munster women clash. File photo. James Crombie / INPHO / INPHO
By the way…I know how important the Sevens game is to women's rugby and no doubt that calendar would need to be altered to facilitate a new competition, but in my view, it would be worth it. Besides, this format would just take five weekends and thus not be too taxing on schedules.
Exclusive Six
Nations Analysis
Get Murray Kinsella's exclusive analysis of Ireland's Six Nations campaign this spring
Become a Member
Anyway… that's my idea. 
Much more qualified minds than mine will no doubt come up with something better, but whatever happens we need to see decisions to be made quickly while the hype is still strong. 
If hay isn't made now while the sun is shining on women's rugby, it will be in danger of being plunged back into darkness as the men's season returns in just a couple of weeks – in fact, over in France where #WRWC2014 was happening, the men's Top14 had the cheek to kick-off over finals weekend.
Having tried to move heaven and earth on my schedule I was unable to make it to Dublin airport for 16.30 on Monday to give the girls their much-deserved welcome home.  To say it's an awkward time is a major understatement.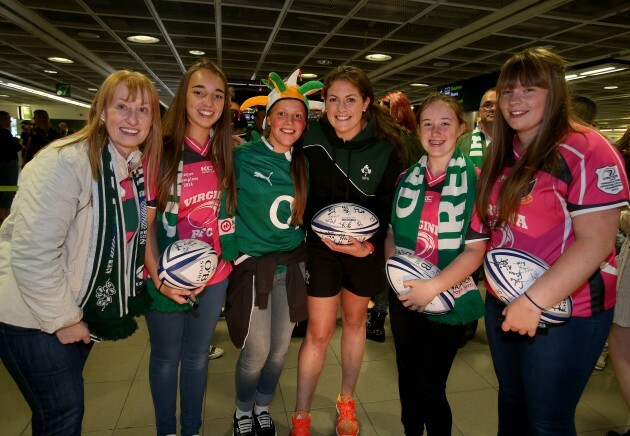 Dan Sheridan / INPHO Captain Fiona Coghlan poses with fans at the airport on Monday. Dan Sheridan / INPHO / INPHO
Maybe if the momentum generated by their heroics in France can be built upon, then by the time the next World Cup comes around, the women's game will have enough prestige to ensure things like kick-off times and homecomings can be more schedule-friendly for a greater proportion of the fan base.
And we must all of course do everything we can to help make this happen.  The legacies of the distinguished Test careers of Fiona Coghlan and Lynne Cantwell demand it.