Day Three of the World Cup has no fewer than four games taking place today. Join Paul Fennessy and guest host Mikey Stafford — all the way from Brazil — for all the build-up and discussion.
Email us at sport@thescore.ie, tweet us @thescore_ie or with the hashtag #ScoreWCHangout, post a message to Facebook, or leave a comment below.
Hello, I'm Paul Fennessy and I'll be hosting this hangout along with our man in Brazil, Mikey Stafford.
Every self-respecting football hipster's team, Colombia, have just gotten underway against Greece.
How do you see this game going?

Poll Results:
Hard-fought Colombia win
(97)
Hard-fought Greece win
(10)
In the interests of transparency, everyone in the office has predicted a score for this game.
Unfortunately, as Colombia have just scored Eoin's bet, is already void.
Sean: 2-0 to Colombia
Steve: 1-1
Eoin: 0-0
Pat: 1-0 to Colombia
Me: 2-1 to Colombia
Best. Celebration. Ever.
https://vine.co/v/MIZD3PqJOBt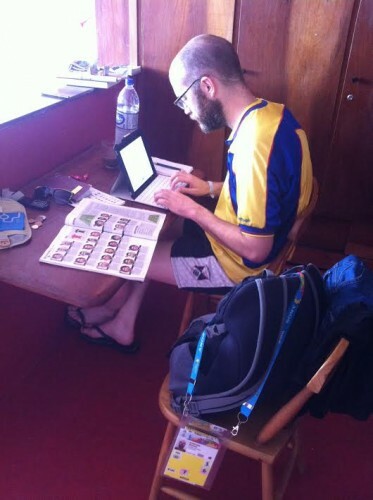 Mikey's a big Colombia fan, but ever the professional, he's keeping celebrating on hold for the moment.
Mikey: "May I just say my Colombia jersey was bought primarily as a hallowe'en costume (retro jersey+Andre Agassi style wig=presentable Carlos Valderrama get up). I do like the cut of their jib though, but if they should meet Bosnia I will be without conflict."
So in non-Colombia v Greece news, England take on Italy later today.
A while back, I tackled the thorny issue of Irish fans rooting against England at major tournaments. Below is a sample of the full article, which can be read here.
"Is there anything particularly wrong with not supporting the English team at major tournaments, or even intensively rooting against them? Is this a somewhat sinister mindset to adopt? Or it is overly sensitive and all-too-PC to insist that Irish people are somehow obliged to support their English neighbours, perhaps owing to some sort of odd reverse form of post-colonial guilt? If anything though, as football fans, backing England would be — if not wrong — certainly unnatural."
What do you think? Is it okay to root against England? Or perhaps more pertinently, is it okay to root for Eamon Dunphy in a dress?
Mikey gives his thoughts on Colombia-Greece so far:
"I am the modern football consumer today, taking in this match via Twitter, Vine and the unparalleled Score.ie. From my six-second teasers that celebration appeared to be far superior to the goal, or the finish at least. It took a couple of days longer than the last World Cup to get our first choreographed celebration."
A very cute kitten named Fury is currently entranced by the Colombia-Greece encounter.
Thanks to reader Nicola King for send us the pic, and if anyone else has any pics, kitten-related or otherwise, don't hesitate to send them on.
A pub in Clanbrassil Street is giving away free pints every time England concede. Don't think there'll be much debate over who to support there.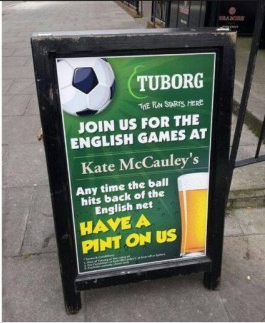 Thanks to reader Eamonn Keenan for sending the pic.
While we're on the subject, Mikey has this to say about England: "I met a couple of English lads last night who are here for a few weeks but not too bothered with going to any England games. So maybe it's not just we Irish who lack a grá for Roy's boys. Personally, my mother is from London, but even if she wasn't I'd have no great issue with supporting England. They even have some entertaining players now. Should they manage to escape that group, they could have Dunphy lashing on the leg wax."
Apparently, Colombia goalscorer Pablo Armero has form when it comes to celebrating…
adidas Football / YouTube
Also, this from FIFA.com.
"When Pablo Armero played for Palmeiras in Brazil, he used to dance for the fans when he scored — his celebration was dubbed the "Armeration"."
ahmed bsoul / YouTube
Mikey: "Crying shame Buffon is injured tonight. I hope he doesn't miss the whole tournament. Unquestionably greatest keeper of modern times, in my opinion. Far superior to Casillas, who I felt was over-rated well before last night's shambles. Buffon, like Pirlo, is the epitome of Italian cool. The man's skin appears to be made of leather, for Christ's sake."
Our comments of the week was unsurprisingly quite World Cup-heavy.
"I am working. I am not watching this game. I am not happy" - ÉiRed on Holland-Spain
"Got America and France in a sweepstakes we did today. With 3 exams still to go in the Leaving Cert I'm chuffed I didn't waste all my luck on drawing Brazil" - Robbie Lloyd on the mixed blessing of an unfortunate sweepstakes draw.
"No pride in da Parish." – Paul Carew on the Cameroon players initially refusing to board the plane to Brazil over World Cup bonus haggles.
Click here to see if your comment made the cut.
Mikey: "Should Italy open a can of whoop ass on England tonight that pub on Clanbrassil Street might resemble the concourse bars in the Arena Fonte Nova yesterday. My girlfriend, who doesn't even like beer, said she queued for 20 minutes. No discernible system in place with the staff and at one point a frazzled FIFA-type came out and roared at them, in Portuguese, to "stop smiling, work harder". Motivation 101 right there."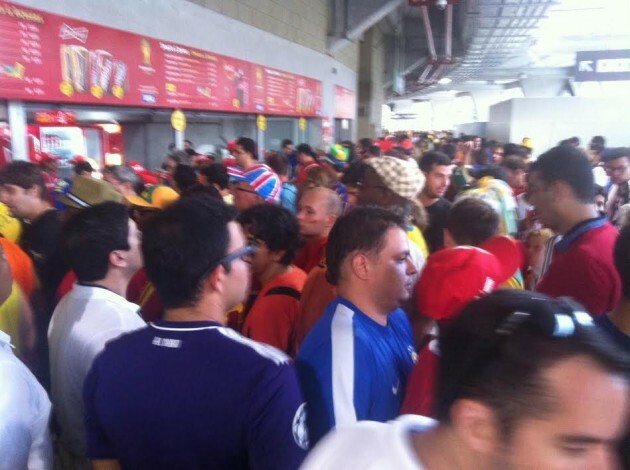 It's still 1-0 to Colombia, but Greece have had a penalty decision turned down early in the second half.
http://vine.co/v/MImWIu9q9uZ
What do you think? Did the ref make the right call?
There were some fantastic online reactions to RVP's display against Spain last night. God bless you internet!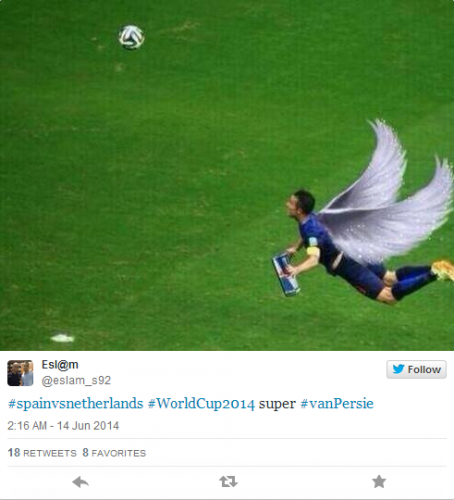 GOAL FOR COLOMBIA!!!
It's now 2-0, as Gutiérrez has doubled Colombia's advantage.
This lad looks quite pleased as a result…
http://vine.co/v/MIZlEIzvWFv
And here is the goal in question…
http://vine.co/v/MImmL20AiUK
Mikey: "They were undisputed winners on the pitch and off last night, the Dutch. Their fans were typically colourful and loud in the stadium and they deservedly partied like it was 1999 in Salvador's old town last night."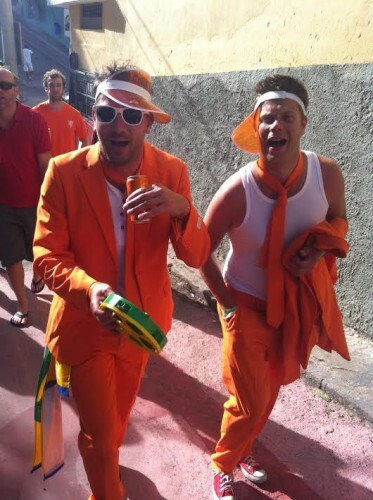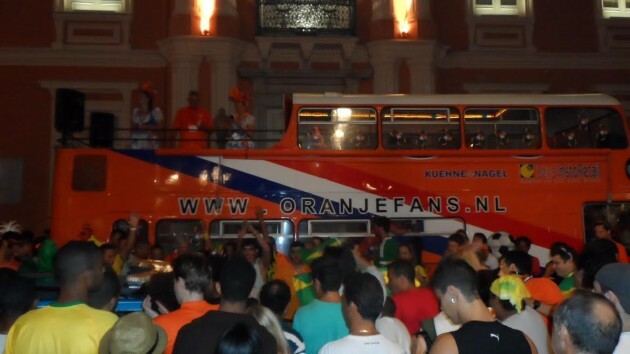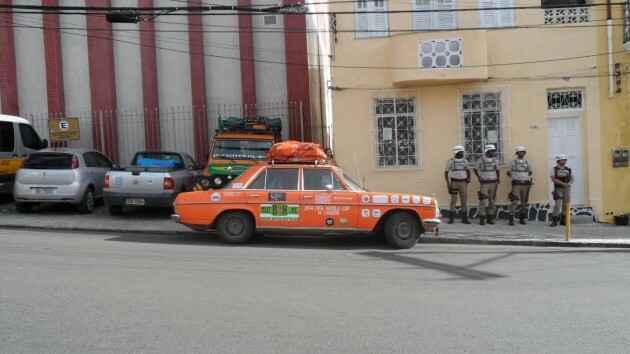 Mikey is not convinced that Samaras deserved a penalty earlier: "Hmm, looked to me like the Athenian Fenian took a dive there. Following the penalties "won" by Diego Costa and Fred thus far, that would have completed a fairly rapid hat-trick of burly strikers profiting through their struggles with gravity."
What do the rest of you think? Were the Greeks hard done by, or was the Celtic striker up to his old tricks?
Mikey: "Juan from Bogota, my new Colombian friend from the pub last night, is so relaxed with how things are going that he is shooting the breeze on Twitter. Greece's reputation for paucity of goals precedes them, even in South America."
Mikey: "So, Jackson Martinez is on. I hope he bangs one in before the finish, even if it messes up my 2-0 prediction. It's great when a hyped club player explodes at a World Cup. Like Arjen Robben and Robin Van Persie last night… or Phil Babb in 1994."
If you missed it earlier, the unquestioned highlight of the match so far…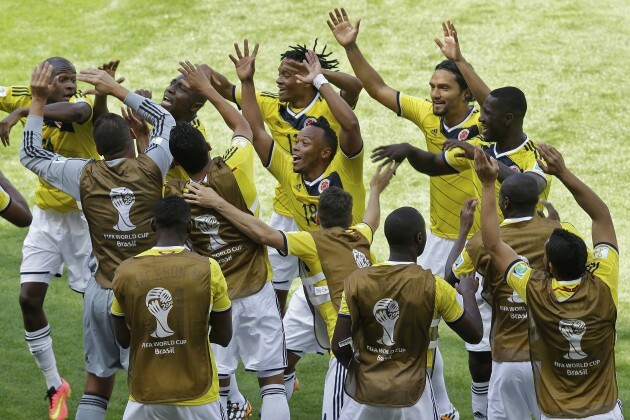 Andrew Medichini Andrew Medichini
FULL-TIME: COLOMBIA 3-0 GREECE
*Dances elaborately
The Spanish papers were predictably depressed after last night's game.
Marca lead with the headline 'Fix this'.
Here are Mikey's thoughts on the game, or at least what he could see of it: "Judging by Vines, MBMS and Twitter Colombia have done nothing to puncture the groundswell of support building for Pekerman's team. Greece's shocking WC record is extended and I'm one from one on my predictions for the day. Viva Los Cafeteros!!!"
Right that's all from us for now. My thanks to Mikey for co-hosting this hangout.
Thanks also to your good selves, for reading and for commenting on it. And don't forget, we'll have much more news and reaction throughout the day, including a liveblog of England v Italy.
We'll also have some great prizes, including a phone to give away on Monday, thanks to Budweiser, so be sure to join us then.