Updated at 13.33
ANYONE WHO HAS ever been an obsessive football sticker collector will know the feeling — you open up a packet only to find you already have most if not all of the players in question.
Thankfully, there is now something to compensate for that problem.
Dublin-based sticker collector Mark Maguire has decided to set up @DubSwap — a Twitter account which facilitates swap meet-ups to help get collectors over the line just in time for the World Cup's climax.
Having collected stickers sporadically during his childhood, the sense of nostalgia proved too much to resist for Maguire, who started collecting again circa Euro 2012 and continued the hobby for this year's World Cup.
And after setting up the account with friends, they had their first formal gathering with fellow tweeters last week.
"We've only had one meet-up in a bar and it went pretty well," he says. "People were on to us and some were looking for retweets even if they couldn't make the actual event. The meeting was last Sunday for the Netherlands-Mexico game, so the plan was to have a meeting at half four. Once that was all done with at five o'clock, we'd all watch the game, have a few beers and chat."
Maguire recalls how there was one particular individual who ended up very content with his days's work.
"The first lad walked in with a large number of swaps, I wouldn't try to say how many. He said he only needed one swap — he just needed number 284 (Costa Rica's Cristian Gamboa) to complete his album. Sadly, we didn't have that for him. But one of the lads, having bought a pack on the way home, pulled it out. He hadn't even got it himself, but just out of generosity, he made a phone call later that night to say 'look, I've got it'."
At the time of speaking, Maguire was hopeful of organising another rendezvous in the Barge at 5pm this evening, while they also plan one last meet-up prior to the end of the World Cup on the day of the third-place play-off.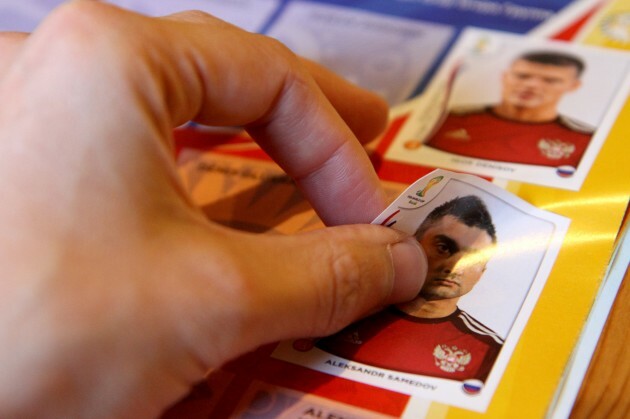 PA Images Contributor / Press Association Images PA Images Contributor / Press Association Images / Press Association Images
(Maguire cites "nostalgia" as one of the primary reasons why he enjoys sticker-collecting)
What amazed him most about the first meet-up was "people's generosity" in what is generally an individual pursuit
"Back in the schoolyard, people would be very conservative swappers," he says. "It was great [last week] — people slapped a pile down on the table, said help yourselves and 'these are the ones I'm looking for'. By the start, two guys were swapping and they both needed 30 from each other, so that avoided any awkward situations. But by the end, people said: 'Here's my stash. Does anyone need anything from it? Help yourselves.'"
While many of his friends are down to double digits, Maguire estimates he needs just over 100 more stickers to complete the album. With that in mind, what is it that drives a group of twenty and thirty-somethings to undertake something that often seems to be a thankless task?
"The reason we got into it was because we had friends from Germany that we go visit and they did this with their mates for the 2008 European Championships. They didn't always seem to be on the radar, but me and a couple of others saw the Euro 2012 packets around and we said we'd do it for the laugh.
"My little sister, who's a good bit younger than me, would be into it, so it's a good way to bond with her. Having collected them at Euro 2012, the whole Twitter group didn't seem like a feasible option. But I think people are a bit more open now on Twitter — if they're nearby they'll come and meet you to swap.
"I think it's purely nostalgic reasons — you remember doing it when you were younger and you get really immersed into the tournament itself. There are players who didn't get picked or who got injured, as Panini always release the teams well before the actual squads, so sometimes there can be rarities.
"Or even now, with Suarez, his sticker is going to be a unique one for all the furore from what he did. Will that make his sticker rarer or will people be wanting to keep that, just as a memento for what went on?"
And for all the fun he's had, Maguire is unlikely to make sticker-collecting a regular habit by rushing out to buy the next Premier League album, indicating he'll probably wait until the following World Cup or European Championships before engaging in this arduous task once again.
And while he misses the days of feverish schoolyard swapping, there are still some advantages that come with engaging in the activity nowadays.
"There are certain players you start to hate. Compared to when you did the Premiership 95 edition, you wouldn't imagine you get that amount of players. In the Euro 2012 one for example, I got a load of Gebre Selassies — a player who I didn't know at the time, but he played for Czech Republic and he moved to Werder Bremen.
"I ended up tweeting him and said 'look man, I've got about six copies of your sticker and it's kind of getting annoying' and he responded and said 'very funny, ha ha, sorry about that mate'. So when you were collecting stickers in 95, you'd have never imagined you'd be able to actually interact with them about it. It just makes the world that little bit smaller."
Follow the lads on Twitter – @DubSwap