ONE OF THE most frequent questions that's been asked since I decided to start a sticker collection is essentially 'why bother?' Why not 'get a life,' as someone in the comments section of the last article bluntly put it.
Well, aside from the fact that my employers are paying me to do it, despite my being somewhat hesitant at the start, it's admittedly actually becoming quite fun at this stage.
Excuses or caveats are no longer required upon visiting the same shopkeeper at the same newsagents at roughly the same time and same day of the week to collect the latest batch of stickers. A wry glance is all it requires — he knows I'm only visiting for one reason (sorry, that sounds a bit like sexual innuendo, but seriously, it's NOT!).
Of course, the journey hasn't always been an easy one. I could not be more sick of seeing Hugo Lloris' face, owing to the incredible number of times he seems to appear in various packets. Ditto Argentina's Marcos Rojo. In fact, I've been known to absent-mindedly shout out 'f*ck you Marcos Rojo!' on occasion, before quietly reassuring myself that yes, I am a grown-up.
Speaking of grown-ups, I know at least two who, for various reasons, have decided to join me in undertaking the unquestionably arduous task of sticker collecting, including one renowned TheScore.ie contributor. Unfortunately, they have many of the same swaps as myself, so I'm stuck with an undue collection of Rojos for now. Mind you, my sister informed me that the kid she babysits is 'obsessed with' football stickers, but that would surely be a step too far, even for someone as shameless as myself, not to mention the fact that the men in white coats would likely be after me if they were informed of someone showing up at a six-year-old's house wielding an excessive array of stickers.
Anyway, getting back to the question of 'why bother,' there are plenty of underrated pleasures to this activity. There is something strangely peaceful about taking half an hour out of your day to put stickers into an album while listening to Kurt Vile songs (he's really good, you should check him out if you haven't yet). It's a more time-consuming process than it sounds. At the risk of making myself appear stupid, it genuinely does require a level of concentration to avoid putting them in wonky, or refraining from committing what is literally a schoolboy error — the dreaded creased card.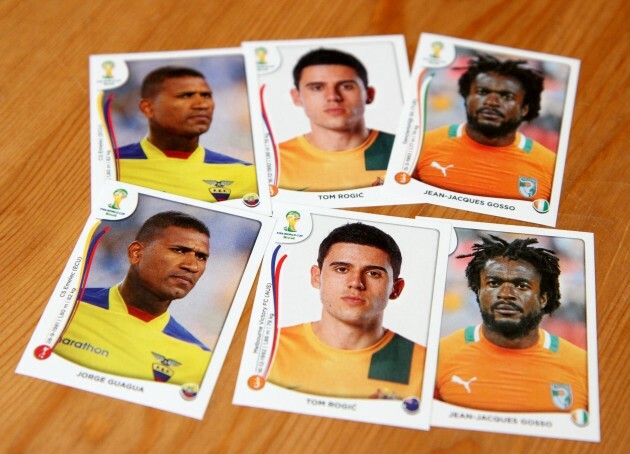 PA Images Contributor / Press Association Images PA Images Contributor / Press Association Images / Press Association Images
(General view of sticker swaps from the Panini FIFA World Cup 2014 Sticker Collection)
I also got to talk about my adventures with the fine folks at RTÉ News during the week. So if you're ever wondering how to get national attention — starting a sticker collection at a plainly dubious age is one potential way of going about it. Those who had previously warned me that I didn't know what I was 'letting myself in for' are now feeling very smug, after I was forced to admit to my burgeoning sticker-collecting addiction on national television.
In my defence — and this will sound faintly ridiculous — it's also genuinely a useful habit for any sports journalist to acquire and it can be counted as research, I don't care what anyone says. I now know the names of most Honduras players, for instance, rather than just Wilson Palacios and one or two others.
And finally, the key question: how many stickers do I currently need/have to complete the album? At a generous estimate, the sticker book is roughly one-quarter full. My excuse is that I've been very busy doing things like writing this sentence. And this one. And THIS one.
Furthermore, recent purchases have prompted me to construct an elaborate conspiracy theory. While having a healthy number of players from most countries, I currently have zero Korea footballers. It's getting to the point where I'm genuinely starting to doubt whether they even exist. Conversely, Japan are quite close to being finished completely, so whoever's behind the album is surely either a Korean-hating Japanese person, or a self-hating Japanophile.
And there is, of course, one other significant downside to the sticker collecting, which means I'll be saving up all my receipts. In a recent piece for The Guardian, Barry Glendenning (another grown man who has been known to buy football stickers) estimated that the minimum spend for completing an album, with its 639 spaces to fill, is £64 (roughly €80), which is obviously not accounting for swaps etc. I must have spent at least half that by now, and am still miles off glory. It's a considerable amount of pocket money to expect kids to accumulate, let alone adults, and it could easily be reduced by getting rid of certain unnecessary indulgences (having to collect two parts of each World Cup stadium springs to mind).
Loss of money and spare time aside though, I have few regrets about revisiting my misspent youth. Now if only that increasingly unsettling image of Hugo Lloris would stop haunting me in my dreams.