IT'S WEDNESDAY. IT'S January. And it's still a long way to pay-day.
We needed this today.
Our friends in Special Olympics Ireland sent us this correspondence between Ireland rugby star Rory Best and one young athlete, Lucy Best earlier (they're  not related, incidentally).
The Ulster hooker met the skier at a recent fundraiser in Belfast ahead of her trip to the upcoming World Winter Games. And when the Banbridge clubman later surprised Lucy with one of his international jerseys in the post, she wrote him this lovely letter.
And Lucy's quite right, with the Heineken Cup hotting up and the Six Nations just weeks away, we too hope Best is 'training hard at his rugby'.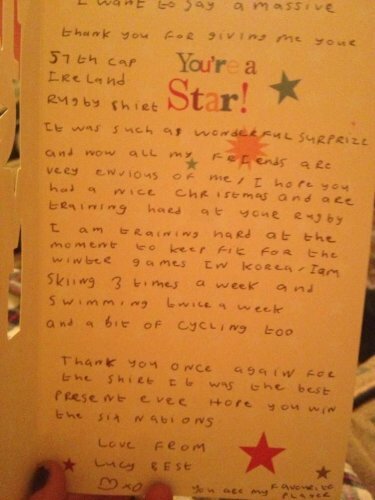 Check out the Special Olympics Facebook page for more