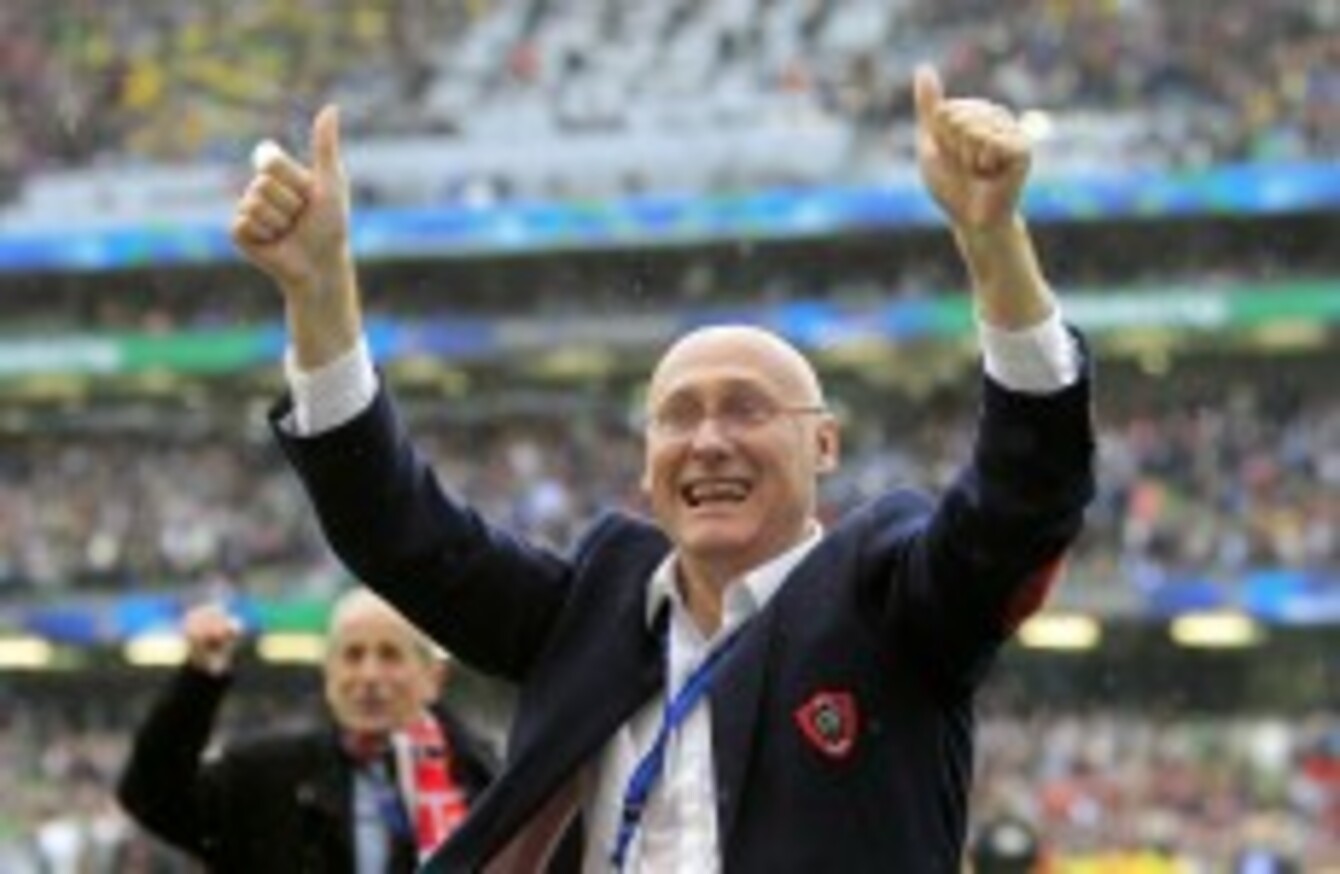 Laporte enjoyed much success with France.
Image: PA Archive/Press Association Images
Laporte enjoyed much success with France.
Image: PA Archive/Press Association Images
ONE WEEK AFTER Toulon club president Mourad Boudjellal aimed criticism at France boss Philippe Saint-André, the Heineken Cup champions' head coach Bernard Laporte has added to the pressure on les Blues' leader.
A former France head coach himself between 1999 and 2007, Laporte's two Grand Slams, two further Six Nations titles and two World Cup semi-finals lend some power to his words on the topic of the national team.
Saint-André [and many others, it must be stressed] recently pointed a finger at the Top 14 and its level of foreign influence as having had a negative effect on les Bleus. Toulon, with over 50 percent of their squad not qualified to play for France, have clearly been antagonised by those suggestions.
Saint-André was in charge at Toulon from 2009 until 2011, when many foreign players joined the club. Laporte focused on what he perceives as hypocrisy as he told Midi Olympique that France have shown no improvement in the last three years.
When Philippe Saint-André was at Toulon, he recruited fifteen or so foreigners. And at that time, he didn't care about the France team! Now, when he says that foreigners are the reason the French team are losing, I say stop. Where are we going?
"I've always said the France team must be the priority. Reading our current results makes me scream … we have become the Spain of rugby! There are several things that stand out for me.
"In 2011, at the end of a catastrophic World Cup, the English were in the same position as us, but they asked the right questions. As a result, their national team is strong. They are not the best nation in the world, but they are in a phase of progress when we have not moved forward even one metre."
Asked for his opinion on Saint-André as a coach, Laporte refused to share his thoughts, before commenting that the former Gloucester boss have given French rugby a "negative image".
Laporte's solution for the current travails in French rugby? A reduction in the number of professional teams, as well as cutting several fixtures from the seasonal calendar.
There are too many professional teams, that is certain. For me, we need to move to a Top 12 [rather than 14]. That would immediately mean an extra month to focus on the national team.
"That's not all; we should remove the play-offs. With such a decision, you not only strengthen your league, with a real champion of France, but you get another three weeks for the national team."