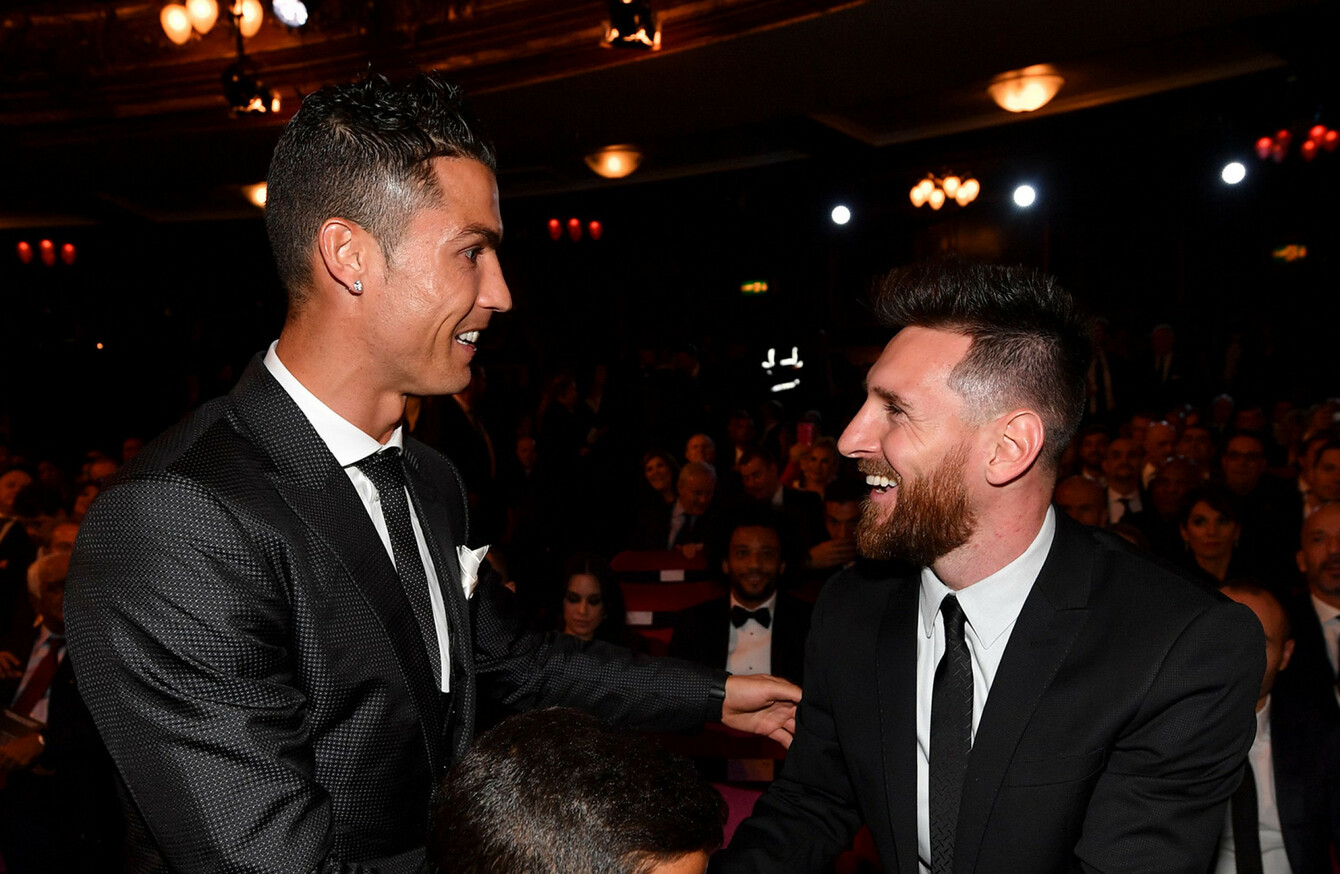 Cristiano Ronaldo and Lionel Messi.
Image: BEN STANSALL
Cristiano Ronaldo and Lionel Messi.
Image: BEN STANSALL
LIONEL MESSI AND Cristiano Ronaldo have taken their place on the FIFPro World XI for the 11th year running.
Messi was the leading vote-getter in the team that was selected by 26,622 players from 71 countries in a vote organized by FIFPro, the world's player union.
Ronaldo was among five Real Madrid players named in the side at The Best Fifa Football Awards tonight in London, as Los Blancos unsurprisingly dominated the team after winning La Liga and the Champions League in 2016-17.
This year's FIFPro World XI contains eight of the same players who featured in last year's side, with Gianluigi Buffon, Leonardo Bonucci and Neymar the new additions replacing Manuel Neuer, Gerard Pique and Luis Suarez.
Bonucci, who moved from Juventus to AC Milan in the off-season, is the only player of the team making his first appearance in the FIFPro World XI.
The Italian was among three players named in the side who transferred in the off-season, with Neymar and Dani Alves both making the move to Paris Saint-Germain from Barcelona and Juventus respectively.
The FIFPro World XI was decided based on performances during the 2016-17 season, meaning that despite their transfers, that trio was selected for their performances with their previous clubs.
Because of the criteria, only three clubs were represented in the FIFPro World XI: Real Madrid, Barcelona and Juventus.
Real Madrid boss Zinedine Zidane has been named the Men's Coach of the Year. He saw off Chelsea manager Antonio Conte and Juventus' Massimiliano Allegri to claim the prize for the first time having been the runner-up to Claudio Ranieri in 2016.
2016-17 FIFPro World XI
Goalkeeper: Gianluigi Buffon (Italy, Juventus)
Defenders: Dani Alves (Brazil, Juventus/currently Paris Saint-Germain), Leonardo Bonucci (Italy, Juventus/currently AC Milan), Sergio Ramos (Spain, Real Madrid), Marcelo (Brazil, Real Madrid)
Midfielders: Luka Modric (Croatia, Real Madrid), Toni Kroos (Germany, Real Madrid), Andres Iniesta (Spain, Barcelona)
Forwards: Lionel Messi (Argentina, Barcelona), Cristiano Ronaldo (Portugal, Real Madrid), Neymar (Brazil, Barcelona/currently Paris Saint-Germain)