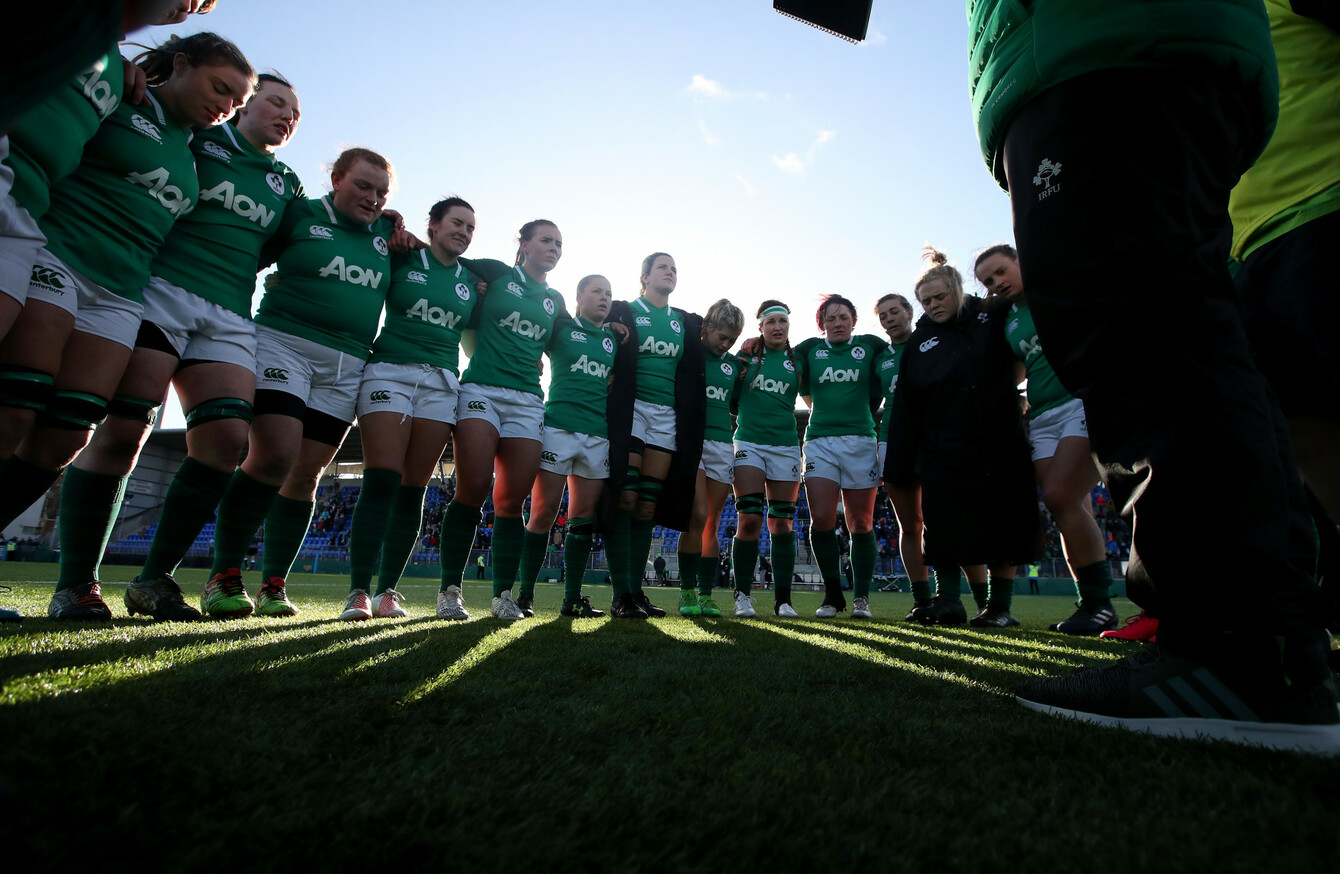 Ireland beat Italy 21-8 yesterday.
Image: Bryan Keane/INPHO
Ireland beat Italy 21-8 yesterday.
Image: Bryan Keane/INPHO
A WIN IS a win.
It was by no means perfect, and at times error-ridden, but Ireland left Donnybrook with what they wanted yesterday – a win under their belt to kick-start their Six Nations campaign.
Overall though, head coach Adam Griggs will be pleased with his side's 21-8 victory over Italy and his winning debut at the Dublin 4 venue.
"We wanted to get a result in front of the home fans," the New Zealand native reflected moments after the final whistle.
"We definitely said that it was about the performance and that the performance can take care of the result. Pleased in parts, we certainly played some good rugby and (did) what we wanted to try and do but certainly plenty to work on.
"I think the biggest thing is that we've turned a corner in the way we want to play. We didn't fall back into old habits.
"In patches there, we put some pressure on the Italians and if it was just a case of one more pass sticking, you never know. We could have had a couple more tries there so pretty happy."
He added: "With our backs, our handling and execution let us down a little bit but it's something to build on for the next two home games."
Railway Union and Leinster prop Lindsay Peat shared the opinion that Ireland maybe could have came away with more tries as she spoke in the clubhouse afterwards, but was also pleased with the result overall.
"We love playing in Donnybrook," she smiled.
"The crowd, I have to say a big thank you to everyone who came out. It was a nice day but it was still very cold.
"The first half now, I'm sure people could see me getting frustrated. For all our endeavor and all our work, we weren't really rewarding ourselves. That probably destroyed the first half and the second half, we really started to turn the screw and really dig deep into the areas where we were dominant.
"We're a team in transition and I know that's not an excuse," she added, acknowledging errors – handling ones in particular.
"We've girls who came in from different sporting backgrounds, we're not in academies. This women's game is evolving. We're listening to what Adam's giving us, we're trying to play rugby and obviously you have to take care of the basics as well.
"Not an excuse, there's some good things but obviously then, we've the work-ons. We'd like to keep building as we go on."
Two second-half ties finished by captain Ciara Griffin to add to Megan Williams' first in the 9th minute. all added to by the boot of Niamh Briggs, had Ireland home and hosed. They never looked like losing.
But Peat credited the tough Azzuri challenge, and Eleanora Ricci's try at the death.
"Fair play to the Italians, they're very proud people, they stuck with it," she continued.
"They didn't give up. No more than the boys yesterday, you're disappointed. You want to keep it perfect and let no tries in. But look, we'll work on it. We'll go back to camp next week, we have plenty to work on and then we'll be ready for Wales the week after."
Griggs echoed her words:
"There's certainly some sore bodies there from the last two week's games. It'll be nice, we'll go back into training camp next weekend.
"We'll be able to watch the video and right some of the wrongs that we did today as well."
And a final word for the home support.
"The crowd's fantastic," he nodded as players smiled for photographs with young fans and signed autographs on their way back to the dressing room.
"You can see the players sticking around now, talking to friends and family. There's such a good community for it. In parts we played some really good rugby and I think everyone appreciated that as well.
"Look, come Wales in two weeks time we might even be better again. Onwards and upwards, absolutely."
The 42 is on Instagram! Tap the button below on your phone to follow us!