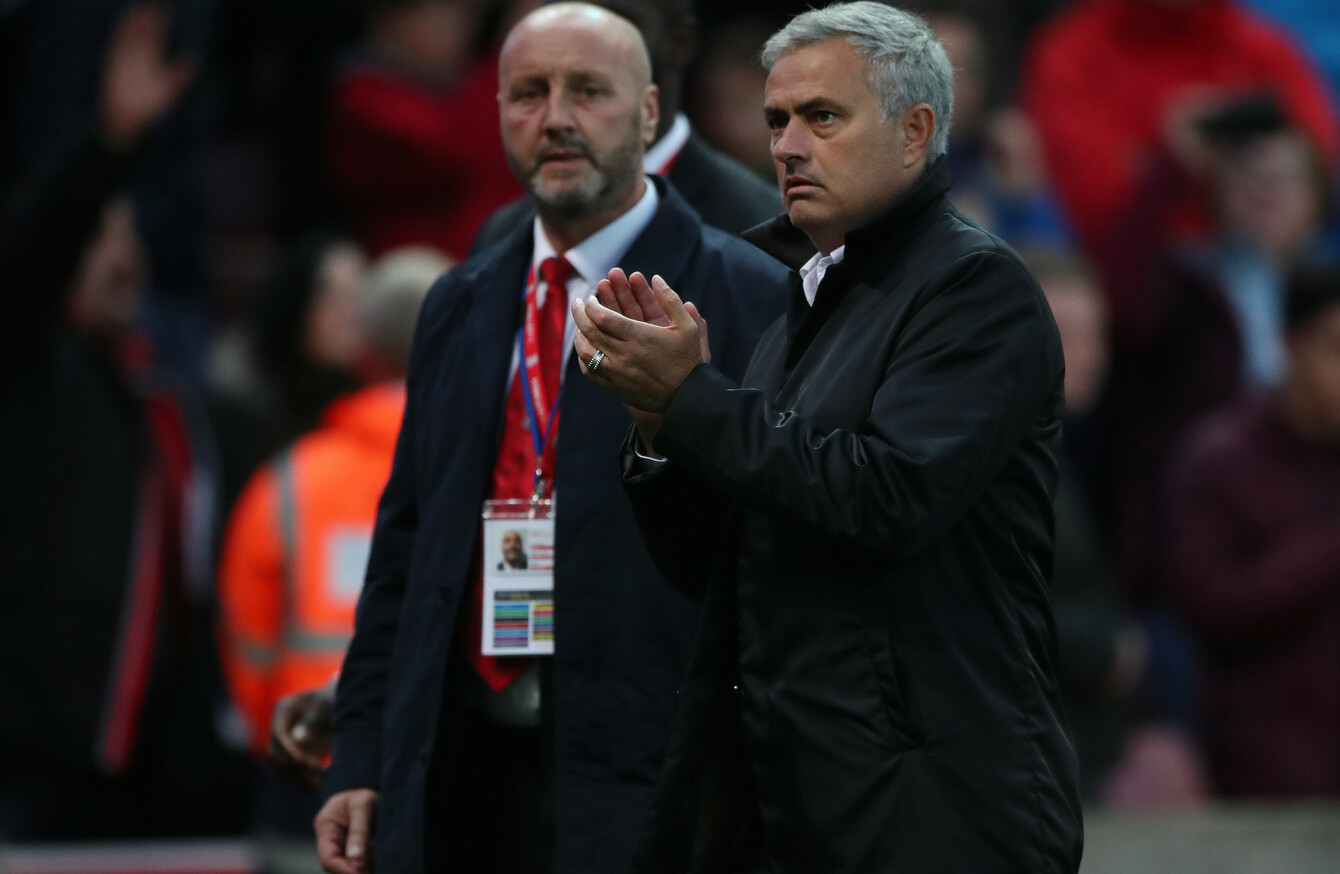 Jose Mourinho pictured during today's game.
Image: Nick Potts
Jose Mourinho pictured during today's game.
Image: Nick Potts
1. Mourinho continues to play the sore loser as he snubs post-match handshake
JOSE MOURINHO REACTED in a characteristically petty manner, after his Man United side dropped points for the first time this season, snubbing a post-match handshake with opposition boss Mark Hughes.
Mourinho made it clear he didn't feel he was the guilty party in the post-match interview.
"I prefer not to answer question about handshakes. It's a bad question. It makes it look like it's my fault but that's not right," he said.
Hughes was confused by Mourinho's behaviour, adding: "I seem to get involved in handshake issues.
"I'm not sure why he didn't want to shake my hand. I didn't think there were any issues.
"There was a time he came into my technical box and I told him to get out but that was it. Maybe that was what upset him!"
The Portuguese coach is notorious for throwing his toys out of the pram whenever his side suffer a disappointing result, and today was no exception.
Stoke earned what was ultimately a deserved 2-2 draw at the Britannia Stadium, and Mourinho became embroiled in a touchline spat during the game before the non-handshake amid the game's culmination.
The 54-year-old is a great manager and he will be remembered as such regardless of what happens between now and the end of his career, but the provocative coach's frequently poor behaviour undermines his credibility and tarnishes football's image.
2. Mane red card was correct decision
It beggars belief that some of the most respected figures in the game have suggested the Sadio Mane incident in today's Man City-Liverpool match did not warrant a red card.
One defence of Mane is that he did not mean to intentionally harm Ederson and that claim is almost certainly true.
However, the rules state that whether the player intends to cause harm during such moments is irrelevant and reckless challenges should be punished regardless.
Neil Taylor did not mean to break Seamus Coleman's leg in the Ireland-Wales game, but that is no reason not to send him off.
Similarly, Mane's actions were incredibly dangerous and fortunately, it appears they did not cause too much damage to the City stopper.
Football needs to do everything it can to protect the safety of the players and hopefully, the Liverpool attacker will now think twice before committing such a dangerous challenge in future.
Moreover, for individuals such as Jurgen Klopp and Gary Neville to criticise the referee's decision to issue a red card is unacceptable and not in the interests of player welfare in the long-term.
3. Two of the best strikers in the league reach landmarks 
Arguably the best two strikers in the Premier League over the past three years both reached personal milestones today.
Harry Kane scored his 100 and 101st Tottenham goals as Spurs impressively overcame Everton with ease.
Similarly, Pep Guardiola was rewarded for boldly going with two strikers up front against Liverpool, as Sergio Aguero became the top non-EU goalscorer in Premier League history, overtaking Dwight Yorke after scoring today.
For 24-year-old Kane in particular, the future looks bright. The fact that he has taken 12 fewer games than Thierry Henry to reach a century in England's top flight is telling.
4. Watford silence the critics with aplomb
Paul Merson and many others are probably feeling quite regretful right now.
The Sky Sports pundit's comments in relation to Watford and in particular manager Marco Silva, made at the start of the season, were pretty harsh.
"They will get relegated. To have a manager who has enhanced (his) reputation by being relegated is remarkable," Merson told Sky Sports at the time.
"He had the chance to bring in players and didn't achieve what he was brought in for."
Merson, therefore, will probably feel a tad embarrassed this evening, when he looks at the table and sees Watford up alongside Chelsea and the two Manchester clubs in the top four.
The Hornets earned a convincing 2-0 win at Southampton earlier today to consolidate a hugely impressive start to the season.
5. Chelsea must stamp out disgraceful chants
On the field, things are going pretty nicely for Chelsea.
New signings are bedding in relatively well, while they have coped reasonably enough with the absence of the departed Nemanja Matic and the injured Eden Hazard, although the latter came off the bench to make a first appearance of the season today.
Rumours of unrest and uncertainty over Antonio Conte's future have gone quiet of late, with the London club now third after beating Leicester 2-1.
In recent years, English football has lost much of the hooliganism and thuggishness previously associated with the sport, but traces of its disreputable past remain.
This afternoon, Chelsea FC rightly condemned a section of supporters, who during today's game sang an offensive, antisemitic chant aimed at Tottenham supporters:  "Alvaro, Alvaro. He comes from Madrid, he hates the f****** Yids," they disgracefully exclaimed.
Such behaviour has no place in football or anywhere else, and it is to Chelsea and Morata's credit that both have swiftly sought to disassociate themselves from what is basically hate speech uttered by morons.
Additional reporting by AFP
Subscribe to The42 podcasts here: