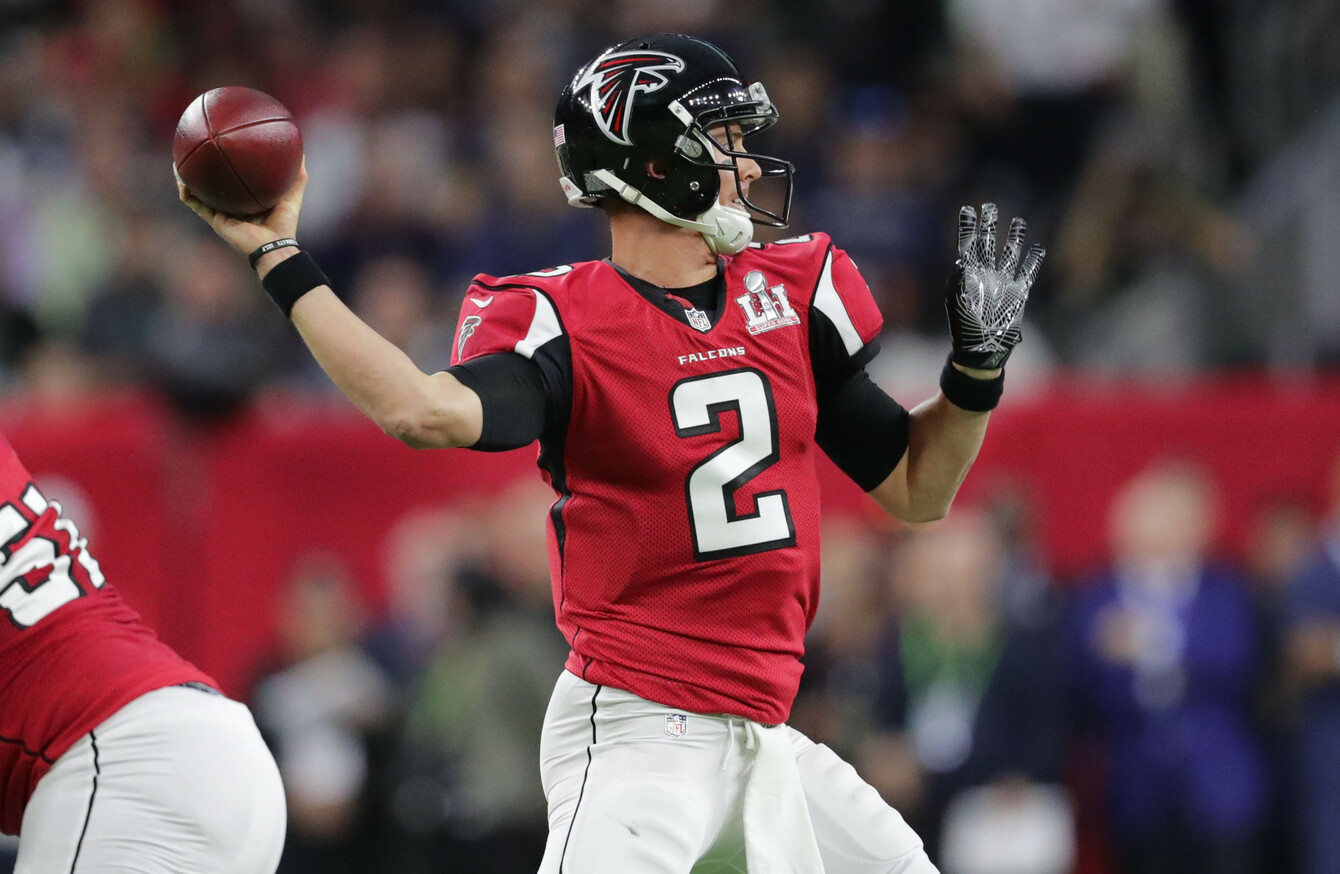 Matt Ryan will be hoping to emulate his 2016 MVP form.
Image: SIPA USA/PA Images
Matt Ryan will be hoping to emulate his 2016 MVP form.
Image: SIPA USA/PA Images
JUST LIKE EVERYONE predicted, the Kansas City Chiefs not only covered the nine-point spread against the Patriots in week one of the new NFL season, but went into Foxborough and defeated the defending champions by 15 points.
Oh, wait, literally not a single person predicted that result. If they did, I hope you've been straight on to them to sort out next week's winning lotto numbers.
But that's one of things to love about the NFL. Every single piece of data can point to one result and, because data can't make a tackle or convert a fourth and inches, the exact opposite happens.
Thursday's result is a great reminder that you can take nothing for granted in the NFL, especially in the early weeks.
Sunday – 6pm
New York Jets @ Buffalo Bills (-8.5)
I'm surprised the line is this high. Both these teams are bad and while the Jets offence is virtually non-existent, their defence still has some of the pieces to ensure a game against an opponent of this quality doesn't become a blowout.
Verdict: Jets against the spread.
Atlanta Falcons (-6.5) @ Chicago Bears
I've already outlined my concerns about how the Falcons adapt under new offensive coordinator Steve Sarkisian but they should still have more than enough in hand against a Bears team struggling for any sort of identity this preseason.
Verdict: Falcons straight-up and to cover.
Jacksonville Jaguars @ Houston Texans (-5)
If any game is likely to go under this weekend, it's this AFC South clash (39.5). While the Houston defence is among the league's best, the Jaguars are not that far behind. Quarterback play leaves a lot to be desired but at least the Texans have rid themselves of a player who was actively losing them games last year.
Verdict: Texans straight-up and to cover.
Baltimore Ravens @ Cincinnati Bengals (-3)
The Ravens have lost their last six road games and come into this game with Joe Flacco failing to take a snap in anger in the preseason. There's plenty of talk about the Bengals bouncing back from their first losing season in six years but their suspect offensive line needs to prove doubters wrong here.
Verdict: Bengals straight-up.
Philadelphia Eagles (-1) @ Washington
This line, says as much about Phillys strengths as it does Washington's weaknesses. With the caveat, again, that Thursday proved preseason may have taught us nothing, the Eagles defence can suffocate a struggling Washington offence.
Verdict: Eagles straight-up and to cover.
Arizona Cardinals (-2) @ Detroit Lions
Quarterback wins are a meaningless stat (see the Broncos last Super Bowl win) but it is interesting to note that the highest-paid player in NFL history, Matthew Stafford, has managed zero victories in four games against the Cardinals. Indeed, his passer rating of 65 in those four games is way below 86.8 career rating.
Verdict: Cardinals straight-up and to cover.
Oakland Raiders @ Tennessee Titans (-2.5)
The Titans enter this season as the most-hyped team since, well, the Raiders last year. And just like Oakland in 2016, I think their can justify they hype but, to do so, they'll need to take advantage of their upgraded receiving corp against a suspect Raiders secondary.
Verdict: Titans straight-up and to cover.
Pittsburgh Steelers (-8.5) @ Cleveland Browns – Sky Sports
Because of Le'Veon Bell's hold-out, the much-vaunted Pittsburgh offence — with the returning Martavis Bryant — will go into the season cold against Cleveland. However, the loss of number one overall pick, Myles Garrett, really hurts any slim chance they had to cause and upset here.
Verdict: Steelers straight-up and to cover. 
Sunday - 9.05pm
Indianapolis Colts @ LA Rams (-4)
It's ridiculously early, but this could possibly be the worst game of the year. Do everything you can to avoid it. The Colts have a dodgy offensive line and are starting Scott Tolzien in place of Andrew Luck, while the Rams are without their best defensive player.
Verdict: Rams straight-up and to cover (easily). 
Sunday – 9.25pm
Carolina Panthers (-5.5) @ San Francisco 49ers
It will be very interesting to see if Christian McCaffrey is on any sort of 'pitch count' for this game. The 49ers have won six season-opening games on the spin, including a couple of shock wins over the past two years. Can they do it again? Probably not.
Verdict: Panthers straight-up.
Seattle Seahawks @ Green Bay Packers (-3) – Sky Sports
These two sides know each other very well, playing eight times in the past ten years but, when it comes to games in Wisoncsin, there's usually only one winner. Indeed the Seahawks haven't won in Lambeau this millennium. Whatever the result, both these teams will have a major say come January.
Verdict: Packers straight-up and to cover.
Monday – 1.30am
New York Giants @ Dallas Cowboys (-4) – Sky Sports
Dallas surprised a lot of people by going 13-3 last season and may well raise a few more eyebrows this year by failing to live up to expectations. The big question mark for the Giants is whether or not the arm-strength decline we saw in Eli Manning last season continues.
Verdict: Giants against the spread.
Tuesday – 12.10am
New Orleans Saints @ Minnesota Vikings (-3.5) – Sky Sports
The storyline here is, of course, the immediate return of Adrian Peterson to the Vikings with his new team. Seeing him line up in Saints colours will be an odd sight, but not as strange as the line in this game.
Verdict: Saints against the spread.
Tuesday – 3.20am
LA Chargers @ Denver Broncos (-3.5) – Sky Sports
While the NFL has in no way saved the best until last, the final game of the weekend is an interesting encounter. The Chargers have a real playoff chance if everyone stays healthy but they'll have to win in-division games like this one to get there.
Verdict: Chargers against the spread.