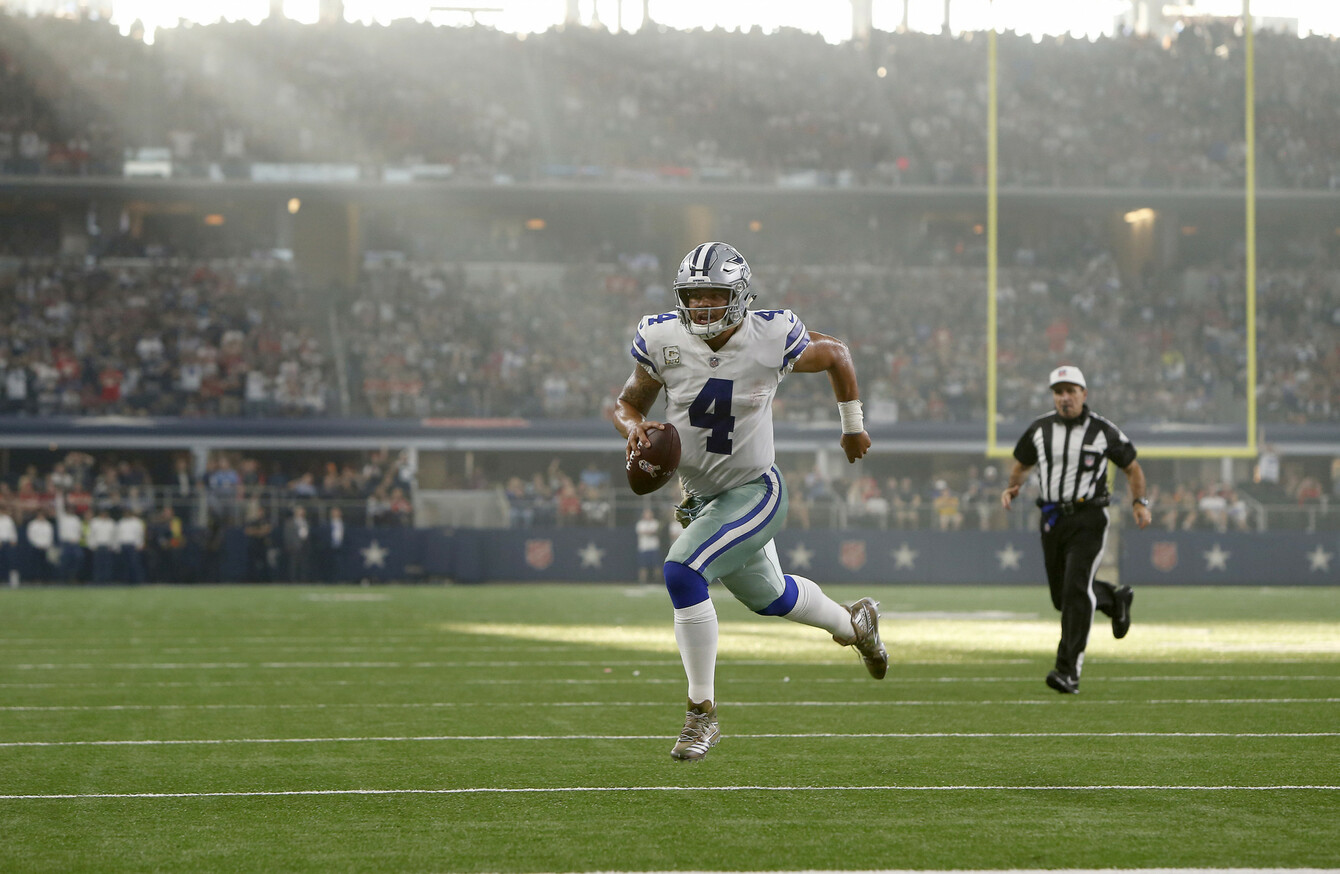 Dak Prescott will hope to continue his good form this week.
Image: Brad Loper/PA Images
Dak Prescott will hope to continue his good form this week.
Image: Brad Loper/PA Images
THE GREAT AMERICAN astronomer Carl Sagan would have turned 83 this week had he not died from complications of Myelodysplastic syndrome in 1996.
He's always been something of a hero of mine and, even now, nearly 21 years after his death, many of his words still ring true.
This week, I can't help but think of the following quote in particular:
The truth may be puzzling. It may take some work to grapple with. It may be counter-intuitive. It may contradict deeply held prejudices. It may not be consonant with what we desperately want to be true. But our preferences do not determine what's true.
Now Sagan may have been referring to much bigger questions about the entire nature of human existence, but it can equally be applied to America's Game.
For example, you may want it to be true when Bill O'Brien says Houston won't be signing Colin Kaepernick because "he hasn't played football in a while".
But then, a day later, he signs Josh Johnson, a quarterback who has not attempted an NFL pass since 11 December 2011 — for context, Kaepernick has played in a Super Bowl since then — and the truth, however puzzling, emerges.
You may want to believe that the league is not colluding against Kaepernick — as his lawsuit alleges — that, instead 32 owners and 32 general managers have individually come to the conclusion that he's not good enough to play for their team.
But then you turn on your TV and Tom Savage, Brock Osweiler and Brett Hundley are taking meaningful snaps in NFL games and, once again, the truth contradicts your deeply held belief that teams would never sabotage their season just because a good quarterback took a knee to draw attention to the killing of his fellow African-Americans.
You might desperately want it to be true that the NFL represents the best American football has to offer, but all three of Savage, Osweiler and Hundley will play again this week and all three will almost certainly lose.
And the truth becomes ever more difficult to grapple with.
Sunday – 6pm
New Orleans Saints (-3) @ Buffalo Bills
The secret to the Bills' success this year has been turnovers and only Baltimore has more than Buffalo's 17. The Saints have given the ball away just nine times this season, as they've become a much-more balanced outfit than the Drew Bress-dominated ones we've been used to in previous years. However, it's worth noting that dome teams travelling to cold-weather grounds only win about 20% of the time.
Verdict: Bills against the spread
Green Bay Packers @ Chicago Bears (-5.5)
Mike Lombardi describes Aaron Rodgers as a "deodorant quarterback", one who masks everything that's wrong with a team. Since he left with injury, the Packers have been awful and Chicago's home defence is more than enough to get the win in this game.
Verdict: Bears to cover
Cleveland Browns @ Detroit Lions (-11)
The Browns are coming off a bye and the Lions a short week, but even that doesn't worry me about taking the double-digit spread.
Verdict: Lions to cover
Pittsburgh Steelers (-10) @ Indianapolis Colts
If Jacoby Brissett and TY Hilton team up for the Colts in the way they did last week against Houston, they could keep this game interesting. The real threat to the Steelers' defence and offence, however, is rust coming off a bye rather than anything the Colts have to offer.
Verdict: Steelers to cover
LA Chargers @ Jacksonville Jaguars (-3.5)
Philip Rivers has 18 touchdowns and a passer rating over 120.0 in the Chargers' 6-0 run against the Jags dating back to 2010. But this Jags team has the potential to be different, and is shaping up to make a Super Bowl run akin to the 2015/16 Broncos. To prove they are legitimate, however, they need to take care of their bogey team.
Verdict: Jags to cover
New York Jets (-2.5) @ Tampa Bay Buccaneers
If you'd told me at the start of the season that this game would feature a team playing above themselves versus one that has given up on the season, I'd have believed you. However, I'd have assumed the Jets were the latter and the Bucs were the former. Lose this, and time may be up for Dirk Koetter in Tampa Bay.
Verdict: Jets to cover
Cincinnati Bengals @ Tennessee Titans (-4.5)
Speaking of teams giving up on the season, the Bengals were woeful against Jacksonville last weekend and the frustration of AJ Green was there for all to see. Tennessee are still atop the AFC South, but their performances need to step up if they're to stay there.
Verdict: Titans to cover
Minnesota Vikings (-1.5) @ Washington
The Washington professional football team surprised many people by going in to Seattle missing six key players on offence and still getting the win last weekend. In a hugely competitive NFC East, they need to keep winning, but the Vikings have divisional honours of their own to worry about.
Verdict: Vikings to cover
Sunday – 9.05pm
Houston Texans @ LA Rams (-11.5)
This could have been a battle of two of the most exciting young quarterbacks in football in Deshaun Watson and Jared Goff. Instead, the visitors will once again start Tom Savage at quarterback and will once again lose.
Verdict: Rams to cover
Sunday – 9.25pm
Dallas Cowboys @ Atlanta Falcons (-3)
Now that it looks like Zeke Elliott will finally serve his six-game suspension, the Cowboys must prove there's more to them than just their running back. Over the course of three impressive wins since their bye, it is their defence that has really stood up. For Atlanta, their stats might be similar to last year, but they're failing the eye test and, crucially, failing in the W column too.
Verdict: Cowboys against the spread
New York Giants (-2.5) @ San Francisco 49ers
There's another Carl Sagan quote: "There is a wide, yawning black infinity. In every direction, the extension is endless; the sensation of depth is overwhelming. And the darkness is immortal." He could easily have been describing both of these teams' seasons.
Verdict: 49ers against the spread
Monday – 1.30am
New England Patriots (-7.5) @ Denver Broncos
Tom Brady's has only won three of 10 games in Denver, and even has a loss to a Brock Osweiler-led Broncos on his CV. Coming off a bye, however, Bill Belichick has had plenty of time to game-plan for a Denver defence coming off the back of dropping 51 points to the Eagles.
Verdict: Patriots to cover
Tuesday – 1.30am
Miami Dolphins @ Carolina Panthers (-10)
On Sunday Night Football, the Miami Dolphins looked to have found something resembling an offence, but that might be down to playing the awful Oakland Raiders defence. The Panthers are all altogether different kettle of fish.
Verdict: Panthers to cover
Subscribe to The42 podcasts here: