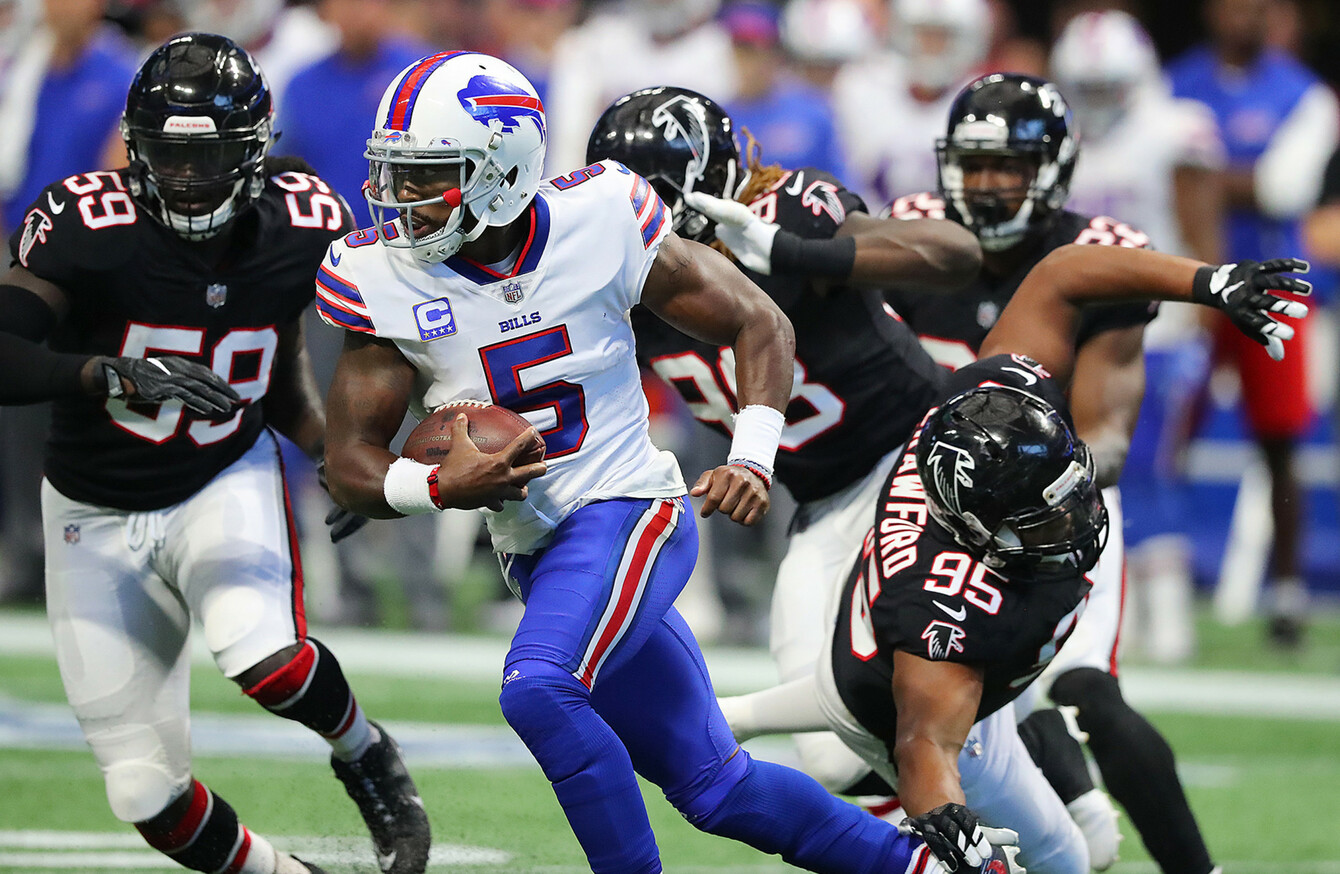 Tyrod Taylor has been dropped by the Bills.
Image: Curtis Compton/PA
Tyrod Taylor has been dropped by the Bills.
Image: Curtis Compton/PA
YOU MIGHT THINK the fact that the NFL's first black professional quarterback — Fritz Pollard — was taking snaps for the Akron Pros in 1920 means that America's Game was more open to minorities than, say baseball, where the colour barrier was only broken by Jackie Robinson in 1947.
But, thanks largely to a de facto ban on black athletes championed by then-Washington owner George Marshall, between 1934 and 1946 there were no black players in professional football at all, so it wasn't until 1950 that George Taliaferro became the second African-American QB when he lined up for the New York Yanks.
In 1978, Doug Williams became the first black quarterback to be drafted in the first round of the NFL Draft when he was selected 17th overall by the Tampa Bay Buccaneers. Ironically, it was with Washington — the last franchise to reintegrate African-Americans into their team after Marshall's ban — that Williams would become the first black quarterback to win a Super Bowl in 1988.
By that stage, 21 white quarterbacks had lifted the Vince Lombardi Trophy and, in the past 29 years, just five other black quarterbacks have played in the Super Bowl — Steve McNair, Donovan McNabb, Colin Kaepernick, Russel Wilson and Cam Newton — with only Wilson matching Williams' achievement of winning.
Given that 70% of NFL players are black, that seems an oddly low number?
Things have gotten better at the position in general with 25% of starting quarterbacks last week coming from a minority background, but the figure won't be quite as high in week 11 with the demotion of Tyrod Taylor in Buffalo.
Taylor was dropped for rookie Nathan Peterman despite ranking in the top half of the league in QB rating and ninth in Pro Football Focus' quarterback grades. He's also one of just three quarterbacks in the league this season — alongside Tom Brady, Aaron Rodgers and Alex Smith — to have at least 10 touchdowns while throwing three interceptions or fewer.
Now, Taylor is coming off the back of his worst game of the season when he completed just 50% of his passes for 56 yards, no touchdowns and an interception, but he's hardly to blame for the fact the Bills' defence gave up nearly 300 yards and six touchdowns on the ground to the Saints last week.
There is, of course, a contract issue, and the head office in Buffalo does not appear to particularly rate Taylor in a situation Sam Monson of Pro Football Focus described to ESPN's Mina Kimes as "like hitting a 17 in blackjack. You can do better than your hand, but you probably won't."
Considering that no team in the NFL has a longer playoff drought than the Bills — even the Browns have played postseason football since Buffalo's last meaningful January game (8 January 2000) — it seems odd timing to drop a quarterback who offers so much to a team devoid of offensive weapons.
Maybe they want to keep that streak going? I certainly can't think of many other explanations for the move from a team in their position.
Sunday – 6pm
Tampa Bay Buccaneers @ Miami Dolphins (scratch)
According to Football Outsiders, despite their 4-5 record, the Miami Dolphins are the worst team in football. That takes some doing when there's still one team without a win and another two with one victory each. The Bucs are not much better mind, especially with Ryan Fitzpatrick at quarterback.
Verdict: Dolphins to win
Detroit Lions (-3) @ Chicago Bears
I took the Bears last week because everything — home field advantage, an above average defence and a dodgy Green Bay quarterback — pointed to a Chicago win. Two of those three still apply this week but the Lions need to keep winning to stay in the playoff hunt.
Verdict: Lions to cover
Jacksonville Jaguars (-7.5) @ Cleveland Browns
On the surface, this looks like surefire Jaguars win because the Browns have the worst passing attack in NFL and they host the best passing defence. But Cleveland also has the league's sixth best ground game and will look to use it against the NFL's 30th-ranked rush defence. This one is not quite a clear-cut as it seems.
Verdict: Browns against the spread
Baltimore Ravens (-2) @ Green Bay Packers
There's very little you can be sure about in the NFL but, since 1990, more than 70% of road favourites have not just won after coming off a bye week, they've also covered the spread too. There are still huge question marks about Joe Flacco, but he has a good enough defence behind him to win this game.
Verdict: Ravens to cover
Arizona Cardinals @ Houston Texans (-1)
Blaine Gabbert versus Tom Savage. You're alright thanks.
Verdict: Cardinals against the spread
LA Rams @ Minnesota Vikings (-2.5)
Probably the best game of the weekend between two sides with 7-2 records. The Rams not only have the most potent offence in the NFL but their defence is ranked number one by Football Outsiders DVOA. They face a massive tough slate of games in the next few weeks but I expect them to clear the first hurdle.
Verdict: Rams against the spread
Washington @ New Orleans Saints (-7.5)
The Saints go marching on. But this is not the New Orleans team we've come to know in the Drew Brees era. Last week against the Bills, they scored on a 10-play, 94-yard touchdown drive with every single one a run play. It's so hard to know what Washington are going to do in any given game this season, you may as well flip a coin as analyse their chances in this game.
Verdict: Saints to cover
Kansas City Chiefs (-10.5) @ New York Giants
Andy Reid has already established an almost mythical bye week record — he's only lost two of 18 games coming off a break in his career — and match-ups don't come much easier than the New York Football Giants this season.
Verdict: Chiefs to cover
Sunday – 9.05pm
Buffalo Bills @ LA Chargers (-6)
Nathan Peterman's first game as a Bill will be against one of the best pass rushes in the league. The Chargers somehow conspired to lose a game against Jacksonville they appeared to have won five different times last weekend. If they want to make the playoffs, they need a win over a Wildcard rival.
Verdict: Chargers to cover
Sunday – 9.25pm
Cincinnati Bengals @ Denver Broncos (-2.5)
Two head coaches who might not have jobs next year and two teams with nothing to play for this season.
Verdict: Broncos to cover
New England Patriots (-7) @ Oakland Raiders – Mexico
The only way the New England Patriots don't win this game is if they deteriorate badly in the second half following two games above sea-level in as many weeks. The Raiders have a 100% record in Mexico (one game, one win) and are still theoretically in the playoff hunt but their defence won't live with Tom Brady.
Verdict: Patriots to cover
Monday – 1.30am
Philadelphia Eagles (-3.5) @ Dallas Cowboys
The Cowboys loss to the Falcons last weekend gives the Eagles some breathing room at the top of the NFC East and, whatever about Zeke Elliott, they're sure to take advantage of the fact key linebacker Sean Lee is missing for America's Team. Right now, I'd love to see Philly in the Super Bowl.
Verdict: Eagles to cover
Tuesday – 1.30am
Atlanta Falcons @ Seattle Seahawks (-3)
The Falcons showed what they could do against poor offensive line play last weekend when they recorded eight total sacks on Dak Prescott so Russell Wilson can expect an equally difficult night. However, Seattle's quarterback has a lot more experience of pressure and that could be just enough.
Verdict: Seahawks to cover
The42 has just published its first book, Behind The Lines, a collection of some of the year's best sports stories. Pick up your copy in Eason's, or order it here today (€10):