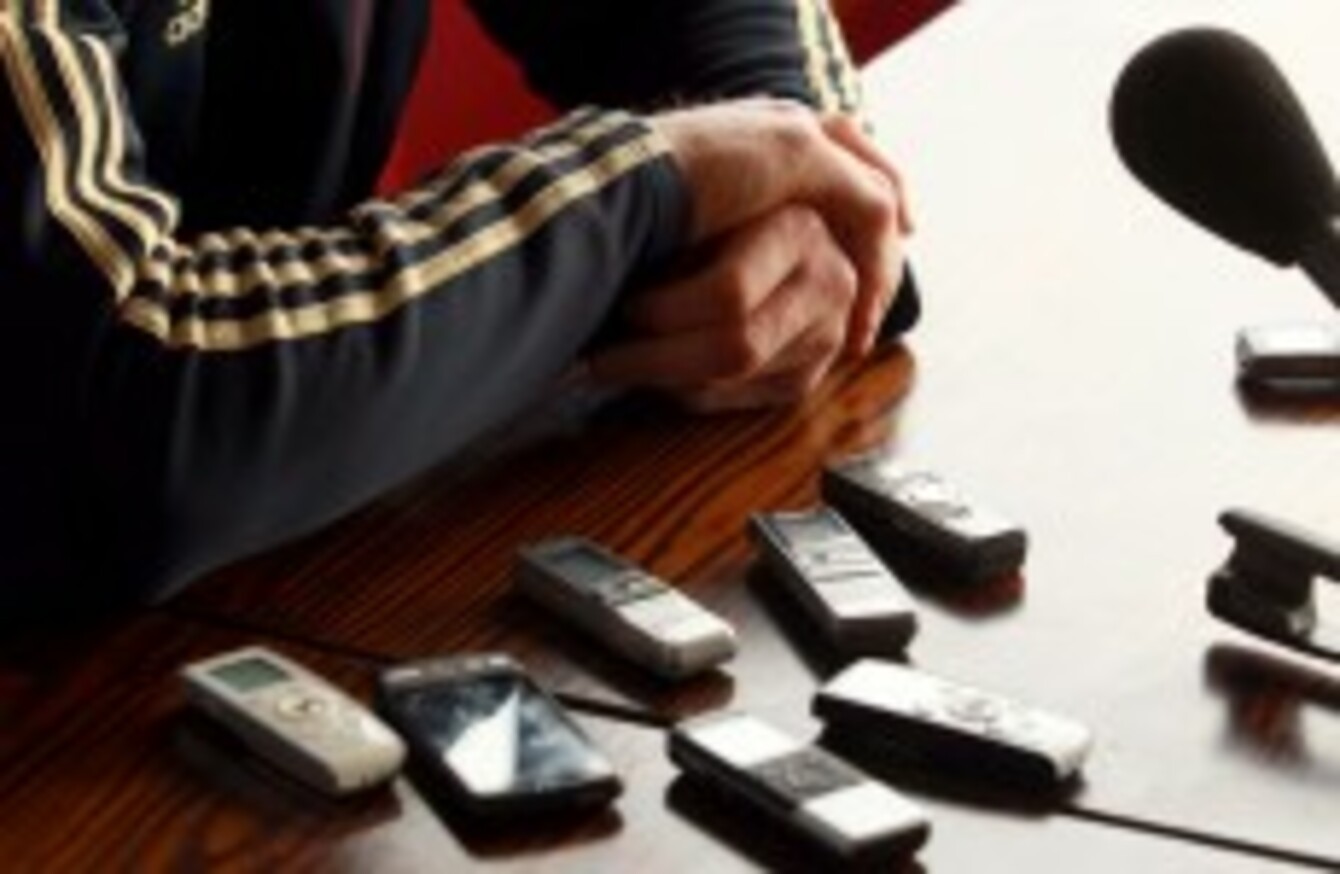 Paul O'Connell sits in front of reporters' dictaphones and smartphones this week.
Image: INPHO/Billy Stickland
Paul O'Connell sits in front of reporters' dictaphones and smartphones this week.
Image: INPHO/Billy Stickland
EVERY SUNDAY MORNING we get the kettle on, put our feet up and flick back through some of our favourite pieces from the week's newspapers, websites, blogs and bathrooms walls.
1. "Sky's anchorman, Dave Clark, is the most optimistic of all God's creatures; neither he nor Sky's array of pundits have ever seen a long match that might not just be the greatest ever. And then there are the commentators, who call each game as if it might at any moment break into Ragnarök. The most famous (or infamous) is Sid Waddell. Devotees of Gol TV in the United States know all about Ray Hudson's soccer commentary, all ecstasy and sense-warping similes. Waddell, another Geordie, is wilder, more florid, and even more manic. The greatest piece of sports commentary I've ever heard of (rather than actually heard, sadly) is his: "When Alexander the Great was 33, he cried salt tears because there were no more worlds to conquer. Bristow is only 27." (Waddell was recently diagnosed with cancer and missed the World Championship. Here's to a full and speedy recovery.)"
We've always been a fan of Irish writer Fredorrarci. Here he introduces the unique world of darts to the readers of The Classical.
2. "The crying-in-the-shower part was exactly a year ago last week — wild-card weekend — when his Philadelphia Eagles were about to host the Green Bay Packers. The day before the game, doctors found a tumor on the ovary of Akers' 6-year-old daughter, Halley. They were still trying to figure out what to do with it Sunday morning when a distraught Akers had to drive to the game to kick inflated pigskins through bars of steel. Just to add a pint or two of sweat to the gallons Akers was already spilling, there was this: The year before, Akers found out he'd been swindled out of most of his life savings in a Ponzi scheme by Texas investor Kurt Barton, who ended up getting 17 years in prison for it. Akers had to testify against him.
His $3.7 million was gone, though, which meant this playoff game was crucial to the Akers family's future. No wonder his brain was a bowl of Jell-O that day."
This one is right up Rick Reilly's street – and David Aker's story is well worth a read on ESPN.
3. "It feels rather early to be retiring phrases on the grounds that the London Olympics has rendered them entirely meaningless, but can I make a case for the semantic funeral of "as you've never seen them before"? At present, this old chestnut is typically applied by media publications to female 2012 athletes, who are marshalled into photoshoots billed as the last word in expectations-busting. You know the sort of thing – "Britain's 2012 track hopes – as you've never seen them before".
Alas, the response to this promise is fast becoming: are they in their knickers? Or a Sexy Party Dress? Because I'm starting to feel that's the only way I ever see them."
God bless The Guardian's Marina Hyde. Here the columnist takes on how female athletes are portrayed in the media.
4. "A player winning a Grand Slam singles title past the age of 30 has always been a rare sight: The last one to do so was Francesca Schiavone at the French Open in 2010. But with the increasing physical demands of the game, will it become an even harder feat in the future?"
This is a short, snappy and informative piece on the demands of modern tennis in the New York Times. God be with the days of Andre Agassi.
5. "I'm not trying to rub it in but it really is good to be in the sun for a while. Sean arrived a few days ago and it's now officially a complete male zone I'm living in. It's quite nice to be honest. I'm the only girl so I have my own room and when I'm bored of the lads being lads I just wander in here. For example right now they are all parked on the couch watching some complete lads DVD and I've been in my room reading celebrity gossip online. In fairness they are great company 99% of the time and are awesome at just sitting around having completely random conversations."
Derval O'Rourke seems to be enjoying her warm-weather training in Fuerteventura with the lads. Her blog is always worth a read.
6. "When I was kid, my favorite NFL player was John Elway. I rooted for the Broncos in the Super Bowl against the Giants—I never much cared for the Eagles under Buddy Ryan, but as a kid from the Philly suburbs in South Jersey, I knew I was never allowed to root for a team from New York.
That year, my dad was writing a magazine feature on Steve Sabol and traveled with the NFL Films crew to the Super Bowl. When he got back from California, a day after the first of three demoralizing Super Bowl losses in four years for Denver, my dad told me how he met Elway in the locker room after the game. I'm not sure if this next part was true or a dad telling his son a sports-media fish tale (or my own inflated recollection) but I distinctly recall my father saying how nice Elway was after the game and how he said hello to my dad while in his underwear.
After losing his first Super Bowl to the Giants, John Elway was nice to random people in the locker room. In his underwear.
That was awesome."
This Dan Levy column on Bleacher Report is about Tim Tebow. But, God, I love John Elway.