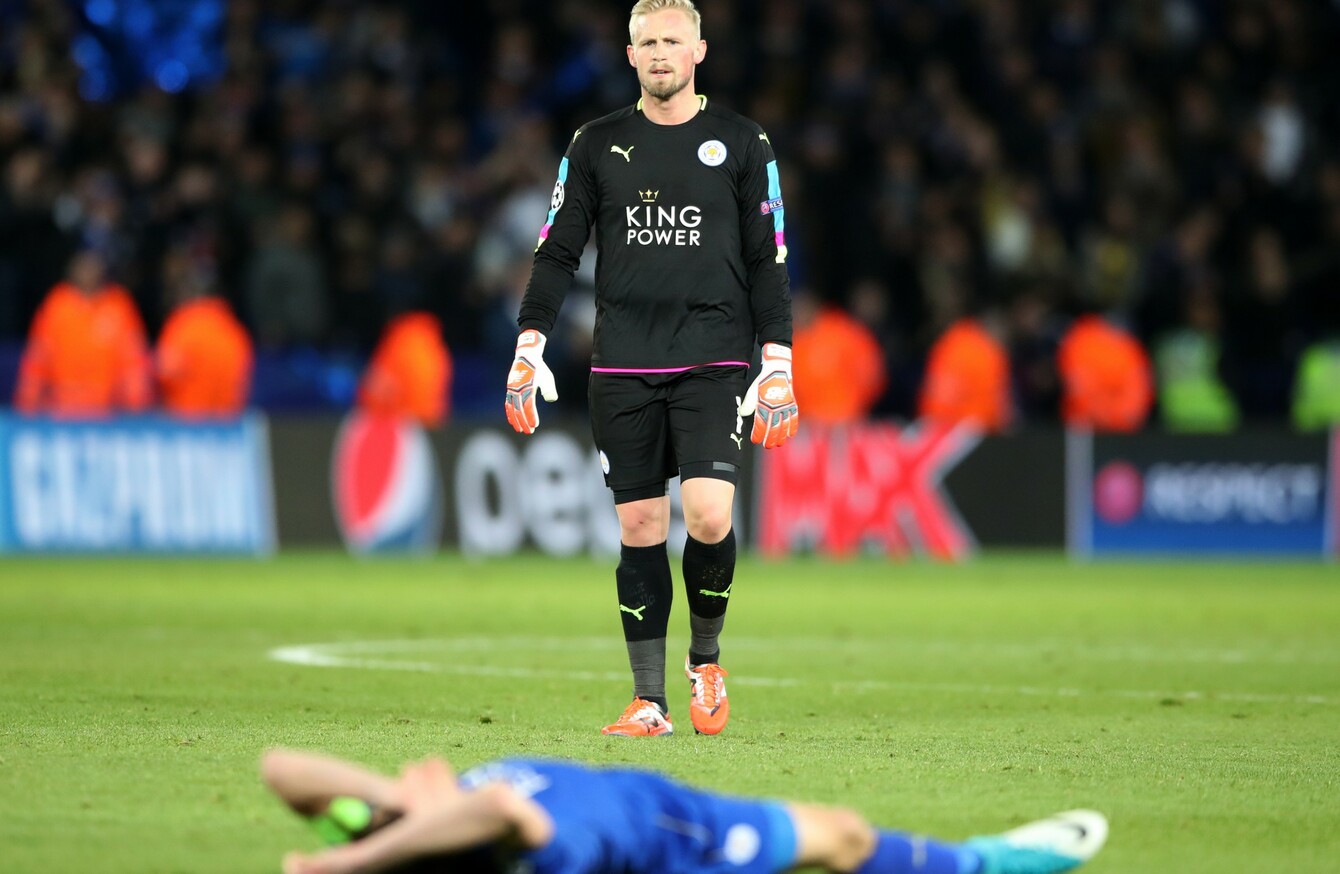 What next for the Premier League as they miss out on yet another Champions League semi-final.
Image: Nick Potts/PA Images
What next for the Premier League as they miss out on yet another Champions League semi-final.
Image: Nick Potts/PA Images
IN A DRAMATIC week of action in the Champions League knockout stages, one of the less gripping storylines was the end of English Premier League involvement for another year.
It'll soon be five full seasons since a team from England won Europe's premier club competition, never mind reached the final.
Of late, Premier League clubs have been like the novelty acts that make improbable runs to the late stages of TV talent competitions, without really having a chance of winning.
And so Leicester City, the Honey G of this year's Champions League, took their final bow this week.
Not everyone approves of these contestants hanging around too long; too many Stavros Flatleys or Ed Ballses demean the competiton, some feel.
We in TV3 drew some criticism for showing Leicester's second leg against Atletico Madrid this week, rather than Real Madrid versus Bayern Munich.
Or, as @Emmet2000 put it on Twitter: "What scumbag decided to show Leicester instead of Real v Bayern??"
Despite Emmett2000's strong feelings, it was hardly the worst scheduling decision ever made (hey, some people like The Jeremy Kyle Show!).
The logic was that the Leicester tie had the potential to be another chapter in one of the most extraordinary stories in modern sport, and that whatever happened in the Bernabéu, as thrilling and dripping with quality as it may be, would not be entirely novel or unexpected.
And, arguably, if Christian Fuchs and Mark Albrighton had worked out between them who should pick up Saul Niguez after 26 minutes at the King Power Stadium then there would have been every chance of Leicester once again achieving the seemingly impossible.
But the problem with the likes of Christian Fuchs and Mark Albrighton, as Emmett2000 would no doubt argue, is that expecting them not to make mistakes in a Champions League quarter-final is like expecting Dancing Dessie to perform a flawless Cha Cha Cha or a ten-out-of-ten tango.
Indeed, while their equaliser provided hope, the agricultural nature of Leicester's attempts to grab the two goals they needed showed up their shortcomings at this level, a stage when a graceful glide across the dancefloor is required, rather than sweaty moshing.
Leicester manager Craig Shakespeare, by contrast, felt they belonged:
I've just said to the players that they should want more of this [the Champions League] and they've agreed that that's what they want."
One presumes the boss left the Foxes dressing room at that point in the conversation, missing the general outbreak of laughter.
It feels like there's nowhere left for Leicester to go. If their fairytale title win — heartwarming, life-affirming and romantic — was a Spielberg production, this term was pure Scorsese: betrayal, redemption, moral ambiguity and a crisis of faith; the made guy even got whacked, leaving Jamie Vardy pounding his own face, crying "I'm not an animal, I'm not an animal!" What could they possibly do after all that?
But it's the Premier League table rather than a public vote which really means the end of the journey for Leicester. The hallowed top four currently excludes a club that expended €185 million in transfer fees last summer, as well as another that has qualified for the Champions League for each of the previous nineteen seasons.
So is the Premier League ready to become a contender in Europe again, no longer the Champions League equivalent of the tone-deaf boy band or the yodelling labrador?
Between 2005 and Chelsea's unlikely success in 2012, all but one Champions League final featured an English club, and they occupied 14 of the 32 semi-final berths.
What was notable about this period was that Premier League clubs had not just the money, but also the know-how. With Jose Mourinho and Rafael Benitez at their peaks, and Alex Ferguson and Arsene Wenger still in their regal pomp, they were led by powerful managers with compelling visions.
In the fallow years since 2012, English clubs took on a battalion of European superclubs managed by a motley mix of characters: David Moyes, Louis Van Gaal, Brendan Rodgers, Roberto Mancini, Manuel Pellegrini, a declining Wenger and myriad Chelsea bosses among others.
All either past it, not up to it, inexperienced or compromised by a lack of control.
Now, after oozing its way into the pockets of average managers, unexceptional players and unscrupulous agents, Premier League money has finally seeped back towards the best bosses.
In Antonio Conte, Mauricio Pochettino, Pep Guardiola and Jurgen Klopp, the likely Champions League qualifiers are managed by the strongest group since the league's noughties heyday.
Balancing domestic and European demands is one concern; Tottenham couldn't do it this season, and Chelsea didn't have to.
But with ever-increasing financial strength and transition likely at Barcelona and Bayern Munich, next season could see Europe's joke contestant – it's potty-mouthed ventriloquist or clodhopping politician – getting the last laugh.
If not, the Premier League will console itself that it remains the most watched in the world; but then the novelty act is always popular, it's just that everyone knows it's not going to win.