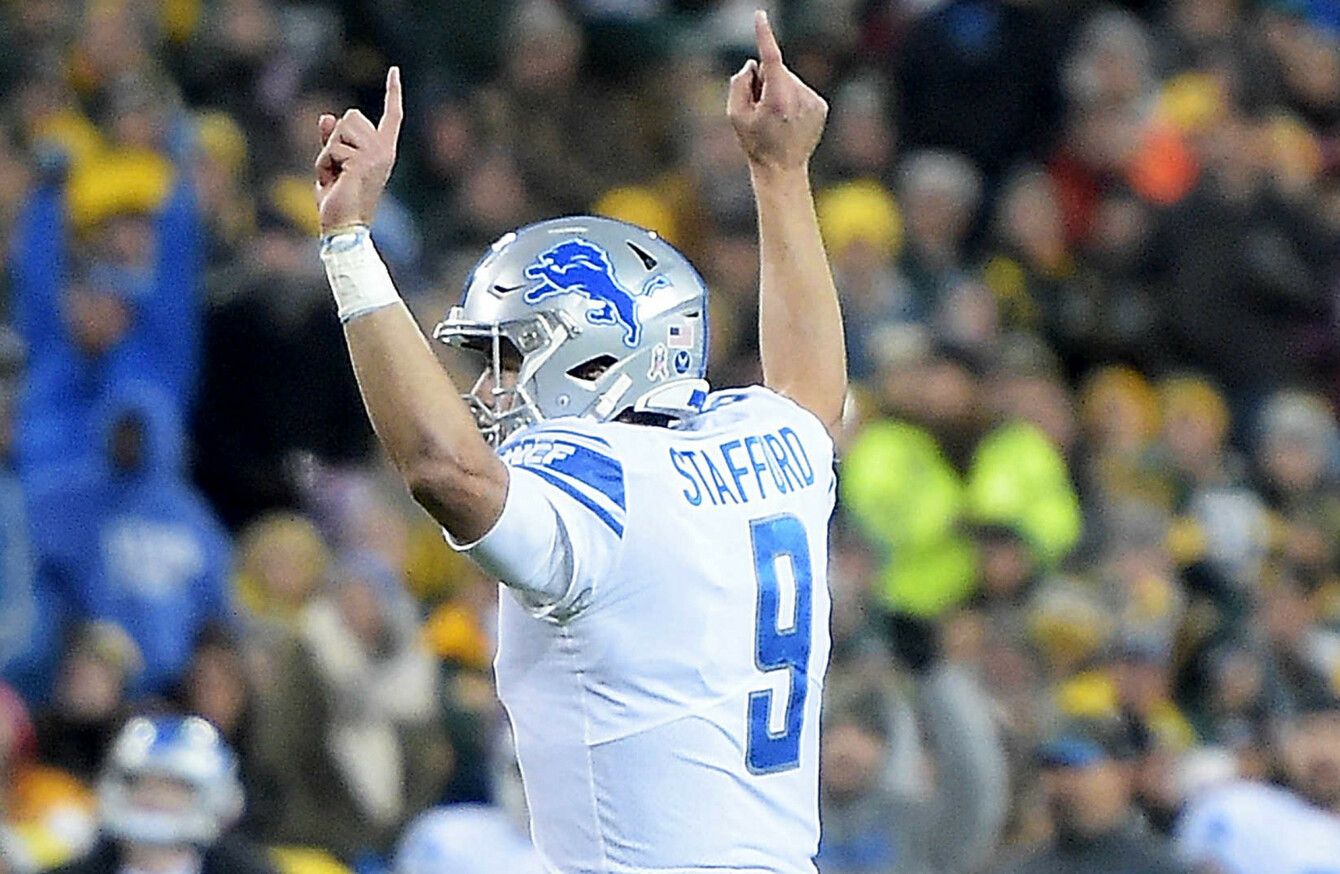 Matthew Stafford
Matthew Stafford
MATTHEW STAFFORD DID not need any late-game magic as the Detroit Lions saw off the Green Bay Packers 30-17.
Monday's NFL clash was essentially over at half-time, Stafford throwing for 361 yards and two touchdowns to lead the Lions at Lambeau Field.
Detroit did not punt in a game for the first time since 1971 and held a significant time-of-possession advantage of 36:55-23:05.
It was just the second win for the Lions in the state of Wisconsin since 1991, but both victories have now come in the last three trips to Green Bay.
The Lions grabbed the momentum on their first offensive series, a drive kept alive by a Packers mistake.
Detroit were stopped on third-and-14 after Stafford's pass to Golden Tate was incomplete, but Packers defensive lineman Mike Daniels headbutted Lions centre Travis Swanson. The unnecessary roughness penalty gave the Lions 15 yards and a first down.
Stafford then capped a nine-play, 71-yard drive with a 25-yard touchdown strike to a diving Marvin Jones.
The Lions never looked back as Stafford was rarely pressured, allowing him to complete 26 of his 33 passes against Green Bay's injury-riddled defence.
In dismantling the Packers, Stafford became the quickest player in NFL history to have 200 career touchdown passes.
Despite saying he has "three years invested in" Brett Hundley, Packers head coach Mike McCarthy has not shown trust in the former UCLA quarterback.
A game plan that looked promising on the opening drive retreated into an ultra-conservative shell. The Packers hardly tried to push the ball downfield as Hundley completed 26 of his 38 pass attempts for 245 yards, most of which came in the fourth quarter.
The Packers were coming off a bye week and McCarthy said he wanted to open the playbook for Hundley.
It did not happen as Green Bay's offence lacked creativity and aggressiveness.
The Packers did attempt four deep passes but Hundley was unable to connect each time. The longest gain of the night came on a short pass to Randall Cobb, who sprinted upfield for a 46-yard gain that included 34 yards after the catch.
Cobb had five catches for 58 yards and his run-and-catch led to a Packers touchdown, but after the game was out of reach.
McCarthy did not give Hundley control with a no-huddle offence until the fourth quarter when the Packers already trailed 20-3. The best play of the first half was rushing to get the field goal unit on the field to get off a kick just before half-time. The Packers were only in that position because Hundley threw a pass over the middle to Davante Adams, who finished with seven receptions for 53 yards.
Despite winning on Monday, the Lions (4-4) are still two games behind the Minnesota Vikings (6-2) in the NFC North.
Subscribe to The42 podcasts here: