THE FEATHERWEIGHT TITLE unification bout between Jose Aldo and Conor McGregor at UFC 194 on Saturday is undoubtedly the focal point for mixed martial arts fans in Las Vegas this week.
But with The Ultimate Fighter 22 Finale also taking place on Friday night and UFC Fight Night 80 set to go down 24 hours earlier, here's what else there is to look forward to…
Plenty of fan favourites on display
Gregory Payan Joe Lauzon Gregory Payan
Over 60 fighters will be competing over the course of the three events so there'll be a wide variety of styles on offer. As well as champions, challengers and former title-holders, you'll see some of the most entertaining fighters on the UFC roster, including Jim Miller, Aljamain Sterling, Jose Lauzon, Edson Barboza and Tony Ferguson.
Another chance to see Sage Northcutt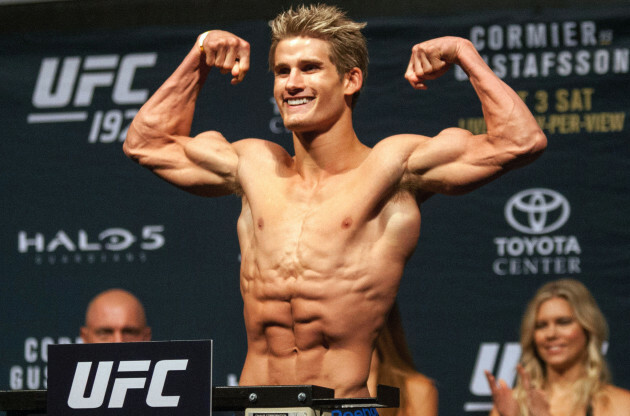 AP Photo / Juan DeLeon Sage Northcutt AP Photo / Juan DeLeon / Juan DeLeon
The 19-year-old wonderkid has spent just 57 seconds in the UFC's octagon so far but he's already one of the most talked-about fighters in the game. In terms of ability, Northcutt seems to have it all. Already one of UFC president Dana White's personal favourites, the undefeated Texan — who defeated Francisco Trevino via first-round TKO in his UFC debut in October — is being groomed for stardom. If Northcutt is as good as the hype suggests, he shouldn't struggle against Cody Pfister at UFC Fight Night 80 on Thursday.
Is Paige VanZant the real deal?
AP / Press Association Images Paige VanZant AP / Press Association Images / Press Association Images
Like Sage Northcutt, Paige VanZant is another fighter the UFC are building for the future. Still only 21, the Team Alpha Male strawweight has looked impressive in the octagon so far. However, VanZant will face her toughest test yet when she takes on former title challenger Rose Namajunas in the UFC Fight Night 80 main event. If the Oregon native is victorious, it'll represent the first clear indication that she can be a legitimate title contender in the 115lbs division.
The Ultimate Fighter 22 final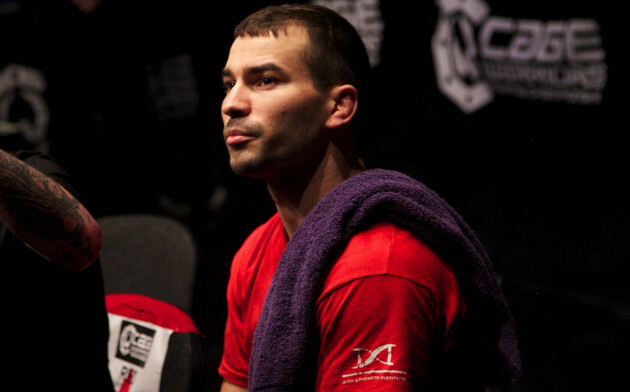 Artem Lobov
The two participants in Friday night's decider won't be officially determined until the semi-finals are broadcast in the early hours of tomorrow morning (3am, BT Sport 2), but Irish fighter Artem Lobov — who's Conor McGregor's main sparring partner — will be involved if he defeats Julian Erosa in the last-four of the competition. Lobov is being favoured for a meeting in the final with England's Saul Rogers, who clashes with Poland's Marcin Wrzosek in the other semi-final bout.
The featherweight division's Europa League final
AP Photo / John Locher Chad Mendes AP Photo / John Locher / John Locher
They're taking a back-seat to Conor McGregor and Jose Aldo this week, but outside of that UFC 194 main event, it doesn't get any bigger in the featherweight division than Frankie Edgar versus Chad Mendes. The headliner at the TUF 22 Finale should be an intriguing contest and the winner will have a very strong chance of being involved in the next title bout at 145lbs.
Is there one last title tilt in Urijah Faber?
AJM / EMPICS Entertainment Urijah Faber AJM / EMPICS Entertainment / EMPICS Entertainment
The perennial bridesmaid when it comes to UFC title bouts, Urijah Faber believes it's still not too late for him to get his hands on a UFC belt. If that's the case, he'll expect to dispose of the comparatively inexperienced Frankie Saenz in convincing fashion in Saturday's final prelim at UFC 194. With the bantamweight division short on challengers and animosity building between Faber and his former Team Alpha Male protégé TJ Dillashaw, the current 135lbs champion, could this mark the beginning of one final push for championship honours for 'The California Kid'?
Max Holloway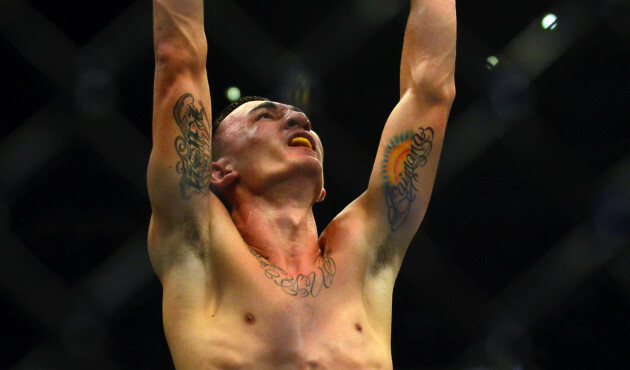 AP Photo / Jack Dempsey Max Holloway AP Photo / Jack Dempsey / Jack Dempsey
It seems like his 2013 defeat to Conor McGregor was the best thing that ever happened to Max Holloway. He only turned 24 last week but Holloway has already fought 13 times for the UFC. The only fighter to last the distance with McGregor, Holloway has embarked on a very impressive 7-0 run since that loss in Boston. Few would bet against the likeable Hawaiian extending that streak against Jeremy Stephens on Saturday. His meeting with Stephens is only the third-biggest featherweight fight taking place this week, but if Holloway picks up another win, the UFC won't be able to ignore his title claims for much longer.
The grappling purist's dream MMA bout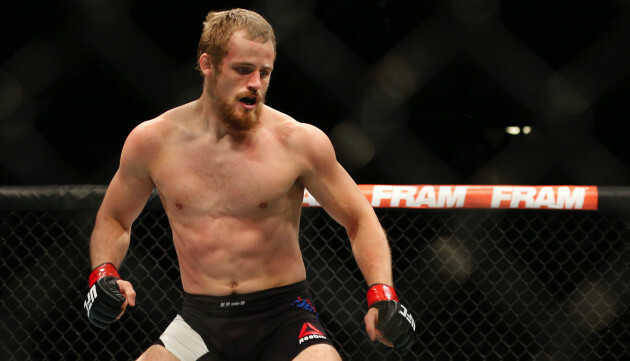 Gunnar Nelson
Sometimes when two Brazilian jiu-jitsu black belts of this calibre meet in mixed martial arts, their grappling attributes tend to cancel each other out. Nevertheless, whatever happens between Gunnar Nelson and Demian Maia on the UFC 194 main card, you won't want to miss a second of it. Maia is 38 now but his elite grappling pedigree has allowed him to maintain his status as a top-1o welterweight. A win here for Nelson, however, would make title contention a very realistic aim for the SBG fighter in 2016.
The middleweight title will be on the line
AP / Press Association Images Chris Weidman AP / Press Association Images / Press Association Images
Chris Weidman must be wondering what he needs to do to get the recognition his abilities deserve. Undefeated in MMA at 13-0, Weidman has beaten Anderson Silva — twice — as well as Lyoto Machida and Vitor Belfort in UFC title bouts. Weidman's middleweight championship defence this weekend against Luke Rockhold is one of the biggest fights you could possibly make in the sport today, but Conor McGregor and Jose Aldo have been hogging the limelight. It's the last fight before Aldo-McGregor but don't use that as an opportunity to put the kettle on and let the dog out to irrigate the garden. This one could very easily steal the show at UFC 194.
…and the next challenger will also be determined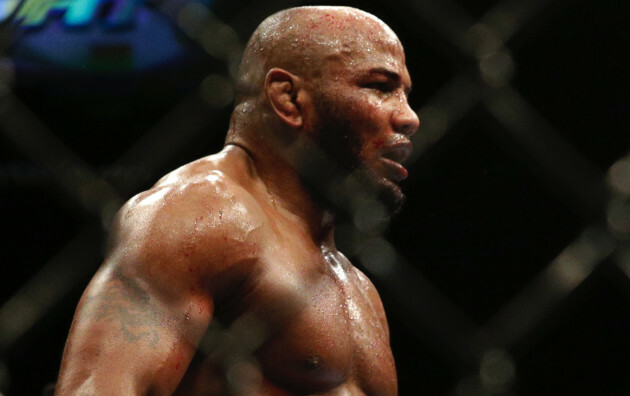 AP Photo / John Locher Yoel Romero AP Photo / John Locher / John Locher
Before Weidman and Rockhold battle for supremacy in the 185lbs division, Yoel Romero faces Ronaldo 'Jacare' Souza for the right to be the next middleweight title challenger. Those names may not be recognisable to some casual fans, but that's no reflection of their abilities. Romero picked up a silver medal in wrestling for Cuba at the 2000 Olympics, while 'Jacare' is a BJJ black belt who has won ADCC and World Championship gold medals. Whoever wins this one will have earned their title shot.