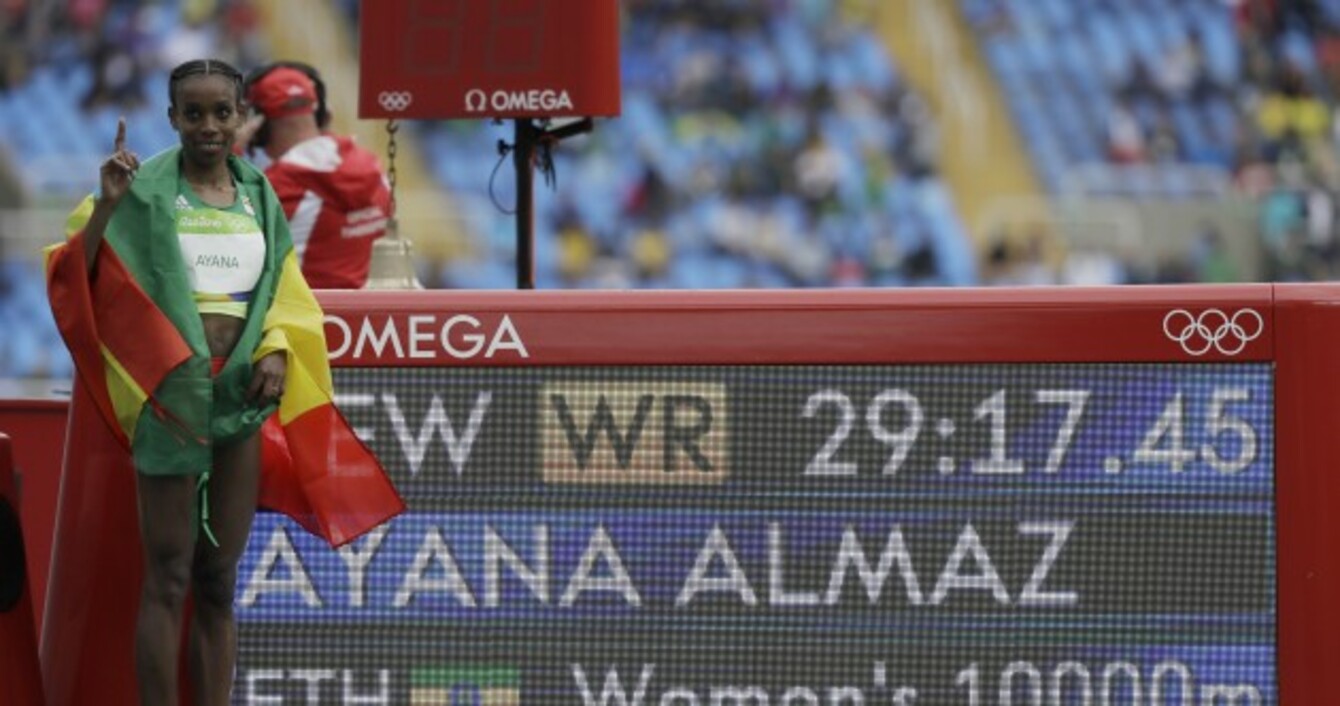 Image: David J. Phillip
Image: David J. Phillip
–Sinéad O'Carroll reports from Rio de Janeiro
ON 8 SEPTEMBER 1993, Junxia Wang of China ran a 10,000 metre race in 29 minutes 31.78 seconds. That took 42 seconds off the previously-held world record.
Wang (who was coached by the controversial Ma Junren up to 2005) kept a firm hold of the record until today.
This morning, Ethiopian runner Almaz Ayana ran her 10,000 metre Olympic final race in 29 minutes 17.46 seconds. That's 14 seconds shaved off Wang's 23-year-old world record.
Here are some facts.
Ayana, at age 24, has never tested positive for any performance enhancing drugs.
Ayana has run two competitive 10,000 metre races, one on 29 June and today when she won a gold medal and obliterated the world record.
Ethiopia has been told by the World Anti-Doping Agency (Wada) that it needs to test up to 200 athletes by November. Each country is responsible for testing their own athletes outside of competition.
Ayana became the sixth woman to run a 10,000 metre race in under 30 minutes.
Wada gave Ethiopia a scoring of zero (0) when it assessed its office and standards in December 2015.
Ayana has never tested positive or been banned or disciplined for any drug use.
And here are some more facts from today's race (as compiled by Running World):
Ayana's halfway split was 14:30.64, more than 10 seconds faster than the Olympic record in the 5,000 metres.
Eight women in the field broke national records.
Of the competitors, 18 set new personal bests.
Ayana finished more than six minutes ahead of the final runner over the line – Mexico's Marisol Romero. That's the equivalent of her being lapped five times by Ayana.
Sports fans everywhere should be wild with excitement.
But we're not.
We're jaded.
We don't want to have to ask questions.
We want to believe. We just… can't.
"I'm not jumping out of my seat because… I don't know. You kind of question it yourself and think, 'How do you do that?'" former world champion Sonia O'Sullivan said on RTÉ television during this afternoon's coverage.
How do you have an athlete that can break a world record so easily like that. And she didn't look very tired afterward?
"Things that you thought were impossible, out of reach and never broken – and then all of sudden they're broken by the length of the straight, you do have to question it a little bit.
"Maybe, the barriers are not there anymore and now people think they can do this stuff. It just looks too easy to me to be realistic," she added, referencing how more than half of the finalists in the 1,500 metres in London four years ago have been sanctioned over doping offences.
These incredible feats of endurance – like Ayana's today – are usually fantastic to watch, even if we're suspending our disbelief for those 30-odd minutes. The privilege of seeing the human form at its most impressive, adrenaline pumping bodies to go faster and for longer than even the brains attached to them thought possible.
But today at the Olympic Stadium in Rio de Janeiro, there was no feeling amongst spectators (in the press box, anyway) that we were witnessing something special. A 'we were there' moment, it was not.
Yes, there was glances at each other when we realised women – Olympians – were being lapped before they'd passed the halfway point. Yes, there were glorious Ethiopian fans waving their colours frantically and singing wholeheartedly. Yes, the crowd gave a significantly louder cheer on realising we were heading to a world record.
But it was not a morning I'll remember with great fondness. It will make my brain spin. Who should we believe? If there's no out-of-competition testing, is there automatically something wrong? Or should athletes get the benefit of the doubt until there is a dirty test?
Coming against a backdrop of doping scandals and athletes – particularly in the pool – not afraid to point the finger directly at rivals to accuse them of cheating, there needed to be a reason to believe.
Echoing O'Sullivan's nervousness and maybe taking the lead from those American swimmers, Swedish runner Sarah Lahti (who came 12th today) didn't hold back after the race.
What are they
really like?
Rare insights on sport's biggest names from the writers who know them best. Listen to Behind the Lines podcast.
Become a Member
"I do not believe that she is 100%. It is too easy for her," she told one of her national newspapers, Expressen, but careful to add that she cannot say 'that she is not clean'.
Told about the niggling doubts harboured by her own colleagues, Ayana had an answer – a reason she thinks we should believe.
"My doping is training. My doping is Jesus," she told reporters through a translator. "Otherwise I'm crystal clean."
When sports fans are being asked to put their faith in divine intervention in order to enjoy what should be one of the most remarkable moments in Olympic history (remember, Ayana is clean according to all legal and factual information available), we have a problem.
Athletics needs to cop onto that or it will continue to lose those moments. Abandoned to headlines that elicit eyerolls and not wide eyes. And there's always another, cleaner sport ready and willing to take its place.
The penultimate word to O'Sullivan, a legend of the sport and an ambassador for its development in Ireland, questioning its place in the world.
"It just makes you question it and you can't accept it as easily as watching two boys from Cork winning a silver medal in the rowing."
Athletics, time to get the finger out and pull like a dog.