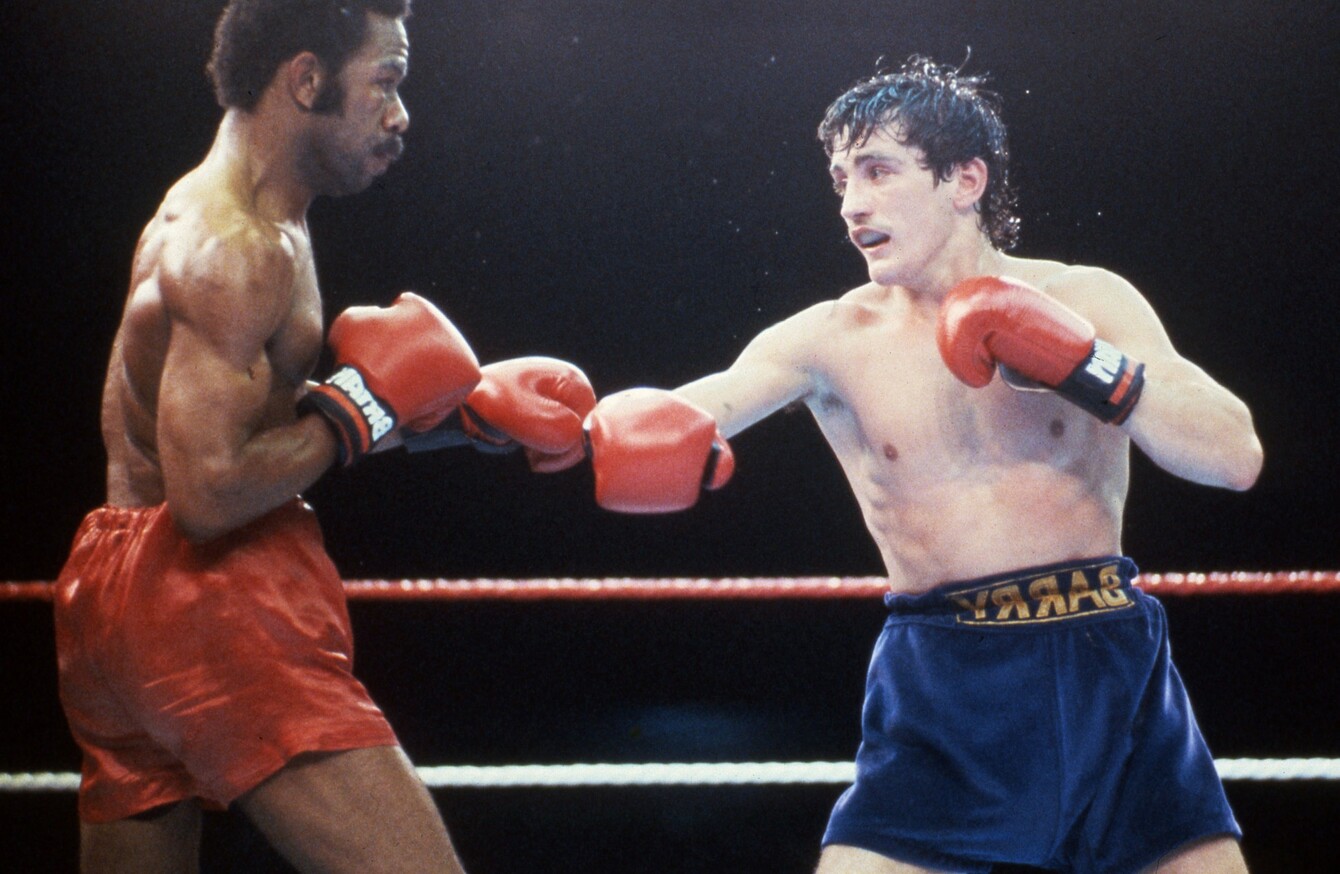 Barry McGuigan on his way to beating Eusebio Pedroza.
Image: Billy Stickland/INPHO
Barry McGuigan on his way to beating Eusebio Pedroza.
Image: Billy Stickland/INPHO
BARRY MCGUIGAN IS the eighth subject in our series of articles focusing on the most important Irish sportspeople of the last 100 years. The list will include GAA players, Olympians, boxers, golfers and more who dared to dream.
"Every fighter has a story that could break your heart. We lose, we get hurt and everything comes apart. That's when it's so difficult to stay on the straight and narrow."
Barry Patrick McGuigan was born on 28 February 1961, the third of eight children to Pat and Kate. He took his first tentative steps into boxing in a derelict house in Clones at the age of 11 or 12.
And while the former world champion might be unsure as to the exact age he fell in love with the sweet science, he remembers the occasion.
McGuigan and a dozen or so of his friends found a pair of old boxing gloves in the house and started messing around, each taking one glove and fighting an opponent with the other.
McGuigan says it became quite clear, quite quickly, that he was better than everyone else in the room and even the older kids were frightened of him. A dream was born.
The youngster waited for his dad, a famous singer, to return from touring to ask him where the nearest gym was.
Wattlebridge Amateur Boxing Club in Fermanagh was where McGuigan first started training and was fighting after just a couple of weeks even though his tuition up to that point involved little more than skipping and hitting a punching bag.
That first fight was in the Luxor Cinema against Ronan McManus who was taller and heavier than McGuigan but close enough in size that they let the contest go ahead. For the entirety of the bout McGuigan rained down punches and won easily.
However, it wasn't long before the Troubles had an impact on the youngster's boxing career. Travelling home from his boxing club one night, McGuigan encountered a police and army checkpoint and, in his own words "could have been been killed."
As an amateur McGuigan had represented both Northern Ireland — winning gold at the 1978 Commonwelth Games — and the Republic at the 1980 Olympic Games in Moscow where he lost in the third round to Winfred Kabunda of Zambia.
But with a Catholic father and Protestant mother, and growing up in a border town, McGuigan understood the divisive nature of the Troubles only too well.
For that reason, as a professional, he fought under the UN flag of peace and his 'anthem' was Danny Boy which his father would perform.
Indeed, the Clones Cyclone was very aware of his importance to boxing fans north and south, telling the Guardian:
Both sides would say: 'Leave the fighting to McGuigan.' You see, it was also entertainment – people loved to forget the Troubles a while. The fact that I wouldn't wear green, white and gold or put on a sign that said this is who I represent was powerful. It was a very mature and dangerous thing to do. I wouldn't choose sides. People appreciated that."
He began his professional career the following summer with a knockout of Selwyn Bell inside two rounds in Dublin but it wouldn't be long before he suffered his first setback, losing to Peter Eubanks in a controversial decision.
Be part
of the team
Access exclusive podcasts, interviews and analysis with a monthly or annual membership.
Become a Member
McGuigan would avenge that defeat just a few fights later but tragedy would strike in his 12th professional bout when his opponent, Young Ali, slipped into a coma after the contest and died five months later. Ali's death had a massive impact on the then 21-year-old, telling The Independent:
"I still think of Young Ali every day, wondering about his wife and child. I knocked him out in the sixth round and he never recovered. It had a dramatic effect on me. I really didn't want to fight on but I did, and in my next fight I honestly pulled my punches.
"I had the guy in trouble and he was expecting me to finish him off but instead I hesitated and he nearly took my head off with a left hook. I realised I had to get the job done but I cried in the dressing room afterwards."
Source: BESTOFBRITISHBOXING/YouTube
McGuigan would recover, however, and after 27 professional bouts — 26 of which he won — he got his title shot against Eusebio Pedroza.
On 8 June, 1985, in front of 27,000 fans, McGuigan took on the Panamanian at Queens Park Rangers' Loftus Road home for the WBA featherweight championship.
Before the fight McGuigan tells a story of how Pedroza's manager, Santiago Del Rio, was unhappy with how the Clones boxer's bandages were being applied even though this was the way the McGuigan camp always did it.
The Irish boxer admitted to losing his cool but, if Del Rio and Pedroza thought they'd won the mental battle, nothing could be further from the truth.
After dropping Pedroza in the seventh round, McGuigan went on to win by unanimous decision after 15 gruelling rounds.
The 23-year-old would hold onto his belt for just over a year, defending it twice — appropriately enough, once in Dublin and once in Belfast — before losing it to Steve Cruz in the blazing Texas sun on 23 June 1986.
McGuigan fought four more times, winning three, before a defeat to Jim McDonnell in 1989 brought an end to his in-ring career.
Since hanging up his gloves, McGuigan has worked as a boxing pundit and manager with WBA and IBF super-bantamweight champion Carl Frampton his most famous client.
Through Frampton, a man who also fights for the entire island of Ireland, his legacy lives on.
Over the next three months, in association with Allianz Insurance, we'll be profiling the 16 most important Irish athletes of the last 100 years. 
Allianz Insurance — The world belongs to those who dare.