PAT O'CALLAGHAN is the subject of the first in a series of articles focusing on the most important Irish sportspeople of the last 100 years. The list will include GAA players, Olympians, boxers, golfers and more who dared to dream.
Monday 30 July 1928 is one of the most important days in Irish sporting history as it marked the first occasion that the Tricolour was raised as the notes of Amhrán na bhFiann played in an Olympic stadium, with Dr Pat O'Callaghan the proud recipient of Ireland's first-ever gold as an independent nation.
The Doc, as he was known, was born near Kanturk, Cork in 1905. He started school before the age of three and by 16 was studying medicine at the Royal College of Surgeons in Dublin.
Like most young men his age, O'Callaghan was actively involved in the GAA but fell foul of the organisation's 'no foreign sports' rules when he became enamoured with rugby while studying in the capital.
It was also in Dublin that he first took an interest in hammer-throwing, the sport that would deliver him Olympic success. When he returned to west Cork after graduating in 1926, O'Callaghan fashioned a 7.25kg hammer using an old cannonball and a ball-bearing from a bicycle.
After working on his technique in a self-made throwing circle, he won his first national championship in 1927 with a throw of 43.25m before retaining it the following year with an even bigger throw of 49.5m to secure Olympic qualification.
Indeed, O'Callaghan sealed his ticket for the Amsterdam games in 1928 on the same day as his brother Con, a decathlete who was regarded by many at the time as the better medal prospect.
Causing an upset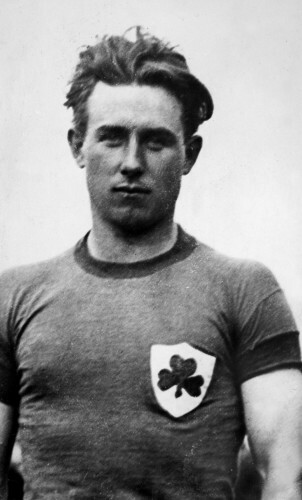 S&G and Barratts / EMPICS Sport O'Callaghan before the final. S&G and Barratts / EMPICS Sport / EMPICS Sport
Before the Games, O'Callaghan improved his personal best to 50.87m, still nearly seven metres short of the world record held by the Limerick-born Patrick Ryan — who won gold for the US at the 1920 Games — which shows how much work the 23-year-old had to do in the Netherlands.
Even in terms of technique and body shape, O'Callaghan looked very different than his main rivals, including British thrower Malcolm Noakes who was considered the heavy favourite.
Olympic Olympic
However, while Noakes failed to make the final, O'Callaghan finished third in qualifying, 3.8m down on Swedish policeman Ossian Skiold.
In the final, the Irish athlete opted for a bit of gamesmanship and used Skiold's own hammer to record a winning mark of 51.39m, relegating the Swede to second place with the USA's Edmund Black taking bronze.
O'Callaghan would go on to retain his gold in Los Angeles in 1932 with a throw of 53.92 but a political dispute — which saw no Irish team take part in the 1936 Games — stopped him making it a hat-trick of wins and he could only watch from the stands as Karl Hein of Germany took the gold with a throw that was some three metres short of the Irish man's personal best.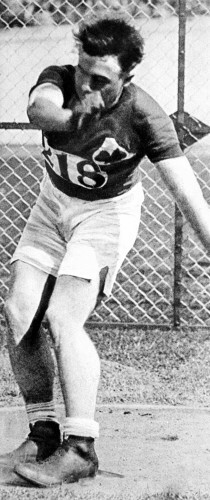 EMPICS / EMPICS Sport O'Callaghan's technique was described as unique. EMPICS / EMPICS Sport / EMPICS Sport
Indeed, that political dispute — which involved the Olympic movement refusing to allow an all-Ireland team — would later cost O'Callaghan a world record. In Fermoy in 1937, the then 31-year-old launched a remarkable throw 59.55m, breaking the old record by 1.83m.
However, with the IAAF still refusing to sanction the then-governing body for athletics in Ireland, they also declined to ratify O'Callaghan's throw and though he remained involved in supporting athletics, his career as a participant came to an end.
As we've already seen, men born in Ireland won Olympic golds before O'Callaghan, with John Flanagan and Martin Sheridan also joining Patrick Ryan in claiming Olympic titles for the US.
However, for O'Callaghan to stand on the top step of the podium wearing a green vest with a shamrock above his heart marked a fitting end to the first chapter in an independent Ireland's sporting history.
Over the next four months, in association with Allianz Insurance, we'll be profiling the 16 most important Irish athletes of the last 100 years. 
Allianz Insurance — The world belongs to those who dare.