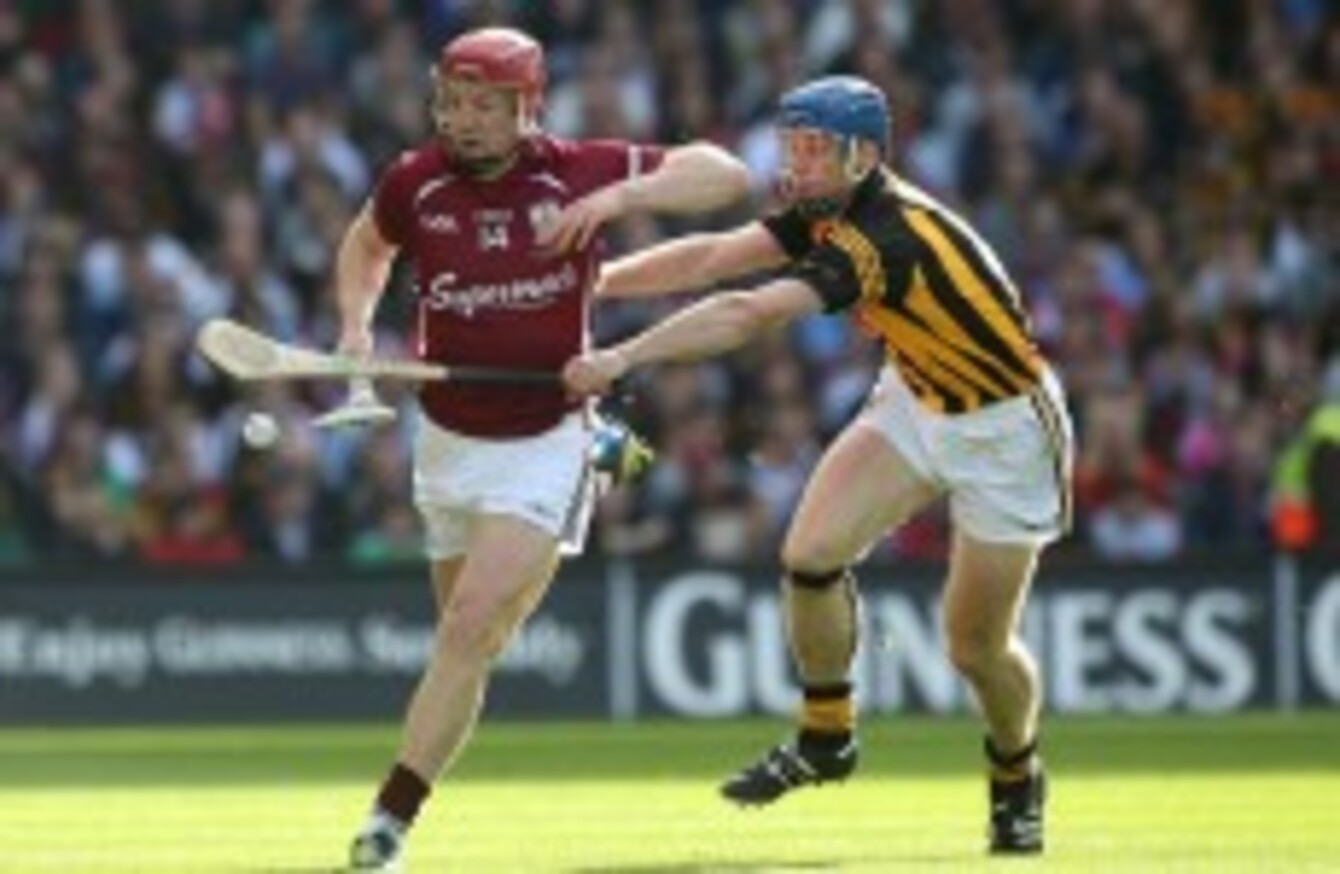 Joe Canning and Brian Hogan have both been nominated for All-Star awards.
Image: INPHO/Lorraine O'Sullivan
Joe Canning and Brian Hogan have both been nominated for All-Star awards.
Image: INPHO/Lorraine O'Sullivan
LAST SUNDAY'S BEATEN All-Ireland finalists Galway top the list with 14 nominees for the 2012 GAA-GPA Hurling All-Stars awards sponsored by Opel.
The Tribesmen, who were crowned Leinster champions in July, have two more than the Kilkenny side that defeated them to lift the Liam McCarthy Cup last Sunday. Galway's James Regan along with Kilkenny trio David Herity, Cillian Buckley and Walter Walsh are the only four players who started last Sunday's final that are not nominated on the 45-player list.
Beaten All-Ireland semi-finalists Tipperary are next in line with six nominees while Cork and Waterford have four apiece. Munster counties Limerick and Clare both have two nominations while Danny Sutcliffe is the solitary Dublin nominee.
Ten members of last year's All-Star winning team are nominated for their efforts this season – Paul Murphy, Michael Cahill, Tommy Walsh, Brian Hogan, Padraic Maher, Michael Fennelly, Richie Power, Henry Shefflin, John Mullane and Richie Hogan.
In all there are 19 nominees on the list who were also nominated last year while there are 27 players who will be bidding for their first All-Star award. There is guaranteed to be a first-time winner in the goalkeeping position with Cork's Anthony Nash, Limerick's Nickie Quaid and Galway's James Skehill all bidding for their maiden award.
The Hurler of the Year will be contested by Kilkenny duo Henry Shefflin and Paul Murphy while Galway's Joe Canning is also in the running. The nominees for the Young Hurler of the Year are Galway's Johnny Coen and Niall Burke, and Dublin's Danny Sutcliffe.
The All-Star team will be announced live on RTÉ television on Friday October 26th while the awards for Hurler of the Year and Young Hurler of the Year – which was selected by the inter-county playing body – will be announced on the same night.
The full list is:
Goalkeepers: Anthony Nash (Cork), Nickie Quaid (Limerick), James Skehill (Galway).
Full Backs: Paul Murphy (Kilkenny), JJ Delaney (Kilkenny), Johnny Coen (Galway), Fergal Moore (Galway), Jackie Tyrell (Kilkenny), Richie McCarthy (Limerick), Michael Cahill (Tipperary), Kevin Hynes (Galway), Shane O'Neill (Cork).
Half Backs: Brian Hogan (Kilkenny), Brendan Bugler (Clare), Padraic Maher (Tipperary), David Collins (Galway), Michael Walsh (Waterford), Tony Óg Regan (Galway), Tommy Walsh (Kilkenny), Niall Donoghue (Galway), Kieran Joyce (Kilkenny).
Midfielders: Andy Smith (Galway), Kevin Moran (Waterford), Stephen Molumphy (Waterford), Pa Cronin (Cork), Iarla Tannian (Galway), Michael Fennelly (Kilkenny).
Half Forwards: Henry Shefflin (Kilkenny), Cyril Donnellan (Galway), Niall Burke (Galway), Patrick Bonnar Maher (Tipperary), TJ Reid (Kilkenny), Pa Burke (Tipperary), Damien Hayes (Galway), Danny Sutcliffe (Dublin), Richie Power (Kilkenny).
Full Forwards: Eoin Larkin (Kilkenny), Joe Canning (Galway), Noel McGrath (Tipperary), Patrick Horgan (Cork), John Mullane (Waterford), Brian O'Meara (Tipperary), Richie Hogan (Kilkenny), John Conlon (Clare), David Burke (Galway).
What do you think? Let us know in the comment section below…