TOWARDS THE END of a Dublin minor county championship semi-final in 2011, Cormac Ryan was accused of feigning injury to waste time as his club, Whitehall Colmcille, held a narrow lead over St. Annes.
But something was wrong with Ryan. Seriously wrong.
After falling to the ground with dizziness for the fifth time — and with opposition players trying to pull him up to play on — Ryan started to lose consciousness.
Luckily, the referee spotted that something was amiss and the Dublin minor hurling goalkeeper was brought to Tallaght Hospital. There the mystery deepened as a battery of tests found nothing Ryan or his parents should be worried about.
Despite this, after being released from hospital, the Athletic Therapy and Training student found that every time he pushed his body he would suffer dizziness and a loss of consciousness.
Twice more ambulances were called and twice more nothing seriously wrong was found.
With his parents Gerry and Carol worried sick, his father decided to take some action and contacted a respiratory specialist at Beaumont who initially told him that all the heart screening his son had undergone would have highlighted a problem if there was one.
However, he agreed to run some more tests and eventually Ryan was fitted with a monitor. Five days later he was told he had heart block — causing an irregular heartbeat which would dramatically slow down, particularly at night — and that his life was in danger.
At the age of 19, and just five months removed from starting an All-Ireland minor hurling final, Ryan was told he could no longer play contact sport and that he needed a pacemaker fitted to keep his heartbeat regular.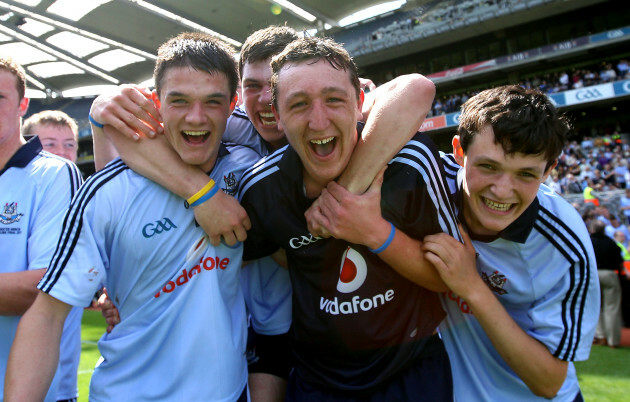 Ryan Byrne / INPHO Cormac Ryan celebrating Leinster success in 2011. Ryan Byrne / INPHO / INPHO
About now, Ryan himself says, most people expect his story to be about relief, about being happy to be alive. Instead, he slipped into depression. Why did he survive when others, like Cormac McAnallen, had passed away? Why couldn't he play GAA any more? Why him?
Why? Why? Why?
An incident with a bike in a hallway brought things to a head and, after storming out of the house, he told his parents what they already knew.
That he was sick and he didn't mean his heart.
"There's a lack of understanding out there still," Ryan told The42 this week.
"There are people who still don't understand why I wasn't just glad to be alive. But I can see why people think like that, because now I can see I was very lucky.
"But it's only when you go through these things that you realise that everyone has a different mental reaction to being sick. It's the same with any illness, it always has a knock on impact on your life and your family."
But Ryan battled back and today he embarks on his second Cycle For Life, raising funds and awareness for charities like the Cormac McAnallen Trust and Aware. This year, he's hoping the cumulative total raised will pass the €50,000 mark but, perhaps more importantly, Ryan's story is helping to spark a conversation about mental health.
"No matter how many times I talk about myself and what I went through, I always feel a bit weird once I put down the phone, a bit exposed. I suppose it's because I'm revealing a part of me that I kept to myself for so long.
Exclusive Six
Nations Analysis
Get Murray Kinsella's exclusive analysis of Ireland's Six Nations campaign this spring
Become a Member
"Nobody would have known what I was going through at the start and for six months after I got sick I was living in my own head. So to go from that to talking on national radio and talking to you, it's a big change.
"But, while you do feel exposed, you very quickly see the benefits of talking about it when you see the impact it has on other people who are maybe going through the same thing."
As he gets set to take off on his 1,200km, 32-county cycle, Ryan admits to feeling a little apprehensive but that once he and his team get out on the road they'll be fine.
"We're fairly prepared for it so it's not too bad in that regards. It's just a matter of getting started because when you're thinking about it as ten days in a row, it's a little bit daunting but, I suppose, when we're under way it won't be too bad."
"Training's been tricky. The fella I'm training with, we're still playing ball with the club so we'd be training for that twice a week and then a game at the weekend so you're out of action probably three or four times a week.
"While we've been able to put in the sort of distances we'll be covering per day, we haven't been able to string together a few days in a row. But, we didn't get that in last time and we were okay in the end as I think it's just about getting the distances into your legs."
Ryan in training for the Cycle For Life.
With the pacemaker and a special protective shirt, Ryan has been able to return to contact sport and has even made the Dublin U21 squads in 2013 and 2014.
His biggest supporters, on and off the field, remain his parents.
"During the cycle we'll have a safety van behind with flashing lights and hazards and all of that to let people know we're there and that stores all our gear too. We'll also have another support car in front of us.
"My mam will drive the car and my dad is in the van so it's good that way. We'll also have a physio with us.
"One of my cousin's best friends, a childhood friend, who is actually doing the cycle with us — Niamh O'Mahony from Westport — she kindly offered her services for the couple of weeks.
"We're lucky to have such a good team around us to help us with the two most important things. The first part is recovery and getting deep tissue massages and food into us after the race and that helps which is the second part which is to get us up and moving and hitting our targets the next day."
As for the reaction along the way, Ryan knows from experience that it will help him and his fellow cyclists through the toughest of slogs.
"Judging from our experience the last time, a lot of money will come in afterwards.
"When we started out a couple of years we were a bit overwhelmed with the support and while I don't think we'll raise the same amount of money this year the big thing for us was raising awareness of the charity and of the support services in place for people with mental health challenges and I think we've probably done that a lot better this time around.
"If we can get €15,000 and bring our total to over €50,000 for the two cycles, I think that would be incredible."
You can find more information about the 2015 Cycle For Life, including how to donate, here.