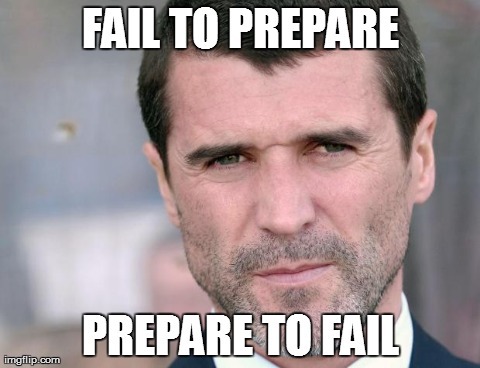 (PA/PA Archive/Press Association Images)
ROY KEANE HAS surely been talked and written about more extensively than any other figure in Irish sport over the past few weeks.
And so inevitably, a number of points about the Corkonian have been repeated ad nauseam in recent days.
Consequently, we've taken some of the most prevalent remarks made about Keane and assessed whether they stand up to scrutiny
1. He's an iconic figure
Accurate? An icon is described as 'one who is the object of great attention and devotion,' which seems a fairly spot-on assessment of Keane. Even those who dislike him can't deny he has many ardent admirers too.
2. He's still learning the game
Accurate? It's been over seven years since he started his managerial career, so it's getting to the point where referring to him as 'inexperienced' seems a little lazy. That said, he has spent a considerable part of that period away from management. Nevertheless, the cliché itself seems slightly problematic — do managers ever stop learning the game?
3. He has a winning mentality
Accurate? Certainly. One of the biggest ostensible pluses of Keane being on board is the presumption that he'll implement his perfectionist mentality into the Irish dressing room. Whether players respond positively to such drive is another matter though.
4. He'll get the best out of the Irish players
Accurate? Debatable. Previous players who have worked under Keane have criticised his abrasive style, but it certainly worked well for the most part during his playing days.
5. He has a questionable temperament
Accurate? Undoubtedly. Some previous players have had less-than-kind things to say about his managerial style and his indiscretions as a player are well documented. Irish fans will hope that, without sacrificing his legendary drive, he will have at least mellowed to an extent in recent times.
6. He can't handle being someone's number 2
Accurate? Keane's past would suggest there is an element of the prima donna to him at his worst — his consistent tendency, for exampke, to fall out with those in more authoritative positions than him (Alex Ferguson, Ellis Short, Mick McCarthy) attests to this. However, Irish fans will hope that Keane's  growing maturity coupled with O'Neill's man-management skills will prevent history from repeating itself.
7. He's a failed manager
Accurate? It depends on your definition of failure. He left both his clubs in acrimony and has found it difficult to get a job since departing Ipswich. The latter tenure was a definite setback, as he took over a mid-table team and left them as relegation candidates. Sunderland, however, is less clear cut. He started extremely brightly, winning the Championship, however he left the side having lost five of their last six games midway through the season in 18th position. Interestingly though, he had a win ratio of 42.0%, which is the third highest of any past full-time Sunderland manager post 1978. Only Mick McCarthy (42.9%) and Peter Reid (45.0%) have fared better there.
8. He's a divisive figure
YouTube credit: Keepitonthedeck
Accurate? Not judging by recent stats. 85% of people have said they are happy with the appointment of himself and O'Neill to the Irish team. He is arguably less popular in England though, particularly among Man United fans who are unhappy with his recent criticisms of the club.
9. He's older and wiser now
Accurate? His increasing years are obviously indisputable, and only time will tell if the second part is true.
10. The Irish media are obsessed with him
Accurate? Definitely, if the recent level of coverage he's been given is anything to go by. But this obsession is emulated by the public's similarly intense fascination with Keane.
11. As a player, he always gave 110%
Accurate? No. You simply cannot give more than 100%. Keane did always try very hard though.
12. He was never Messi
Accurate? Yes, Keane didn't have the natural talent of some of his fellow great players, but his passing and reading of the game sometimes gets overlooked. He was far more than "just a runner," as was suggested recently (see video below).
13. He was United's manager on the field
Accurate? This hardly would have been the case when he first came to a United side that was full of strong personalities like Steve Bruce and Bryan Robson. Nevertheless, as his career developed, he inevitably became more vocal, and was ultimately feared by players and manager alike.
14. He'll give the players a kick up the backside
YouTube credit: GreenArmyNews
Accurate? There's a risk in stereotyping Keane as a headbanger. Yet many who have encountered him consider the United legend to be a thoughtful individual with a good knowledge of the game. Nonetheless, he'll surely have more of an obvious influence on the side than his more laidback predecessor Marco Tardelli.
Exclusive Six
Nations Analysis
Get Murray Kinsella's exclusive analysis of Ireland's Six Nations campaign this spring
Become a Member
15. He's not the Ireland manager
Accurate? Of course. Though several people continue to point out this oft-cited fact normally in protest at the attention that is being given to Keane at the expense of Martin O'Neill.
16. He ended Alf Inge Haaland's career
Accurate? It was Haaland's left leg that never recovered following surgery rather than the right knee that Keane fouled, however the Man City player never played another full game thereafter, and consequently believes it's hardly a coincidence owing to the ferocious nature of Keane's challenge. The tackle subsequently caused a major storm, especially after the then-United player admitted it was deliberate in his 2002 autobiography, with Simon Hattenstone of The Guardian writing in 2009: "Keane should not have been merely sent off, he should have been imprisoned for assault."
17. He left/was sent home from the Ireland squad in 2002
Accurate? Many a late-night pub argument has arose over this issue. Mick McCarthy actually said the words: "I've sent him home." Roy's followers, however, insist it was primarily his decision to walk.
18. He's still bitter about his Man United exit
Accurate? Like any individual who departs a company on acrimonious terms, he is naturally going to be disappointed with such an outcome. However, to suggest he deliberately targets United for criticism when he's doing punditry seems unlikely for a man who has a reputation for unabashed honesty.
19. Great players rarely make great managers
Accurate? This is often quoted in the context of Keane's supposed shortcomings, however, Johan Cruyff, Pep Guardola and Franz Beckenbauer among others would beg to differ.
20. He's uncomfortable in the media limelight
Accurate? This is an area where Keane has grown increasingly at ease, even if he still doesn't look overly comfortable during his ITV Champions League appearances. He seemed nowhere near as outspoken towards the start of his career, but gradually grew in confidence, to the extent that he's now regarded by some journalists as a veritable quote machine. That's not to say he's become a fan of dealing with the press however.
21. He hates people
YouTube credit: TroyDouglas917
Accurate? There's no smoke without fire, but this is surely too blanket a judgement of someone most of us have never met before.
22. He won't tolerate failure
Accurate? Keane's obvious will to win is a plus, but is its importance exaggerated? Surely it can only take the team so far. Would Ireland have fared any better in their recent qualifier with Germany had Keane been present in the dressing room? It's doubtful.
23. He lives for those 90 minutes
Accurate? Unquestionably. Keane often, as a player, spoke about how all he cared about was playing the game itself. He has never looked fully comfortable in his punditry stint, and has spoken prior to the Ireland job of being eager to get back into management.