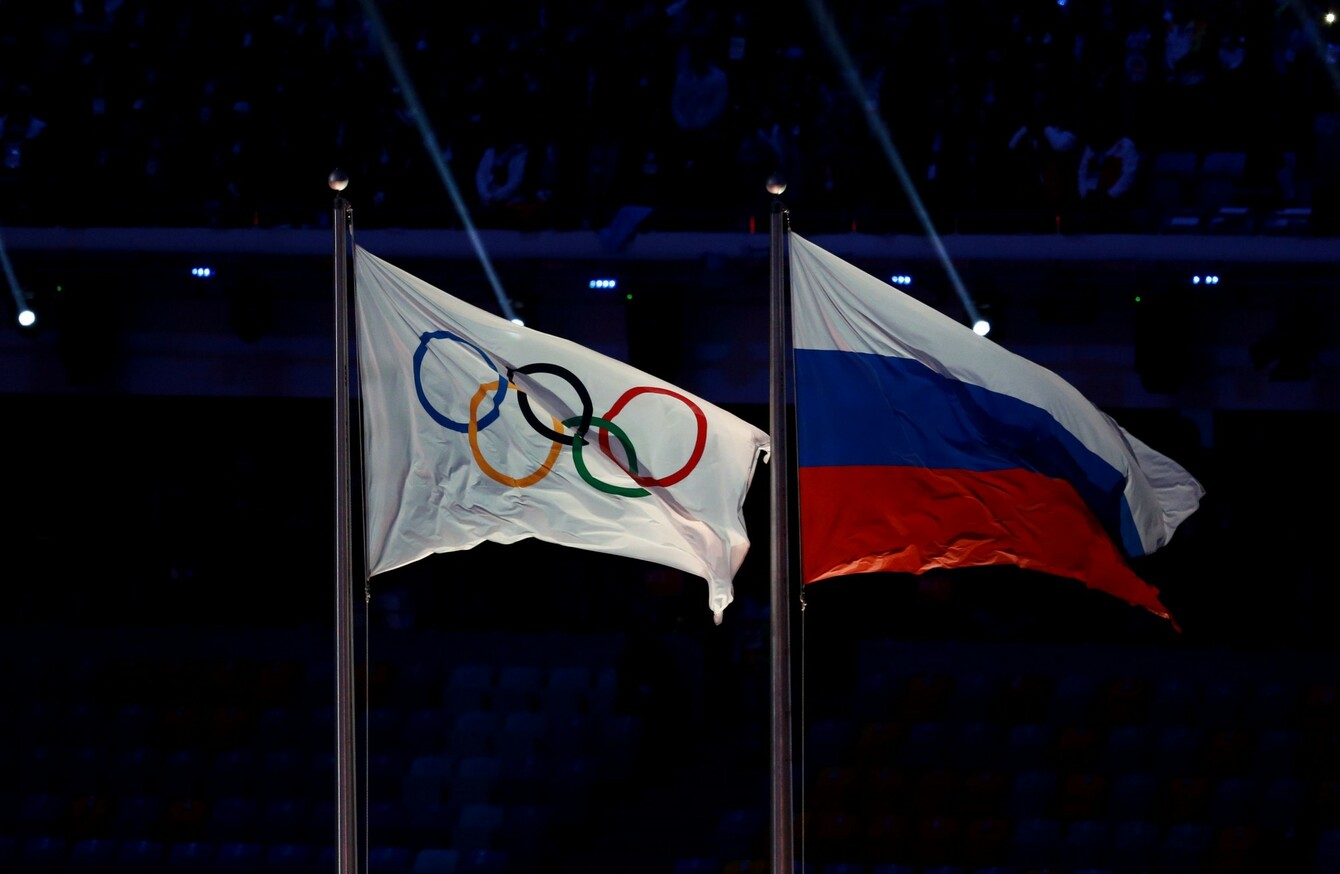 File photo of The Olympic flag flies next to the Russian flag.
Image: PA Wire/Press Association Images
File photo of The Olympic flag flies next to the Russian flag.
Image: PA Wire/Press Association Images
THE INTERNATIONAL OLYMPIC Committee said Thursday that 271 Russian athletes will take part in the Rio Games after eliminating 118 suspect competitors in a major doping review.
Russia has been at the centre of an Olympic controversy since a World Anti-Doping Agency investigation accused the Russian government of staging widespread doping.
The IOC said "271 athletes will form the team entered by the Russian National Olympic Committee (ROC) from the original entry list of 389 athletes."
Earlier, a top Russian official said Thursday that at least 271 athletes would compete in the Rio Olympics after clearing a doping probe which has slashed their team to its smallest size in more than a century.
Russian Olympic Committee president Alexander Zhukov said some other cases remained unresolved after investigations prompted by the discovery of a state-orchestrated plot to dupe drugs testers.
"As of now 271 athletes have been admitted," Zhukov told a press conference in Rio, saying two track cyclists and freestyle wrestler Viktor Lebidev were among the athletes still in limbo.
But he took a swipe at the total ban on Russia's track and field team, which has robbed athletes like pole vault world record-holder Yelena Isinbayeva and 110m hurdles world champion Sergey Shubenkov of the chance to compete.
Zhukov said it was "unfair" that athletes from other countries who have previously served drugs bans, such as American sprinter Justin Gatlin, will compete in Rio.
"We think it's unfair that some Russian athletes like Yelena Isinbayeva and Shubenkov, who have never been accused of doping, are not allowed to compete this time," Zhukov said.
"However in contrast some other athletes, like the American runner Gatlin, have been admitted to the Games."
Russia, who finished fourth on the London 2012 Olympic medals table and have topped the table seven times, will have their smallest team since 1912 at the Rio Games, which open on Friday.
- 'Cleanest in Rio' -
Russia entered 387 names for the Olympics but competitors implicated in last month's bombshell World Anti-Doping Agency report have been eliminated by sports federations.
A three-member International Olympic Committee panel which reviewed the list submitted by the federations was due to announce its final figure for the Russian squad later on Thursday.
Among 31 swimmers accepted are Vladimir Morozov and Nikita Lobintsev, who were initially banned. Fellow swimmer Yulia Efimova's case is still being examined by the Court of Arbitration for Sport.
While all Russian weightlifters have been banned, all of the country's boxers have been allowed to compete.
World Sailing has also let a competitor initially banned back into the contest.
Russia's track and field team was suspended in separate action by the sport's governing body, the IAAF, following similar revelations of state-backed doping last year.
"The Russian team may have experienced the toughest checks of the Olympics, because they had to go through multiple tests and checked," Zhukov said.
"On top of all that, Russian athletes are going through additional testing which is taking place at the Olympic village.
"So as of now, the Russian team is probably the cleanest in Rio."
Russian swimming great Alexander Popov also hit out at the track and field ban with a personal attack on Britain's Sebastian Coe, president of the IAAF.
"I hope that he will not regret his decision about Russian athletes because as you can say, what goes around comes around," Popov said of Coe earlier.
"I hope that he will sleep well at night," he added, in comments to reporters after an International Olympic Committee (IOC) session.
The42 is on Snapchat! Tap the button below on your phone to add!