Updated at 14.26
Winners
Shane Long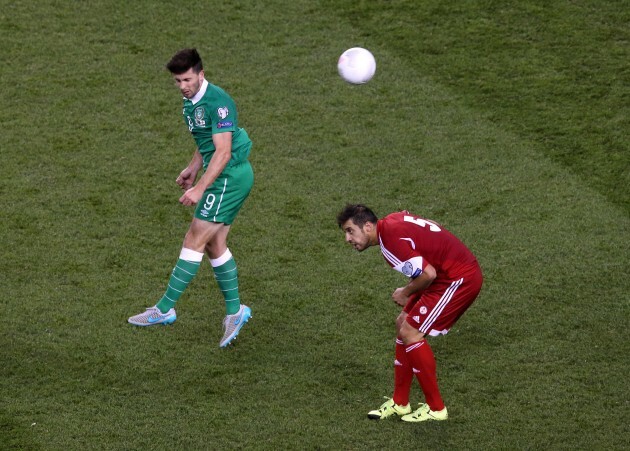 Ryan Byrne / INPHO Ryan Byrne / INPHO / INPHO
IT'S HARDLY A complete coincidence that Ireland looked a much-improved outfit after Long entered the action last night.
The Tipperary native was busy and energetic throughout his 45 minutes on the pitch, causing the Georgian defence far more problems than the ineffectual Robbie Keane, whom he replaced at half-time.
Long has started just once for Ireland during this Euro 2016 qualifying campaign — the match away to Scotland last November — yet after his performance off the bench against Georgia last night, the Southampton striker is surely well placed to start the next qualifier against Germany.
Martin O'Neill
Ryan Byrne / INPHO Ryan Byrne / INPHO / INPHO
The manager's team selection against Georgia last night was questionable. His decision to select Robbie Keane up front failed to pay off, while his selection of three defensive midfielders — initially, at least — seemed misguided.
However, in the second half, O'Neill changed things for the better. Something significant must have been said at half-time, as the Irish side suddenly started to attack with more purpose.
Both the substitutes, Shane Long and James McClean, made a positive impact, while Jeff Hendrick — a player who many critics believed should not have been in the team — justified his selection with a superb piece of skill to set up Jon Walters' goal.
Jeff Hendrick
Cathal Noonan / INPHO Cathal Noonan / INPHO / INPHO
The Derby player has had his detractors, and it looked set to be another subdued display until the 23-year-old midfielder burst into life to beat two defenders and cross for Jon Walters to score the decisive goal on 69 minutes.
There is no doubt Hendrick still has much to improve upon — in the first half, he was as poor as all the other Irish players. But to take responsibility when the team badly needed inspiration showed impressive character, and this moment is something all Irish fans will hope the youngster can build on in future.
Losers
Robbie Keane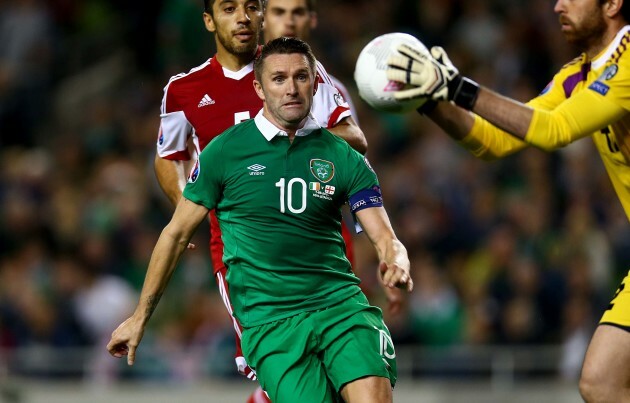 Donall Farmer / INPHO Donall Farmer / INPHO / INPHO
Robbie Keane looked his 35 years at times last night, with even O'Neill suggesting afterwards that his performance lacked "energy".
The LA Galaxy striker reminded fans of his goalscoring prowess on Friday night, but truthfully, in the four non-Gibraltar games Keane has started, he has had minimal impact on each occasion.
There is still unquestionably a role for Keane in the side — if Ireland need a goal in any particular game, there would be few more suitable candidates to spring from the bench in the final 20 minutes. However, Keane's days as a starter in an Ireland jersey may be close to an end, with the pace and power of Shane Long contrasting starkly with the veteran star's fading attributes.
Aiden McGeady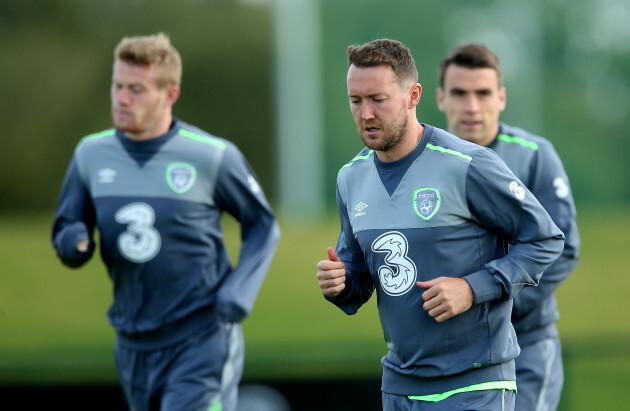 James Crombie / INPHO James Crombie / INPHO / INPHO
It was telling last night that when Ireland needed a goal, Aiden McGeady remained on the bench.
After the winger scored a brace in the opening game of this campaign against Georgia, he looked set to be a key figure for the Boys in Green throughout the qualifiers. However, since then, a combination of injuries and loss of form at club level means McGeady is no longer considered a major asset to this Irish side.
You could sense an element of desperation in the player's play when he came off the bench late on against Gibraltar on Friday night, as if he was almost too anxious to impress, and Martin O'Neill evidently felt he hadn't done enough in recent months to be given the chance to repeat his heroics against the Georgians.
With James McClean set to be suspended for the Germany match, there may yet be an opportunity for the 29-year-old former Celtic player to impress, but O'Neill may feel McGeady at least needs some game time at club level before he warrants a place in the Irish side.
Footballing romantics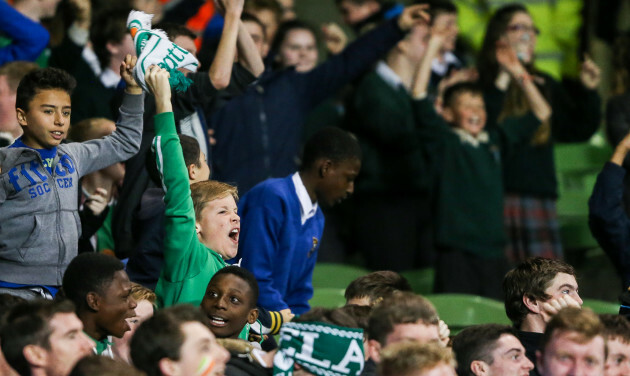 Gary Carr / INPHO Gary Carr / INPHO / INPHO
In March last year, Ireland played a meaningless friendly against Serbia. 37, 595 fans turned up to see the Boys in Green lose 2-1 in this match.
By contrast, according to the official figures, just 27, 100 fans showed up to watch Ireland play Georgia in a vital Euro 2016 qualifier, while the stadium's eerie silence was mirrored by a lifeless Irish first-half display, before the team and atmosphere improved considerably after the break.
The difference in the aforementioned attendances perhaps reflects the optimism at the onset of the Martin O'Neill era compared with the disillusionment that has grown since, while the €50 ticket prices (in some cases) didn't exactly encourage people to show up in force either.
However, there's nothing people love more than winners, and with the Irish team edging closer to Euro 2016 qualification, expect a renewed sense of optimism ahead of next month's climactic encounters with Germany and Poland.