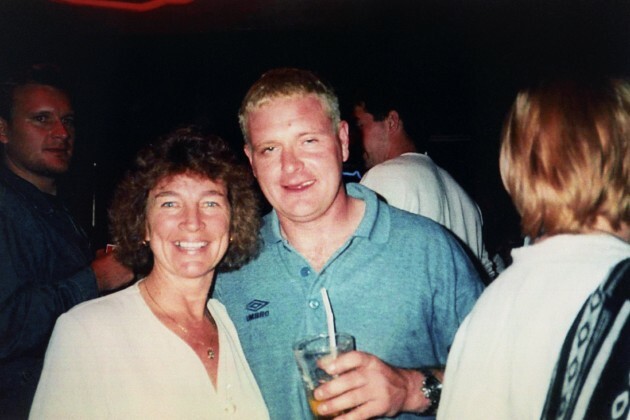 Gascoigne poses for a pic on a night out during the pre-tournament training camp in Hong Kong. Credit: PA/PA Archive/Press Association Images
ENGLAND ARE HOSTING their first major tournament since winning the World Cup 30 years previous in what they have billed 'football coming home'.
Having not played a competitive game in two years, boss Terry Venables makes the ill-advised decision to bring his much-hyped squad to the Far East as a warm-up.
The move was questioned at the time and for good reason. While wins are recorded against minnows China and a Hong Kong Select XI, the final day coincides with Paul Gascoigne's birthday and results in alcohol-fueled mayhem.
Their plane home is damaged while the players knock back bottles of champagne during the 13-hour long party and when they do eventually touch down in London, photographs of the birthday boy guzzling spirits while laid back in a 'dentist's chair', a contraption you are most likely to find in an 18-30s holiday resort, are plastered all over the tabloids' front pages.
Despite calls for his expulsion from the squad, Gazza keeps his place and after being held to an uninspiring 1-1 draw with Switzerland in their Group A opener, England are in grave danger of failing spectacularly on home soil.
At Wembley, they lead Scotland 1-0 thanks to an Alan Shearer header and Gary McAllister has just had a penalty saved by David Seaman.
With the fixture still on a knife edge, the troubled genius majestically flicks Darren Anderton's pass over the head of Colin Hendry and volleys beyond Andy Goram before re-enacting his off-field antics with the help of Teddy Sheringham and a nearby water bottle.
YouTube credit: gukbap