EURO 1972 COULD never be accused of clogging up the fixture lists.
The four-team tournament lasted five days, complied four matches, and Gerd Müller scored four goals.
Bizarrely, the quarter-finals were not part of the tournament proper – taking place over two-legs in April and May.
West Germany, Russia (playing as CCCP), and Belgium progressed, while Hungary required a replay to eventually see off Romania.
Ireland finished bottom of their qualifying group having shipped 17 goals in six matches and recording a solitary point from a home draw with Sweden.
West Germany were the tournament victors at Heysel Stadium on 18 June when a Müller double against Russia book-ended a fine strike by Herbert Wimmer.
The goal was a personal career highlight for Wimmer, who often played as a defensive midfielder beside the talented Günter Netzer. He also bore a striking resemblance to evergreen, British entertainer Lionel Blair.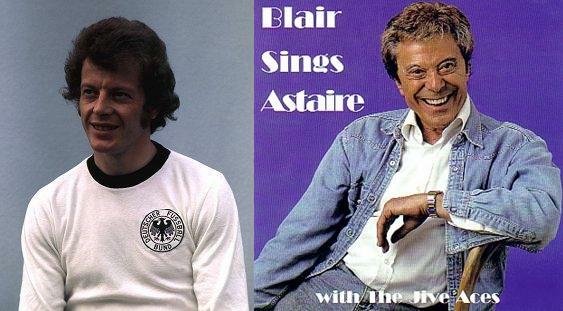 Herbert Wimmer and Lionel Blair. (Credit: wikipedia and rightrecordings.com)
Led by their inspirational captain Franz Beckenbauer up the steps to the presentation area, the West Germans paused to slip on their delightful, baby blue adidas tracksuit tops.
In a move copied with ludicrous, po-faced grace by Roger Federer at Wimbledon decades later, the victors wanted to look dapper as they collected the prized trophy.
These West German boys look serious yet fashionable. (Credit: fanpicture.ru)
Beckenbauer and Netzer cradled the Henri Delauney trophy and revelled in a final victory they would replicate two years later at the World Cup.