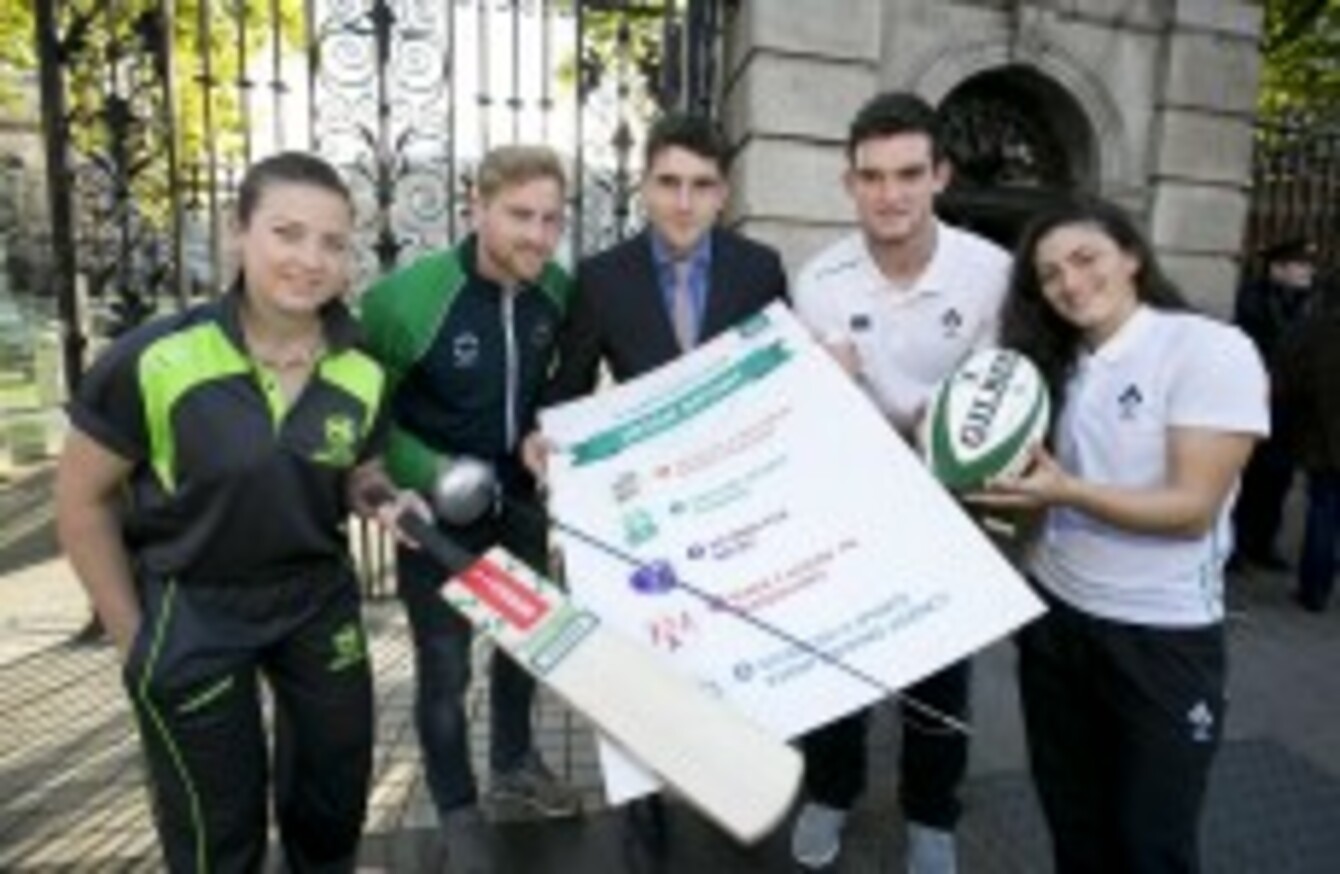 Federation President Bernard Brogan urges all public representatives to recognise the importance of investing in sport.
Federation President Bernard Brogan urges all public representatives to recognise the importance of investing in sport.
THE FEDERATION OF Irish Sport launched its five-point plan for the next Government today.
The organisation represents 76 national governing bodies and 27 local sports partnerships countrywide and its president Bernard Brogan today urged public representatives to recognise the importance of investing in sport.
The manifesto, which was revealed at a launch in the Royal Irish Academy this morning, suggests that the following five issues must be tackled in order for Ireland to fulfil its sporting potential in the coming years.
1. Development of a National Sport Strategy
"The creation and implementation of a sports strategy would ensure joined-up thinking across Government departments and agencies in terms of sport's economic, social and health benefits. This should include ring-fenced funding for sport and the appointment of a sports "tsar" who would have overall responsibility for bringing stakeholders together, securing commitments and delivering on objectives."
2. Restoration of Sport Funding
"There has been a 26% reduction in funding levels for sport since 2008, from €57.2 million to €42.5 million in 2015. If Irish sport is to compete on the international stage, as well as increase participation and retention levels, funding levels must be restored to where they were before the country's economic collapse."
3. Extension of Tax Reliefs
"It's time for sport to have a level playing field with other areas of the not-for-profit sector. While donors to sporting bodies can take advantage of tax reliefs for capital funding, this amounts to a fraction of the costs incurred by sporting organisations, and it is only fair that tax relief currently afforded to charities on minimum €250 donations in any year—which can apply to both current and capital spend—should also apply to sports bodies. This was a recommendation of the Commission on Taxation in 2009 and would bring Ireland into line with its international competitors such as the United States of America, the United Kingdom, Canada and Australia."
4. Provision of Two Hours' Mandatory PE Each Week
What are they
really like?
Rare insights on sport's biggest names from the writers who know them best. Listen to Behind the Lines podcast.
Become a Member
"All the indicators point to an obesity epidemic in this country, yet according to the last research conducted, only 10% of post-primary students are meeting the minimum Department of Education & Skills' recommendation of two hours sport and physical activity in secondary schools each week. Not only would making this a mandatory requirement greatly assist in enhancing the health and well-being of our young people, but it also has the potential to create a new generation of sporting leaders."
5. Leveraging Ireland's Sport Host Credentials
"Ireland, with its state-of-the-art sporting facilities and venues, excellent transport links, track record of successfully hosting major international sports events and the "can do" and welcoming attitude of its people, has the potential to tap into a €450 billion sports tourism market. The Federation strongly advocates the setting up of a national sports event bidding agency which would compete head-on with other countries in attracting significant international sporting events to our shores. We only have to look to Denmark, where a joint venture between sport and government—Sport Event Denmark—now sees the Danes win four out of every five sports bids."
Newly-appointed chief executive of the Federation of Irish Sport, James Galvin, added:
"Sport supports 40,000 jobs in Ireland, adds an extra €1.9 billion in household spending and over €1 billion in tourism receipts. We know that 2.5 million people participate in sport every week here and that regular participation is the equivalent of being 14 years younger.
"We undoubtedly have a great love of sport in this country and we should capitalise on this passion. By restoring funding levels, by playing fair in terms of tax reliefs, and by creating a dedicated sports event bidding agency, we can become real contenders.
"Why shouldn't we host major sporting events such as the European Cross-Country Championships or the IPC Swimming World Championships in Ireland? Let's at least give ourselves a sporting chance."
For more info, visit www.irishsport.ie