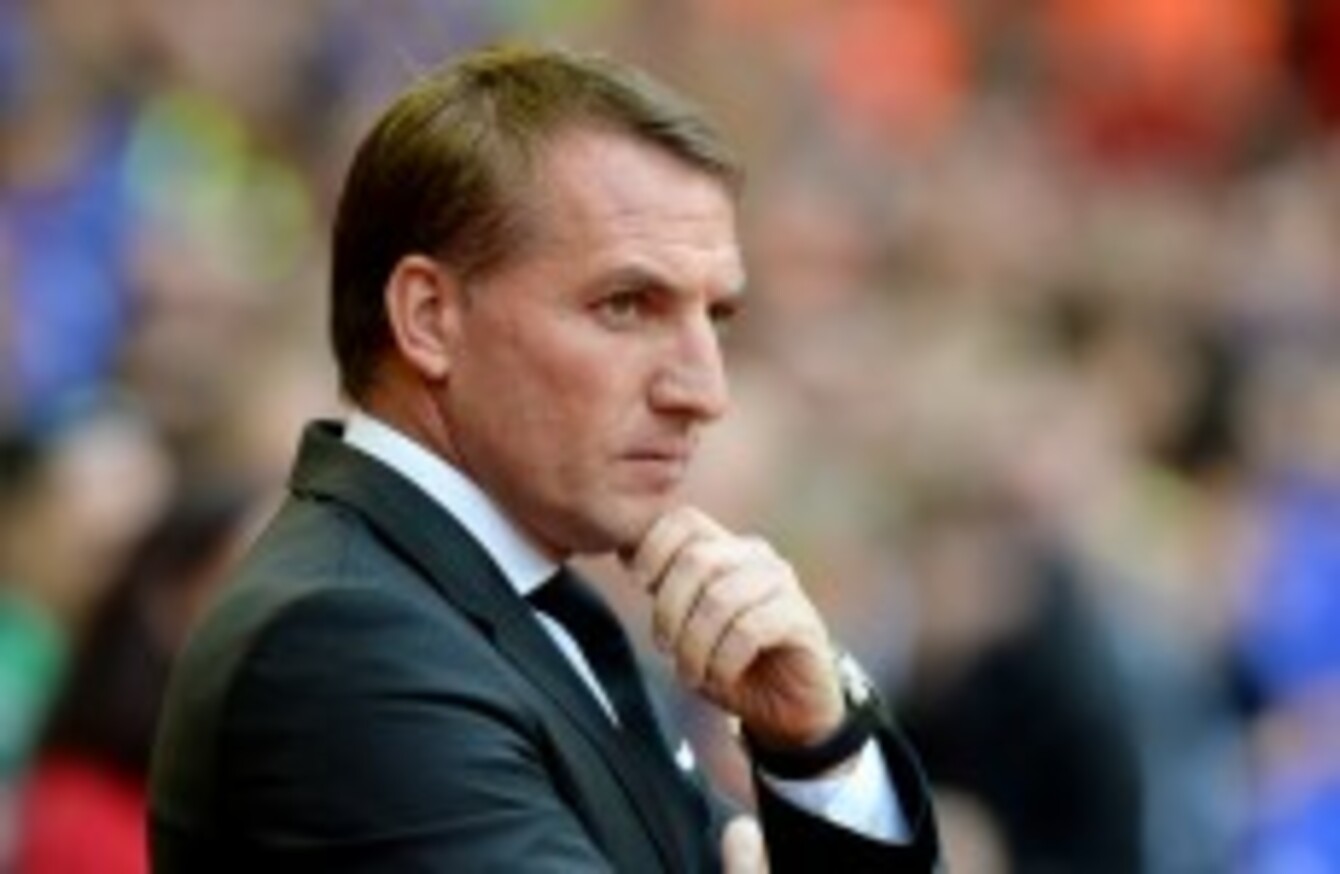 Brendan Rodgers is under pressure following some disappointing results.
Image: PA Wire/PA Images
Brendan Rodgers is under pressure following some disappointing results.
Image: PA Wire/PA Images
1. Brendan Rodgers' future
THE SPECULATION SURROUNDING Brendan Rodgers' future is becoming difficult to ignore.
Indications that his days were numbered began as far back as last May, following the embarrassing 6-1 defeat by Stoke on the final day of the 2014-15 campaign.
The summer transfer window saw significant changes at the club — out went players such as Steven Gerrard, Glen Johnson and Mario Balotelli, as well as coaches Colin Pascoe and Mike Marsh — yet tellingly Brendan Rodgers remained. It felt like a vote of confidence.
But despite spending many millions on players such as Christian Benteke and Roberto Firmino, results — in the short term at least — have shown little sign of improving.
Liverpool's board are consequently in a difficult position — influential Sky pundit and former Reds defender Jamie Carragher suggests that having backed the Irish boss in the summer, he must now be given considerable time to work with the new players. Yet, with supporters growing increasingly impatient and results as poor as ever, the powers that be at Anfield could be running out of patience even at this early stage of the season.
2. Problems in defence and attack
(Dejan Lovren has struggled to recapture his Southampton form at Liverpool)
Initially, it had looked as if Liverpool's defence was improving.
An unreliable back four unquestionably cost the Reds the Premier League title two seasons ago, however, this year began promisingly, with clean sheets in their opening three matches against Stoke, Bournemouth and Arsenal.
However, the old familiar issues have started to recur. The West Ham game in particular highlighted their defensive shortcomings, with Dejan Lovren dwelling on the ball and losing possession in the lead up to the second goal epitomising their woe amid a surprise 3-0 home loss.
And if there is a lack of confidence at the moment in defence, the same can surely be said of the attack. Only Newcastle have a worse record than Liverpool going forward so far, with the Anfield club managing just four goals since the league began.
The situation hasn't been helped by the new signings having to adapt to playing together, while injuries to key figures such as Christian Benteke and Jordan Henderson have also exacerbated the current problems.
Nevertheless, Liverpool have looked conspicuously short on attacking threat, and aside from the sporadically impressive Philippe Coutinho, it's difficult to imagine where the creativity will come from in the next few months.
3. Morale
There was no doubt luck wasn't on Liverpool's side last night, with one goal from 47 attempts highlighting the current sense of haplessness permeating the club.
Yet regardless of some mitigating factors, a club of Liverpool's quality, even in the League Cup, should be comfortably beating a mid-table League Two side at Anfield. Their struggles last night strongly indicated that morale as much as quality is currently lacking at the club.
With man-management supposedly one of Rodgers' key strengths, the fact that he could not get the best out of his players last night — and arguably, on several other occasions this season — reflects particularly poorly on the 42-year-old coach.
Be part
of the team
Access exclusive podcasts, interviews and analysis with a monthly or annual membership.
Become a Member
If this trend continues in upcoming matches, then there can only be one outcome for the beleaguered Rodgers.
4. Integrating summer signings
(Roberto Firmino has had a low-key start to life at Anfield)
Rodgers' defenders have justifiably suggested he cannot be expected to work miracles immediately.
The club made seven major signings in the summer, and after six league matches, it's certainly premature to make a definitive judgement on Christian Benteke, Adam Bogdan, Nathaniel Clyne, Roberto Firmino, Joe Gomez, Danny Ings and James Milner.
Indeed, some have shown considerable promise at times — 18-year-old Gomez earned plenty of plaudits for his debut against Stoke, while Benteke scored with a superb effort against Man United. And against Arsenal in general, the Reds delivered a performance that hinted they were capable of going far this year.
However, with the Reds' signings last year having largely disappointed, many critics are feeling less than confident about the club's dealings in the transfer market. The underwhelming starts made by the likes of Firmino and Ings haven't helped matters either.
Yet Liverpool are at a significant financial disadvantage, most notably in terms of wages they can afford, in comparison with the other top clubs. And their inferior income, coupled with the club's inability to offer teams Champions League football, has meant they shopped in different markets to the likes of City and United this summer.
Luis Suarez, Steven Gerrard and Raheem Sterling were always going to be hard to replace, and they have patently struggled since the trio's respective departures.
5. Coping with Anfield pressure
Brendan Rodgers has admitted his side have had problems playing at home in particular this season.
After the disappointing draw with Norwich last weekend, the Liverpool boss said there was an element of hesitancy to the hosts' play
"Anfield is a real special place to play. You have to have courage and bravery to play here," he explained.
The results have backed up this criticism. Liverpool have won just one of their three league games so far — an unconvincing 1-0 defeat of Bournemouth.
This issue can perhaps be partially attributed to a lack of experience — of the players who featured, no players apart from James Milner and Martin Skrtel were older than 27, while of the 14 individuals involved, only Skrtel, Simon Mignolet, Lucas Leiva, Mamadou Sakho, Philippe Coutinho and Daniel Sturridge have spent more than one full season at the club.
But their inexperience notwithstanding, Liverpool's youngsters are going to have to grow up fast for the club to avoid another disappointing season.