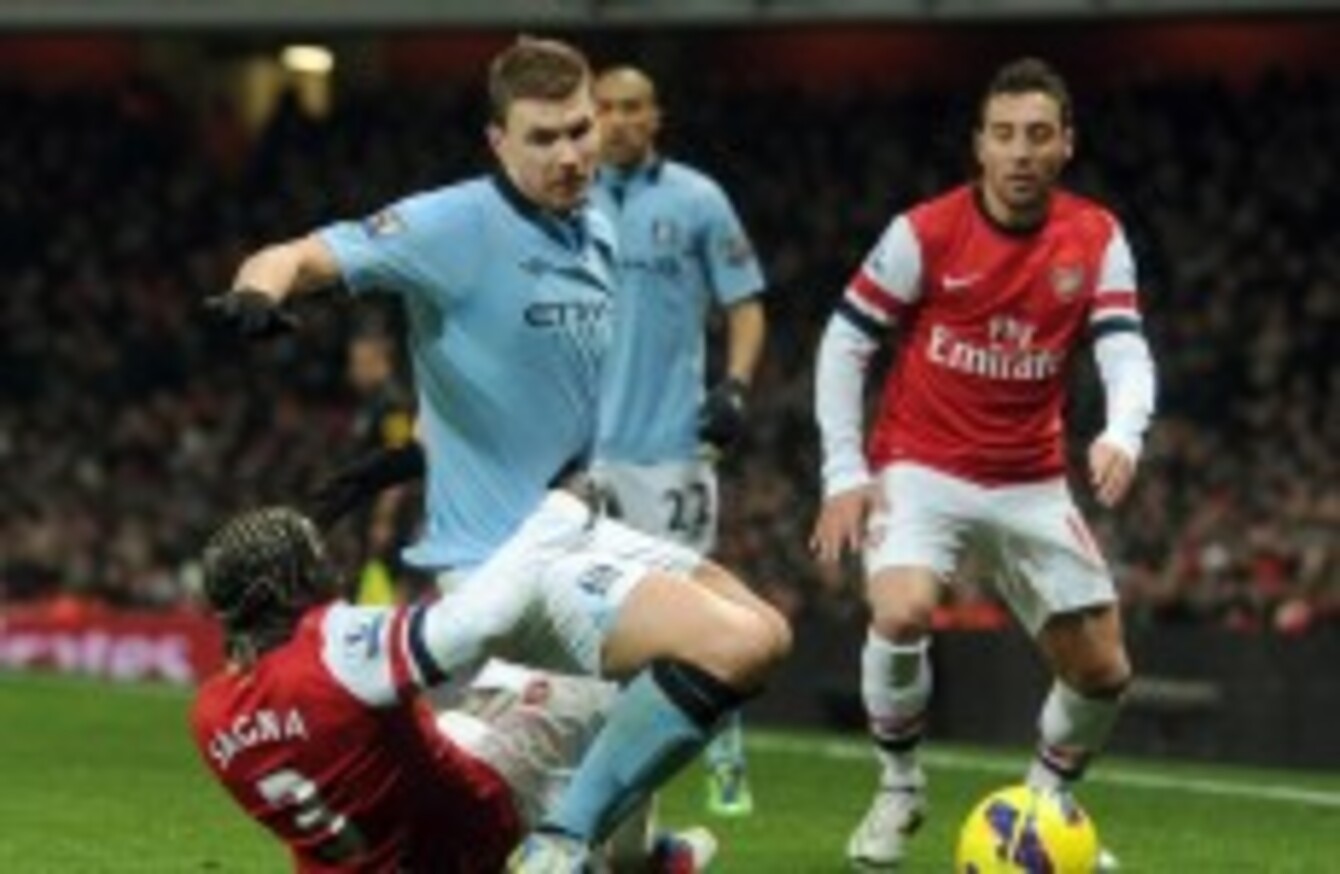 City beat Arsenal comprehensively when the sides previously met back in December.
City beat Arsenal comprehensively when the sides previously met back in December.
1. Will Mathieu Flamini play?
Arsene Wenger opted to go with the rather attack-minded midfield trio of Cazorla, Arteta and Chamberlain against Chelsea last week.
Consequently, they suffered unduly. The Gunners were unable to cope with Chelsea's high-intensity pressing, lacking the quality to retain possession in such difficult circumstances and getting beaten 6-0 as a result.
Flamini belatedly entered the action at half-time, but by then, it was a case of damage limitation for Arsenal.
In Manchester City, they face a team that play a more similar style to themselves than Chelsea, with more of an emphasis on flair and technical ability rather an intensive work-rate.
However, in Fernandinho, City have a first-rate destroyer. The Brazilian already dominated an all-too-tame midfield of Michael Carrick and Marouane Fellaini during the week, and similarly, threatens to expose Mikel Arteta's lack of mobility and physicality this evening.
Consequently, there is a strong case for Flamini — Arsenal's most defensive-minded player and arguably the individual best-equipped to deal with Fernandinho — to be given a starting berth.
2. Are Arsenal really THAT bad?
There is no doubt that Arsenal deserve their status as underdogs going into this game — their record against top sides in recent seasons is notoriously poor and they've won just two of their last nine games with City.
However, as Arsene Wenger pointed out recently, they're still only six points behind league leaders Chelsea.
They may have been beaten 6-0 by Jose Mourinho's side, but that was just an extremely bad day at the office, compounded by a sending off that — forgetting the case of mistaken identity at its core — was harsh, irrespective of who received the red.
It is easy to forget that prior to their humiliating defeat by Chelsea,  they delivered a performance against Spurs that was both defensively competent and tactically astute.
The last time they suffered a bad loss — the 5-1 against Liverpool — they recovered and produced a 2-1 win against the same team shortly thereafter. While it would be a surprise to see them beat City, given that they are playing a somewhat like-minded side, don't be amazed if they give Manuel Pellegrini's team a much better game than they afforded their London rivals.
3. Can Arsenal stop David Silva?
(David Silva was arguably City's most influential player against United)
The Spaniard was undoubtedly the key ingredient behind Manchester City's comfortable 3-0 win over neighbours United during the week.
Easily finding space amid United's experimental and ultimately ill-advised 4-3-3 starting formation, Silva was the most influential player on the pitch — at least for the early stages of the game.
Time and again, he eluded the likes of Michael Carrick and Marouane Fellaini, finding space between defence and midfield, and causing havoc with his incisive passing and intelligent running — with one such movement helping to create City's first goal.
What are they
really like?
Rare insights on sport's biggest names from the writers who know them best. Listen to Behind the Lines podcast.
Become a Member
It's difficult to imagine Santi Cazorla, Alex Oxlade-Chamnerlain or Mikel Arteta curbing his influence, so expect Mathieu Flamini being the man who's handed the responsibility of alleviating Silva's threat, assuming he starts.
4. How will Arsenal's defence set-up?
Arsene Wenger's tactics against Chelsea were naïve at best and suicidal at worst.
The Gunners played with an extremely high line, with both full-backs invariably pushing very far forward.
If Wenger thought he could get away with this because of the lack of pace offered by Samuel Eto'o and Fernando Torres in attack, he was sorely mistaken — the strikers were still a threat with their intelligent movement, while the Chelsea midfield's continual success in breaking down Arsenal's attack left them with plenty of time and space to counter-attack.
With City so accomplished in attack and Arsenal short on confidence, it would be a major surprise were Wenger to adopt so bold a philosophy once more.
Pellegrini's side are generally at their best when afforded space — they have often struggled, on the other hand, against teams like Wigan and even Chelsea to a degree, who sit back and soak up pressure before launching swift counter-attacks.
Arsenal showed against Tottenham that they are capable of playing in a restrained, defence-oriented manner, so they would do well to emulate this performance, rather than the Chelsea one, today.
5. Will Yaya Toure's lack of defensive discipline be a factor?
The Ivorian is undoubtedly one of the best – if not the best – midfielders in the Premier League going forward, with a penchant for scoring spectacular goals to boot.
However, from a defensive viewpoint, Toure can kindly be described as a 'luxury player'.
Particularly when Fernandinho isn't playing, teams have succeeded in exposing City's defensive weakness in midfield.
While Toure invariably shows impressive physicality and desire with his powerful, marauding runs forwards, he lacks such formidable prowess when working on the less glamorous side of the game.
The ex-Barcelona star will, at times, fail to track back or lose his marker, presumably owing to a slip of concentration or just general laziness.
Against the smaller teams, City can get away with such indulgent behaviour, however more confident and skillful teams such as Arsenal are increasingly likely to capitalise on the 30-year-old's inadequacies.