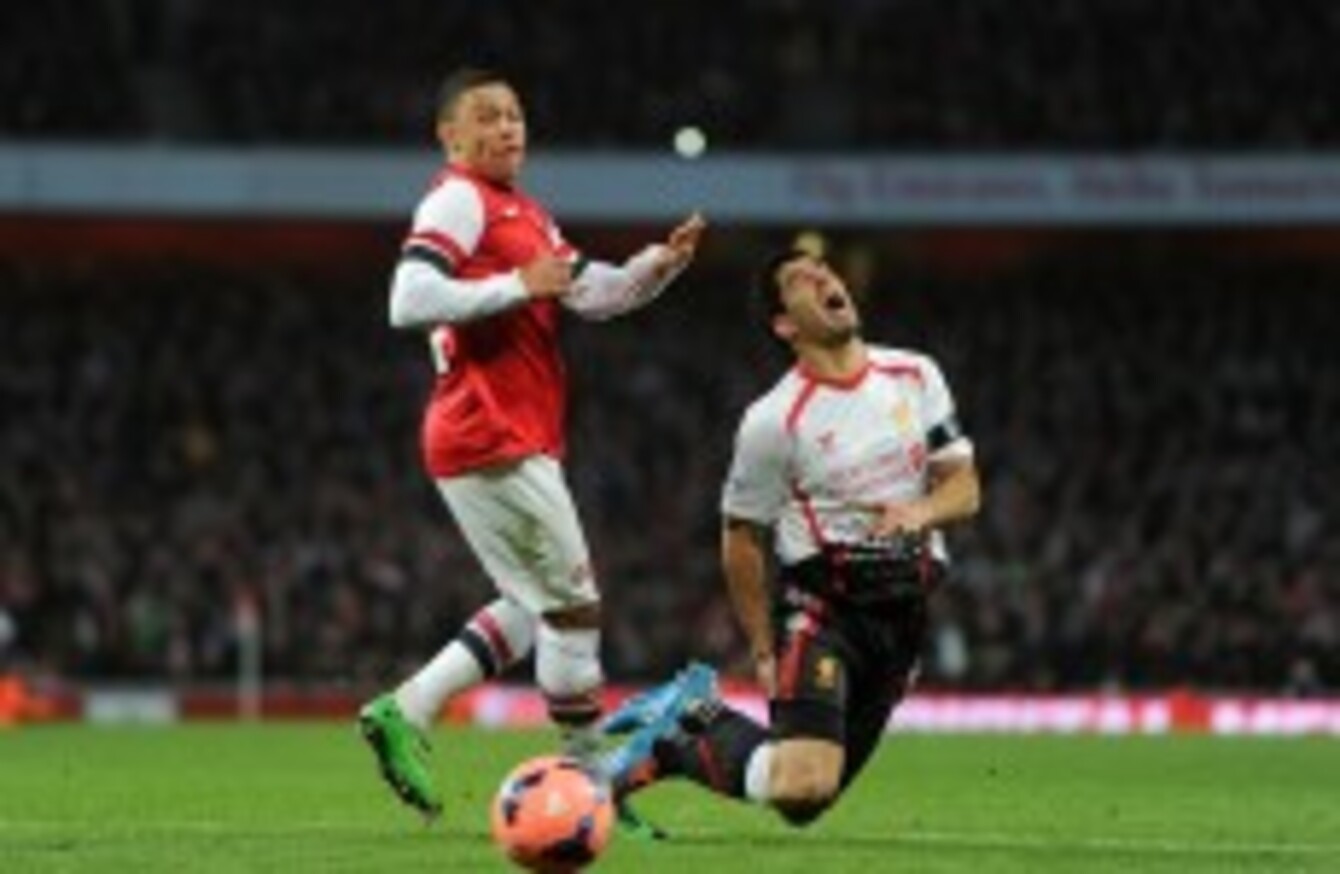 Liverpool's Luis Suarez goes to ground after a challenge from Arsenal's Alex Oxlade-Chamberlain.
Liverpool's Luis Suarez goes to ground after a challenge from Arsenal's Alex Oxlade-Chamberlain.
1. Liverpool right to feel hard done by
Brendan Rodgers' side were dumped out of the FA Cup by Arsenal on Sunday, yet they have a right to feel somewhat aggrieved that the outcome was not different.
With the game finely balanced at 2-1, referee Howard Webb inexplicably denied Liverpool a clear penalty that would have surely resulted in them earning a replay.
Quite how Webb failed to award the decision, when he was perfectly placed a mere five yards away, is a mystery only he can answer.
Nonetheless, the Reds also have themselves to blame to a degree. They matched Arsenal for much of the game and failed to make the most of their dominant periods.
Daniel Agger, in particular, was guilty of wastefulness, when he failed to head the ball into an empty net after Lukasz Fabianski had completely misjudged the flight of Steven Gerrard's dangerous free-kick.
2. Chelsea a pale imitation of their usual selves
Will Chelsea triumph in the Premier League come the end of the season? On yesterday's evidence, such an outcome seems improbable. Against Manchester City on Saturday evening, they produced a performance that belied their status as serious title contenders. Indeed, it seemed as if Chelsea, rather than City, were the team distracted by the prospect of a vital upcoming Champions League tie.
Of course, there was no shame in losing to Pellegrini's side at the Etihad — a fate that most teams suffer. What will be more disconcerting for Mourinho, though, is the manner of the loss.
City's slick passing and swift movement caused the Londoners' defence countless problems — they simply could not cope with the footballing intelligence of players such as David Silva.
Yet more worryingly still, Chelsea's attack — which has struggled for goals all season — looked as limp as it's ever been.
It consequently did not look like a game between the league's first and third-placed sides. It resembled more the type of FA Cup tie where a lower division team comes up against a Premier League outfit — for all Chelsea's endeavour, they simply could not conjure much of threat in the opposition's final third.
Thus, rarely will a team look so comfortable against the current Premier League leaders as City did on Saturday evening.
3. Keane makes some intriguing comments regarding Coleman
(Seamus Coleman was man of the match as Everton beat Swansea at the weekend)
In case it's not obvious already, Roy Keane doesn't really do diplomacy.
What are they
really like?
Rare insights on sport's biggest names from the writers who know them best. Listen to Behind the Lines podcast.
Become a Member
The Ireland assistant boss was on the ITV punditry panel for the Everton-Swansea game at the weekend, and one of the players that will have been of particular interest to Keane, Seamus Coleman, delivered the type of assured performance that is becoming customary at this stage.
Coleman deservedly earned the man-of-the-match award for providing the Toffees with a continual threat down the right hand side of the field and linking up superbly more than once with teammate Kevin Mirallas.
Keane, when asked to assess the Donegal native's performance, gave a frank response. He said that himself and Baines were currently the best full-backs in the Premier League in an attacking sense, but suggested that there remained some question marks over their defensive capabilities.
A more pragmatic coach would have avoided making the second point, but it appears that Keane is determined to maintain the type of honesty for which he was renowned as a player.
4. Are replays worth the hassle?
Few managers would shed a tear if replays were abandoned in the FA Cup next year. If faced with the choice, both Steve Bruce and Oscar Garcia — the managers of Hull and Brighton respectively — would surely have prefer to play extra-time following last night's 1-1 draw between the sides.

Instead, both teams now face the awkward prospect of having to play two games in the space of three days with the replay scheduled for this Monday coming.

Bruce, in particular, was frustrated at the outcome. The manager argued, not unreasonably, that UEFA's refusal to let domestic matches clash with Champions League fixtures was effectively pointless.

"It's quite bizarre for Uefa to say that to the FA," he said. "I don't think many would tune out of [Olympiakos against] Manchester United to see Hull versus Brighton."
5. Sunderland-Southampton illustrates why the FA Cup has lost some of its magic
The FA Cup and especially the final was once regarded as being more or less as close as possible to the pinnacle of domestic football.
Now, however, a considerable portion of the prestige once inextricably associated with the cup has been irrevocably taken from the competition.
The match between Sunderland and Southampton on Saturday was a good illustration of why people have talked about the FA Cup in increasingly cynical terms in recent years.
Amid a stadium that was only half full, it looked like a game that both the supporters and the players failed to care about unduly, quite frankly.
Even the managers seemed apathetic — Southampton made six changes to their Premier League team from last week, while Sunderland opted for nine.
When a match is so thrilling, it is sometimes remarked that it's a shame one side has to lose. On this occasion, however, it seemed unjustifiable that one of the teams would eventually call themselves 'winners' after such a drab affair,  which was all too briefly lit up by Craig Gardner's stunning winning goal.
The unquestioned lowpoint came shortly after, however, as Rickie Lambert missed horrifically from three yards out with the goal at his mercy. It was moment that epitomised the lack of quality that characterised this contest in every conceivable way.