1. Why did Rosler take off McManaman?
WIGAN BOSS UWE Rosler has rightly received much praise for his tactics and decision-making this season.
However, there was one big decision that the former City player will surely regret on reflection following today's action.
For long periods of the game, Arsenal dominated Wigan, but in addition to the Latics' incredibly well-organised defence, the one player who offered a genuine threat to Arsenal's hopes of victory was the young winger Callum McManaman.
McManaman was at the core of all Wigan's best attacking moves, creating the incident that led to the goal and taking considerable pressure off the defence.
Nevertheless, with Wigan leading 1-0, the winger was replaced by on-loan Manchester United star Nick Powell, who failed to offer a similar threat.
It could be argued that Powell constituted fresh legs and was in a better state to defend, but without McManaman, Wigan lost their invaluable attacking edge and the Arsenal defence could relax a little more towards the end of the game.
2. Everton grind out victory
There is no doubt that Everton have improved since Roberto Martinez took over and today was further proof of it.
Playing against a dogged Sunderland team eager to avoid relegation, Everton were made to work for their eventual 1-0 victory.
Yet they showed enough tenacity to ultimately prevail by the slimmest of margins, winning when the pressure was on in the type of situation where they likely would have come unstuck in Moyes' tenure.
It was fitting therefore that the moment of inspiration was provided by one of Martinez's many astute signings — the on-loan Barcelona youngster Gerard Deulofeu — who beat his marker before providing the incisive cross that caused Wes Brown to divert the ball into his own net.
3. Pardew blame game growing tiresome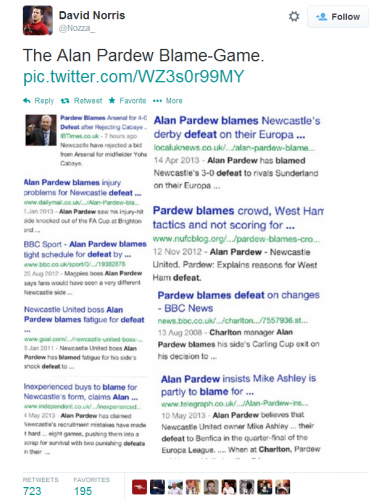 As Newcastle produced another underwhelming performance, Alan Pardew's subsequent excuses felt tiresome.
There is a well-known code among managers to blame anyone other than their players for losses, however this strategy is taken to farcical levels at times.
Alan Pardew's decision to point the finger at Newcastle's local media has consequently already been memorably mocked by at least one paper.
In reality, the Newcastle boss needs to take a serious look at his own team's drastic end-of-season collapse and examine the part that his own behaviour may have played in it.
4. Tottenham highlight once again why they aren't challenging for the top four
Tim Sherwood may have the best win ratio of any Tottenham manager in the Premier League era, but today's match suggested he still has much to learn.
Their 3-3 draw with West Brom was a fair reflection of a game where both sides looked far too open, as well as being both tactically and defensively naive at times.
Tottenham were unchanged from the team that thumped Sunderland 5-1 last Monday and on that occasion, the limp attack of Gus Poyet's side failed to fully expose Spurs' defensive flaws, but the Baggies, by contrast, were far more adept at punishing the Londoners' poorly protected backline.
Sherwood, therefore, must at least take some of the blame for such failings — any team that fields as many as six attack-minded players must surely expect to have a flimsy rearguard at the best of times.
5. Felix Magath and Tony Pulis could be set to pull off miracles
Whereas many sides in the Premier League this season have failed to benefit unduly from a change of manager, Fulham and Crystal Palace appear to be two rare exceptions to this rule.
If it wasn't for Brendan Rodgers' stunning ability to turn Liverpool into overnight title contenders, both Magath and Pulis would surely be leading contenders for the Manager of the Year accolade.
Fulham and Palace, having at one point looked certainties to go down, have been earning some highly encouraging results of late, with the two winning 1-0 against Aston Villa and Norwich respectively today.
Yet while Palace are virtually safe from the drop, Fulham will still need at least one more victory to lift them out of the relegation zone. It remains an arduous task for the German manager, but with momentum on the Londoners' side, few would bet against them.