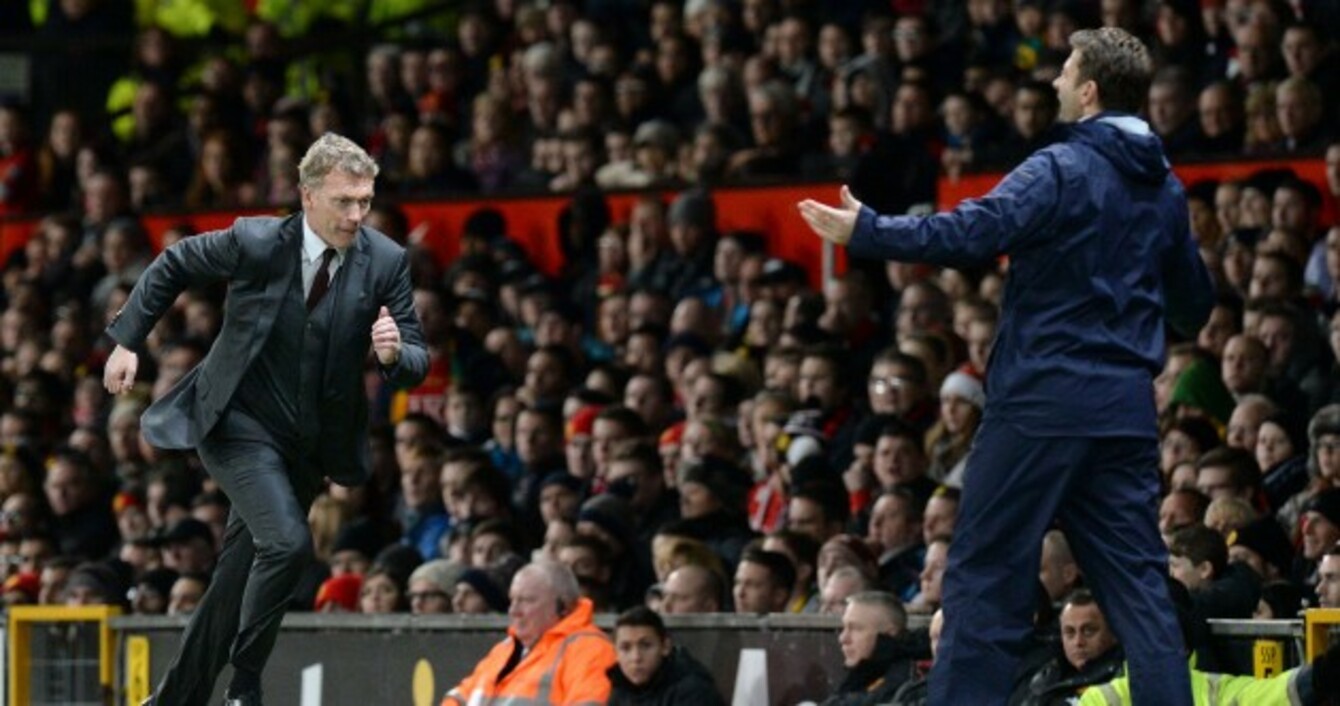 Man United manager David Moyes runs to get the ball with Spurs boss Tim Sherwood (right) during the match at Old Trafford today.
Man United manager David Moyes runs to get the ball with Spurs boss Tim Sherwood (right) during the match at Old Trafford today.
Updated at 23.06
1. United's reliance on the brilliant Januzaj is telling
DURING MAN UNITED'S 2-1 defeat by Spurs today, there was at least one player who did not deserve to be on the losing team.
For the last half an hour, Adnan Januzaj dictated the game and was easily the best attacking player on the pitch, as United grew increasingly dominant while still ultimately failing to find the equaliser.
At every available opportunity, a United player looked to pass to the talented youngster, hoping he would create a chance out of nothing, as he did when he played a fantastic through ball for Danny Welbeck's goal.
Yet for United to be effectively asking an 18-year-old to be their main man in this desperate circumstance is an indication of the lack of confidence and strength in depth, which the club has suffered from badly in recent times.
2. Jose Mourinho shows some refreshing honesty
The Chelsea boss has been criticised in the past for his post-match interview style and in particular, for defending his players stringently, to the point where it seems as if they can do no wrong and his words lack credibility.
In recent weeks, he has lamented the prevalence of diving in the league — with many critics subsequently accusing Mourinho of hypocrisy, given that he has managed, and simultaneously failed to condemn, several players over the years that have been known to engage in this practice.
However today, when quizzed on Oscar's blatant play acting, his response was refreshingly honest.
"It was deserved — a good yellow card from Martin Atkinson," the Portuguese coach told reporters. "Oscar is a clean player who was waiting for the goalkeeper to smash him."
3. Arsenal have finally mastered the art of winning ugly
(Arsenal's Tomas Rosicky [left] tackles Cardiff City's Declan John — Clive Gee/EMPICS Sport)
It must drive Arsenal fans mad that for years they were given the faint praise of being 'the most attractive team in the league,' while still winning nothing of major significance.
On numerous occasions in the past, the Gunners have exhibited their extraordinary technical ability and superior skill consistently over the course of a game, and yet somehow failed to come away with a victory.
However, this bad habit no longer seems to be a problem.
They were at far from their best as they beat Cardiff 2-0 today, but while it wasn't a particularly stylish display, they still came away with all three points.
Consequently, if they do win the league this season, Arsenal's remarkable consistency in beating the smaller sides — in contrast with many of their rivals — will surely be seen as a primary factor in their triumph.
4. Suarez's attitude epitomises his excellence
Luis Suarez scored another vintage free kick today, to make it an incredible 34 goals in 34 games for Liverpool.

"Luis will get the plaudits because he is a world-class player but nine out of 10 players would not have played today," Brendan Rodgers told reporters after the game. "He had a real bad knock on the top of his foot from the Chelsea game."

The fact that Suarez not only played today but made such a significant contribution to the game is a telling indicator as to why he has risen to such heights.

Save the occasional well-publicised aberration, his attitude while playing for Liverpool has been faultless.
5. City show more signs of complacency
The good and the bad of Manchester City was on display against Swansea this afternoon.
For much of the match, they demonstrated the vast array of attacking talent at their disposal, winning 3-2 against the Welsh side in the process.
Nevertheless, they did not always appear convincing at the back, and Swansea at times even looked the better side.
Moreover, City have won the Premier League just once, despite surely having the best squad of players for the past three seasons, and even on that famous occasion, they stumbled over the line with a fortuitous victory against QPR.
With the talent they have, Manuel Pellegrini's men should claim their second league title this year, but elements of complacency in their game, mainly away from home, still threaten to derail their bid for glory
6.  Irish faces fail to flourish as Keane watches on
Roy Keane was at Everton-Stoke today, with James McCarthy, Seamus Coleman, Marc Wilson, Glenn Whelan and Jon Walters all in action.
However, he is unlikely to have been particularly impressed by any of the five, with the Toffees only managing a 1-1 draw against the Potters.
None of the footballers in question made any real impact on proceedings, with the ineffectual McCarthy substituted on 72 minutes to boot.
Martin O'Neill, on the other hand, will likely be more encouraged by what he saw, with Wes Hoolahan setting up Norwich's goal amid their 1-1 draw with Palace.
First published at 22.32