EVERYTHING ABOUT LUIS Suarez is viewed and judged through his reputation, which, although familiar to fans around the world, might not be as clear in the relative soccer wastelands of America.
Putting him in an American context is difficult because he transcends the sports page. Imagine the tabloid fodder of Lindsay Lohan's life with Jennifer Lawrence's acting chops. That's the unique place Suarez occupies in the European pop culture firmament. In April, the English Premier League named him player of the year.
He has carried the reborn Liverpool side on his shoulders. And yet, despite his widely acknowledged greatness, people hate him.
"Being attacked by opponents was normal, but it was my team mate and I could just not stomach it," he said. "I sometimes lost to star riders like Moser and Saronni, but I never complained. Roche's attack was unacceptable."
He wasn't just unhappy with Roche though, but with the team management too.
"If the captain is in the lead, the team must help him. Roche, however, attacked me. But the real crime was by the team management; clueless, heartless.
"Media interest soon focused on the unpleasant things Ferguson had to say about some of the players who had helped him win all those trophies. Roy Keane was portrayed as a kind of lunatic, Ruud van Nistelrooy as selfish and petulant, David Beckham as a silly boy who wasted his career.
But his most withering assessment came almost as an aside, as Ferguson suggested it was unfair that Michael Carrick hadn't played more games for England: "Michael's handicap was, I feel, that he lacked the bravado of Frank Lampard and Steven Gerrard … I was one of the few who felt Gerrard was not a top, top player."
"What I mean to tell you is that we don't stay young forever, or even for very long.
"The same principle holds where a nostalgic yearning for the baseball played in decades past is concerned. This is on my mind because the Kansas City Royals are in the World Series, of course, where they haven't been since 1985. If the Springsteen overture did not date this enough: yes, I remember 1985, both the Series and what the Royals did to my Blue Jays in the ALCS. And without loading value judgments into the hopper, let me say as unemotionally as possible: it was different then."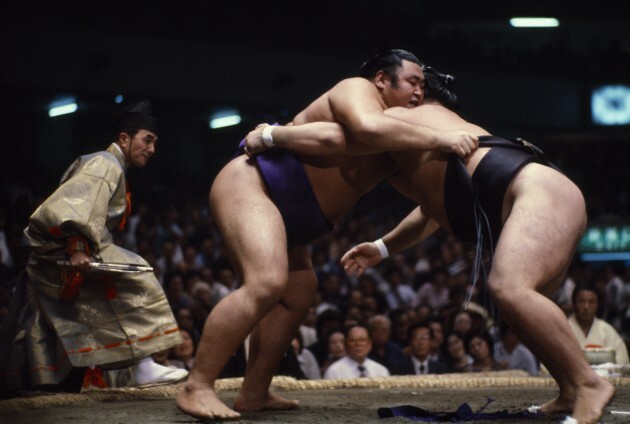 Press Association Images Press Association Images
In 265 years, 69 men have been promoted to yokozuna. Just 69 since George Washington was a teenager. 2 Only the holders of sumo's highest rank are allowed to make entrances like this. Officially, the purpose of the elaborate dohyo-iri is to chase away demons. (And this is something you should register about sumo, a sport with TV contracts and millions in revenue and fan blogs and athletes in yogurt commercials — that it's simultaneously a sport in which demon-frightening can be something's official purpose.) But the ceremony is territorial on a human level, too. It's a message delivered to adversaries, a way of saying This ring is mine, a way of saying Be prepared for what happens if you're crazy enough to enter it.
"I said to the camera crew, 'I want you to film my last match in Canada next week,'" said Hart. "So they scrambled to see if their passes from WWE were still effective – and it turned out they were good for the whole year. So that whole camera crew shows up through the back door with me at the Survivor Series, and it totally caught Vince off-guard. He didn't know they were still shooting or that they'd even be there."
Having somehow won the home leg 1-0 with a header from their burly Scottish centre forward Jim Steel, a player who later became a bobby on the beat, Wrexham set out on the return leg with hope rather than expectation.
Their league record was rotten, they had a string of niggling injuries including one to their young goalkeeper Stuart Parker which threatened to keep him out of the game, and their bench was full of youth team players.
"I decided to quit the football team in August 1986, right before the start of the ninth grade. I was a little bigger than most boys my age, but smaller than most of the ones playing football. During one practice, so many of the freshmen tailbacks had gone out hurt that the coaches brought me over from practicing pass routes to the drill that had gotten them hurt in the first place, where the running back served as a kind of human tackling dummy for the junior-varsity linebacker. The quarterback would hand the runner a football, and he would almost immediately be slammed to the ground by an older, stronger boy."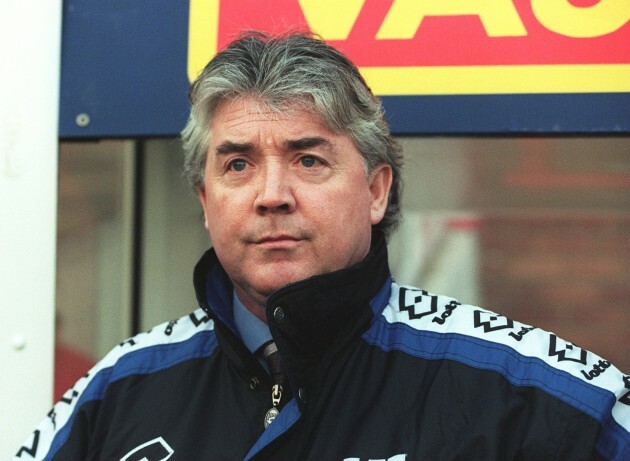 EMPICS Sport EMPICS Sport
Some time in 1994, Joe Kinnear picked up the phone and called Eamon Dunphy. Wimbledon had just finished in the absurdly high spot of sixth in the Premier League. This was not a position reserved for teams with no ground and a tiny fanbase.
Dunphy and Kinnear were old friends from their days playing together for the Republic of Ireland side during the late 60s and early 70s, a period when Ireland barely won a match.
Despite possessing an accent that made him sound like a minor Only Fools and Horses character, Kinnear was in fact born in Dublin. This was something which was widely known and referred to in those days, much more so than it is now.
Kinnear told Dunphy that Wimbledon's tennis loving Lebanese chairman Sam Hammam, invariably described as 'colourful' in newspaper reports, was looking to sell the club.
"On this late-July­ afternoon, fans have been massing for hours in the humid air outside Jiangwan Stadium, here in the northeast part of Shanghai, amid the high-rises and the smog and the clamor. They arrive wearing Kobe jerseys and shirts that read ring collector and 24 on the floor. They carry poster boards and giant banners. One reads pray for kobe, above a photo of Bryant holding his cracked kneecap. Another reads forever young, with the tagline to the great father, excellent player. Two nearby outdoor basketball courts are polka-dotted with yellow-and-purple ­number 24 jerseys—short, skinny Kobes driving on chubby Kobes then passing to wiry, bespectacled Kobes. Nearby, vendors hawk homemade kobe hats and black mamba temporary tattoos. Conspicuously, no one wears generic Lakers gear. They do not care about the team, only Kobe. He is like a cross between Justin Bieber and Neo from The Matrix."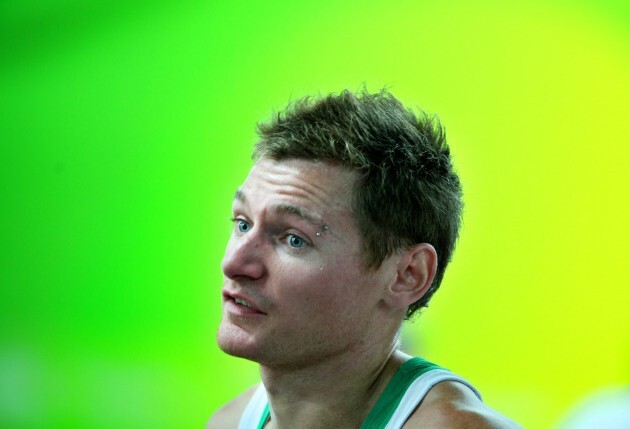 Morgan Treacy / INPHO Morgan Treacy / INPHO / INPHO
People always ask me, "Did I see anything? Was I offered anything?"
I wasn't offered anything and I didn't see a thing. Drugs aren't taken at the training track or at competitions. They are taken out of competition in the months of hard training, long before athletes grace the tartan.
The ability to train at high intensity consistently, and recover so rapidly that you can get up the next day and go again is the key. Drugs don't make you go faster overnight, they provide you with the tools to train, train and train, resulting in faster times and greater performances.
"A horde of screaming middle-aged wrestling fans gathered one Saturday evening in April at the Smoothie King Center in New Orleans to celebrate professional wrestling's Hall of Fame induction ceremony. The world's most popular fake-sport organization, World Wrestling Entertainment doesn't maintain a brick-and-mortar Hall of Fame — no bronze plaques to commemorate its greats (the Ultimate Warrior, Superfly Jimmy Snuka), no interactive widgets to teach young fans storied techniques ("the camel clutch," "the piledriver"). Instead, once a year, WWE's former stars relive their glory together, on a stage, face to face with thousands of their most fervent admirers. Throughout the preceding week, these fans traipsed up and down Bourbon Street until 2 a.m., screaming the names of their favorite wrestlers into the night. Now they wore fake championship belts and chanted ecstatically as retired stars strutted by in big 'n' tall tuxedos and sequined gowns. A deafening "hoooe!" greeted (Hacksaw) Jim Duggan; (Nature Boy) Ric Flair earned a high-pitched "woooo!" Hulk Hogan, who arrived in a black suit, black bandanna and yellow wraparound shades, sent hundreds of so-called Hulkamaniacs into a fit of rapture."
Nothing could stand in their way, no obstacle and certainly no other player. Coveted by coaches, anointed by the media, the Hargrave Four were destined for collegiate glory, professional cash, and all the trappings that fame would bring. Until something odd happened: nothing. None of it happened. Today, in 2014, football has forgotten the most talented defensive line in amateur history, even as the last man standing battles for an NFL roster spot.
Benny Tierney and Paul Hearty are the two goalkeepers that I played most of my adult football with. Now Paul is a serious character. It's probably not fair to call him a header (I know him well, so I can get away with that), but I think it's fair to say he's a bit of a loose cannon, as I think the following story attests to.
Benny Tierney actually told me this one. There was this day that Packie Bonner was up doing a coaching course in Armagh. Bonner was going through various drills and exercises, and for some reason, Paul decides to start belting balls around the place. He starts driving kicks around, and one of them ends up smacking Packie on the side of the head. Totally accidental of course, but when I heard it I wasn't surprised. That's just the sort of stuff they did.
Are Munster rugby folk that different from Kerry football supporters? I'd say there's little difference and that on some occasions they are one and the same. Jerry Flannery's wise cracks and media experience ar an teilifis will doubtless come in useful next season but people will be paying attention to what he says then.
On the subject of players getting a free pass while coaches cop the flak, the xenophobia in Leinster has been a very disappointing aspect of the season.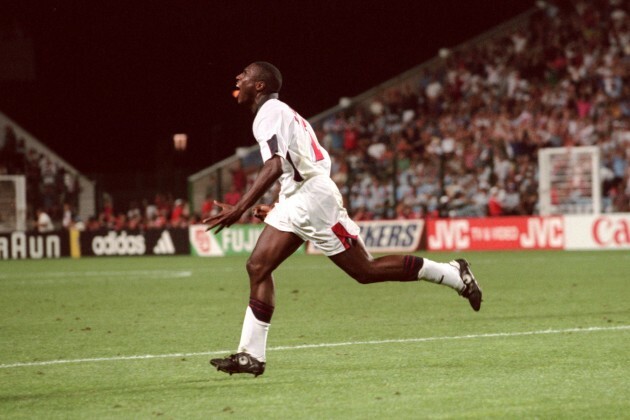 EMPICS Sport EMPICS Sport
What if Peter Reid had broken into something approaching a sprint in 1986, bundled Diego Maradona over and taken a yellow card with a semi-apologetic raised hand? What if Chris Waddle's extra-time daisy-cutter had pinged into the net via Bodo Illgner's left-hand post, with a satisfying metallic thud, against West Germany in 1990?
What if Sol Campbell's unbridled 1998 reversioning of the Tardelli celebration hadn't been cut short by a combination of Alan Shearer's elbow and Kim Milton Nielsen's whistle? What if England had qualified for USA '94?
So maybe we need to formulate a new question. A better understanding of why athletes dope is necessary. A better understanding of effective deterrence is necessary. A better understanding of societal cynicism, corruption, and desperation is necessary.
In the meantime, what can we do better today? What steps can be taken immediately to close the gap between dopers and testers?
"Money's tight. You've got a club lotto, the jackpot is decent, but it's a throwback to a bygone age, as are the three sellers you've got left. Great clubmen, but they're getting on and you question if it's right that they're out in this weather. Younger volunteers don't want to sell Lotto tickets [neither do you if you're honest, asking for money from strangers makes you feel like a chugger]."
He retired for good at the end of the 2006 season, with three Celtic Crosses, three All Stars and two Hurler of the Year awards, following one of the most remarkable careers the game has known.
"I have been watching hurling for the past 35 years or so, and I can say without hesitation, I have never seen better than Brian Corcoran," Jimmy Barry-Murphy said in a tribute on the front cover of Corcoran's autobiography Every Single Ball.
"Over the past nine years, Messi has led F.C. Barcelona to national and international titles while breaking individual records in ways that seem otherworldly. In 2012, he scored 91 goals in 69 games — a ridiculous number — for club and country, and he has been chosen by FIFA, soccer's governing body, as the best player in the world an unprecedented four of the last five years. He is something of a freak, a blazing left-footer whose legs and spatial intuition operate at electrifying speed, and his performances in Europe have already put him, at age 26, on the short list of the greatest players ever."
The NCAA basketball tournament isn't quite the "One Shining Moment" montage CBS would have you believe it is, but as a television program you can watch that makes you feel stuff—happy, heartbroken, nervous as hell—it works about as well as any sporting event. The games have a squirrel-loose-in-the-dog-park franticness to them. Announcer Bill Raftery is there, ejaculating poetically. A bunch of teenagers from nowhere occasionally upset a bunch of teenagers from somewhere and do celebratory goofy-slash-gleeful dances. You've got an office pool going, and it turns out no one you work with knows anything about college basketball, but it also turns out no one really cares about not knowing. We are, nearly all of us, having a good time.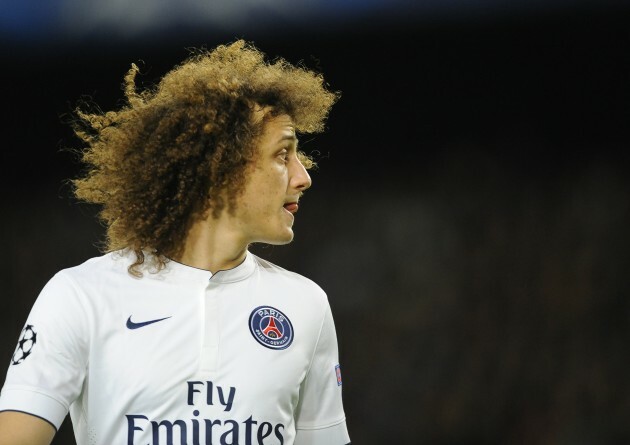 Manu Fernandez Manu Fernandez
David Luiz is teasing Bernard. He has been from the moment he realised his mate was ready to get some sleep on the long flight to Johannesburg.
He begins by literally tucking the 21-year-old 5'5" Shakhtar star into bed. Once he's deemed the fit sufficiently snug, Luiz starts singing him a lullaby. By the time he takes out a book to begin reading aloud Bernard's 'bedtime story', Chelsea team-mates Willian and Oscar are laughing hysterically.
"Bernard is like my little brother," says David Luiz in an exclusive interview with Gillette Brasil Global Tour.
"When he first came into the squad I told him I'd help him and protect him. It's part of my job as Brazil's second captain.
We know this thanks to a memoir by William G Fallon, who was at Belvedere school and University College with Joyce. Fallon had been a rugby back for the Bective Rangers, a leading Dublin club. The Bective Rangers are named in all three of Joyce's novels: A Portrait ('It was the night of the match against the Bective Rangers'), Ulysses ('I'll tell my brother, the Bective rugger fullback on you, you heartless flirt') and Finnegans Wake ('the Bective's wouldn't hold me' 451.10 and, possibly, 'vective volleying' at 581.03).
In 1923, Fallon visited Paris, as an official for the Irish Rugby Football League, in order to see Ireland play France. He gave Joyce a call.
'He seemed delighted to hear from me. When I arrived at the flat I discovered to my astonishment that he had been to see the match. 'How did you come to see the game, Joyce?' I said. 'I had to go and see the boys in green jerseys' was his reply.
The Olympics have been building toward one moment. If you watch CNN, or listen to NPR, or read the New York Daily News, GQ, Maxim, ESPN.com, USA Today, Bleacher Report, Yahoo, New York magazine, Deadspin, People, Business Insider, the Los Angeles Times, the Taipei Times, the Herald Scotland, the Sunday Morning Herald, or Süddeutsche Zeitung — to name only a few outlets that have reported the news — then you've probably heard. The moment is nearly here. Tomorrow, Hubertus von Hohenlohe will debut his mariachi ski suit.
"On the morning of May 3, 1998, Justin Fashanu was found dead. He had hung himself in a disused garage lock in Shoreditch, East London, about a mile away from where he had been born in Hackney, 37 years prior. He had spent the hour before his death at the Chariots Roman Spa, a local gay sauna. His last words, in a suicide note, were "I hope the Jesus I love welcomes me home."
And so ended the life of the first openly gay professional soccer player."
What were your favourite sports articles of the year? Let us know in the comments section below. 
Keep an eye on the site tomorrow for 25 more of our favourite sports articles from 2014.