1. Lack of defensive discipline
THIS MAY SEEM a harsh criticism for a team that possesses far from the worst defence to have graced this tournament and only conceded four goals so far in total, which is not great statistically, but not an embarrassment either, particularly when you consider the quality of the efforts in question.
However, England practically invited others to measure them by high standards. Prior to the tournament, Roy Hodgson told reporters: "Anyone who thinks we can't win the World Cup has to be barking up the wrong tree."
The team's sloppiness was conspicuous against Italy — time and again, Wayne Rooney allowed the opposition full-back Matteo Darmian to make his customary overlapping runs unchallenged, one of which led to the corner that created the first goal. Furthermore, when Danny Welbeck was switched to the left wing to ostensibly shore up this area, he repeated the errors of his colleague, with the second goal predictably coming from the flanks after the United man left Leighton Baines two-on-one with the Italian attackers.
Similarly, against Uruguay, Baines was caught badly out of position for Suarez's first goal, while surely Cahill could've anticipated the danger better for the Liverpool star's second effort.
There were serious concerns about the English defence going into the tournament, and these reservations were patently justified on the evidence of the decisive moments in the two games they've played.
2. Failure to play the game at their tempo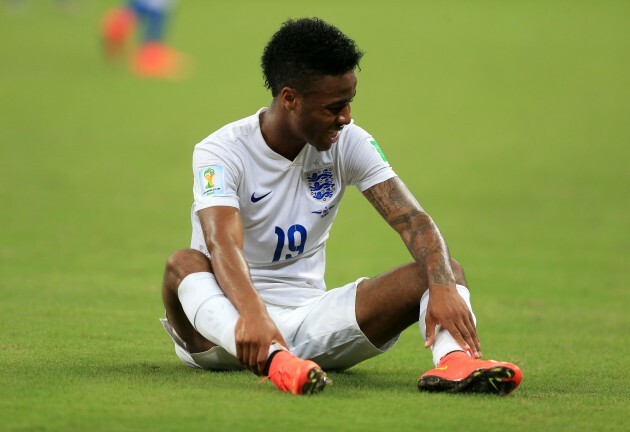 PA Wire / Press Association Images PA Wire / Press Association Images / Press Association Images
(Raheem Sterling rests during the Italy match)
While England enjoyed occasional promising spells against both Italy and Uruguay, by and large, these games were not played on Roy Hodgson's side's terms.
Wayne Rooney insisted they'd have "no excuses" for losing prior to the tournament, and so to blame their ineptitude on the South American conditions would smack of hypocrisy.
Yet perhaps it was a factor, as for long spells against Italy, the game resembled a typical Serie A match, with slow build-up play a prominent feature of the encounter. The England midfielders failed to press their counterparts adequately, and consequently, the likes of Andrea Pirlo dominated the game, while Italy produced the highest number of completed passes in a World Cup match since 1966.
The contrast to the customary rapid pace of the Premier League was not quite so stark in the Uruguay match, but it was still a scrappy game with plenty of stoppages, which undoubtedly suited the South American side.
Moreover, in the periods when the tempo did intensify, Uruguay were more than a match for England in terms of physicality, with battling midfielder Egidio Arevalo Rios, in particular, epitomising their commitment and courage.
3. Inability of midfielders to dictate the play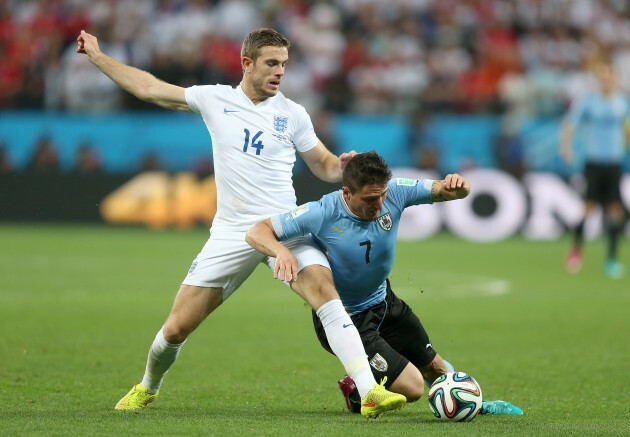 PA Wire / Press Association Images PA Wire / Press Association Images / Press Association Images
(England's Jordan Henderson and Uruguay's Cristian Rodriguez battle for the ball)
Having both enjoyed fantastic seasons with Liverpool, much was expected of Steven Gerrard and Jordan Henderson.
However, in a team full of Premier League stars, the midfield duo were perhaps the most disappointing of all the under-performers. Gerrard, in particular, seemed cursed — his flimsy attempt at a tackle was noticeable for the first Uruguay goal, while he unwittingly created the assist for Suarez's winner.
It was consequently hard not to disagree with former Liverpool star Stan Collymore, who solemnly remarked of Gerrard: "I think he needs to look at himself and say perhaps he wants to extend his club career and retire from the England national scene."
Henderson, meanwhile, was not much better than his Reds teammate, producing a performance that was more akin to his earlier troubled days at his club, thereby rarely showing the intensity and the ball-winning ability that was supposed to curb the considerable midfield threat of Pirlo among others.
4. Hodgson's innate conservatism fails to pay dividends
Mike Egerton Mike Egerton
(Manager Roy Hodgson is under fire following England's early World Cup exit)
In recent days, Hodgson has been portrayed as someone with a newfound sense of adventure and risk-taking by sections of the English media, in contrast with his conservative reputation, and there was some truth in these sentiments.
Starting a teenager, Raheem Sterling, in both matches, was a clear gamble, as was not taking a left-back with the vast experience of Ashley Cole.
Nevertheless, elsewhere, old habits died hard as far as the English coach was concerned. Playing Welbeck out wide in both games was a patently defensive move, while putting Rooney on the left against Italy, in a position he has always been reluctant to inhabit, was hopeful at best.
Not coincidentally, arguably England's most promising spell in the entire tournament coincided with Ross Barkley and Adam Lallana coming on against Uruguay, and perhaps the 66-year-old coach now wishes he'd boldly started with these much-needed creators.
Exclusive Six
Nations Analysis
Get Murray Kinsella's exclusive analysis of Ireland's Six Nations campaign this spring
Become a Member
5. A failure to cope with media pressure
Not for the first time, England appeared to be playing with a palpable weight on their shoulders at this tournament. Granted, all countries at the World Cup have to live with the burden of expectation to a degree, but the English media and public seem to create a uniquely excessive level of tension for their footballing heroes to deal with.
Most conspicuous of all was the pressure heaped on Rooney — the Man United star hadn't ever scored a World Cup goal prior to this year, and the press weren't going to let him forget this statistic, continually questioning his role in the side both before and during the tournament.
The fact that he was poor for the majority of England's match against Italy, partly on account of being played out of position, didn't help. And even in the Uruguay game, despite scoring, he hardly set the world alight.
Rooney, though, is a deceptively sensitive soul — Frank Lampard suggested that he had been affected by the media pressure, and some uncharacteristic below-par finishing in both games, as well as an angry-sounding Facebook post, added further credence to this theory.
The Manchester United man was far from the only England player who appeared afflicted by the psychological toll that representing the country increasingly appears to entail, but it's nonetheless telling that their star player (when on form) can become so frustrated in this less-than-harmonious environment.
6. Star opposition players raising their game
PA Wire / Press Association Images PA Wire / Press Association Images / Press Association Images
(Italy's Andrea Pirlo stood out against England)
Although England failed to emulate even the low standards they had set in 2010 by reaching the second round, in a way, this tournament seemed like a minor progression by comparison, in spite of the Three Lions' complete absence of tangible success on this occasion.
Whereas England were humiliated by a far superior German team in South Africa, they matched Italy and Uruguay for some if not all of their respective encounters.
The performances of younger players such as Raheem Sterling and Ross Barkley were the obvious bright spots, as they further outlined their promise by catching the eye on the world stage, and there was a partially justifiable feeling that luck has consistently been against England these past few days.
In Luis Suarez and Andrea Pirlo, they were somewhat unfortunate to come up against world-class opponents at the top of their game so early in the competition. And so for all their good, high-profile players, Roy Hodgson's men still have no one quite in the same class as the two aforementioned superstars.