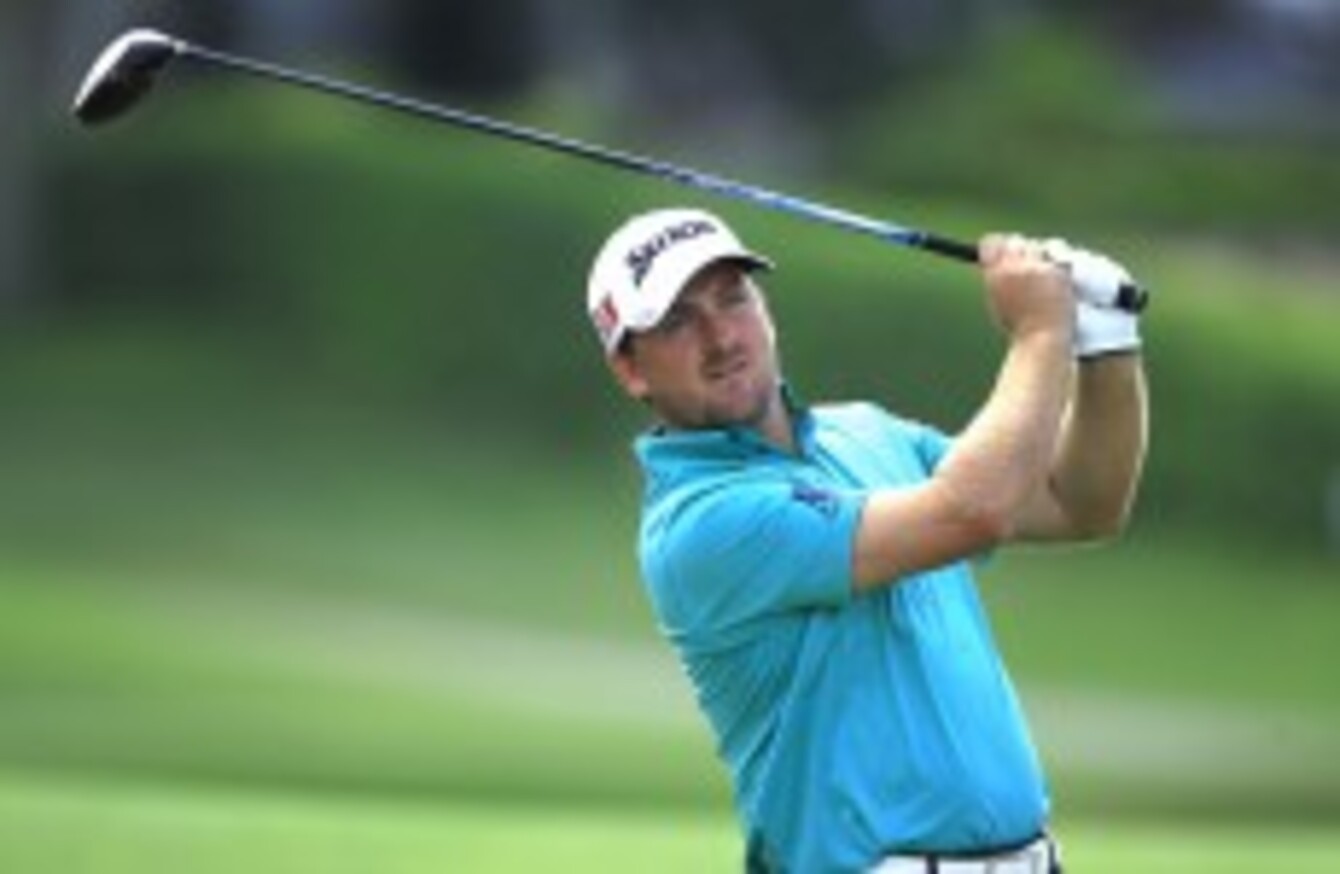 Image: John Raoux/AP/Press Association Images
Image: John Raoux/AP/Press Association Images
TIGER WOODS IS in a place he hasn't been in 30 months — atop the leaderboard on the PGA Tour going into the weekend.
With alarming control, Woods putted for birdie on every hole and made short work of the par 5s Friday at Bay Hill for a 7-under 65, giving him a share of the lead with Charlie Wi after two rounds of the Arnold Palmer Invitational.
"A lot of positives today," Woods said.
Wi, the 54-hole leader at Pebble Beach this year, rolled in a 25-foot birdie putt on his last hole for a 68 to join Woods at 10-under 134.
Former U.S. Open champion Graeme McDowell had an eagle-par-birdie finish for a 63, while Jason Dufner extended his solid play on the Florida swing with a 69. They were one shot behind at 135.
Woods last had the 36-hole lead in any tour event at the Australian Open in November, and he tied for third. On the PGA Tour, go all the way back to the Tour Championship in September 2009 to find the last time he was atop the leaderboard going into the weekend.
It looks even more ominous at Bay Hill, where Woods is a six-time winner.
"I want to win. Yes, absolutely," he said. "We've got a long way to go. It's not like it's over right now. We've got 36 holes to go."
Woods at least is in better shape than he was two weeks ago. His future looked as muddled as ever when Woods was taken off the golf course in a cart at Doral because of soreness and swelling in his left Achilles tendon, the same injury that forced him to miss three months and two majors a year ago.
One week later, he was practicing at Augusta National. Now, he's the player everyone is chasing on the weekend.
The best round came from McDowell, and it was a reminder of how far he has come in one year. McDowell had a dream season in 2010 by winning the U.S. Open at Pebble Beach, winning the decisive point for Europe in the Ryder Cup at Celtic Manor, then ending the year with a record comeback against Woods in the Chevron World Challenge.
McDowell had a hard time managing his time, much less his expectations, and the eye-opener was at Bay Hill last year when he shot 80.
This time, McDowell was 17 shots better.
"That 80 was a wake-up call, but I didn't wake up for another four months or so," McDowell said. "It was more of the panic button. It was a pretty awful four or five months for me.

"But like I say, I feel like you learn more from those types of experiences than you do from shooting 63 at Bay Hill. There's not much to learn out there except that if you play great and hole some putts, you can go low."
That's just what he did.
Dufner set the early pace and was the first to reach 10 under until going for the green on the par-5 sixth, misjudging the wind and going into the water to make bogey. Even so, it was another solid round in Florida. Dufner had the lead going into the weekend at Innisbrook, and now he is one shot behind at Bay Hill.
"I think any given day, I can go out and shoot 5 or 6 under, do it pretty comfortably," Dufner said. "If the putter were to get hot, I feel like I could shoot some lower scores. There has not been a lot of stressful situations that last two or three weeks."
The stress might pick up Saturday. Woods brings energy to the course when he's around the lead, especially at Bay Hill, and especially when it's been so long since he has won on the PGA Tour. He has gone 27 PGA Tour events without a trophy.
– Doug Ferguson, AP