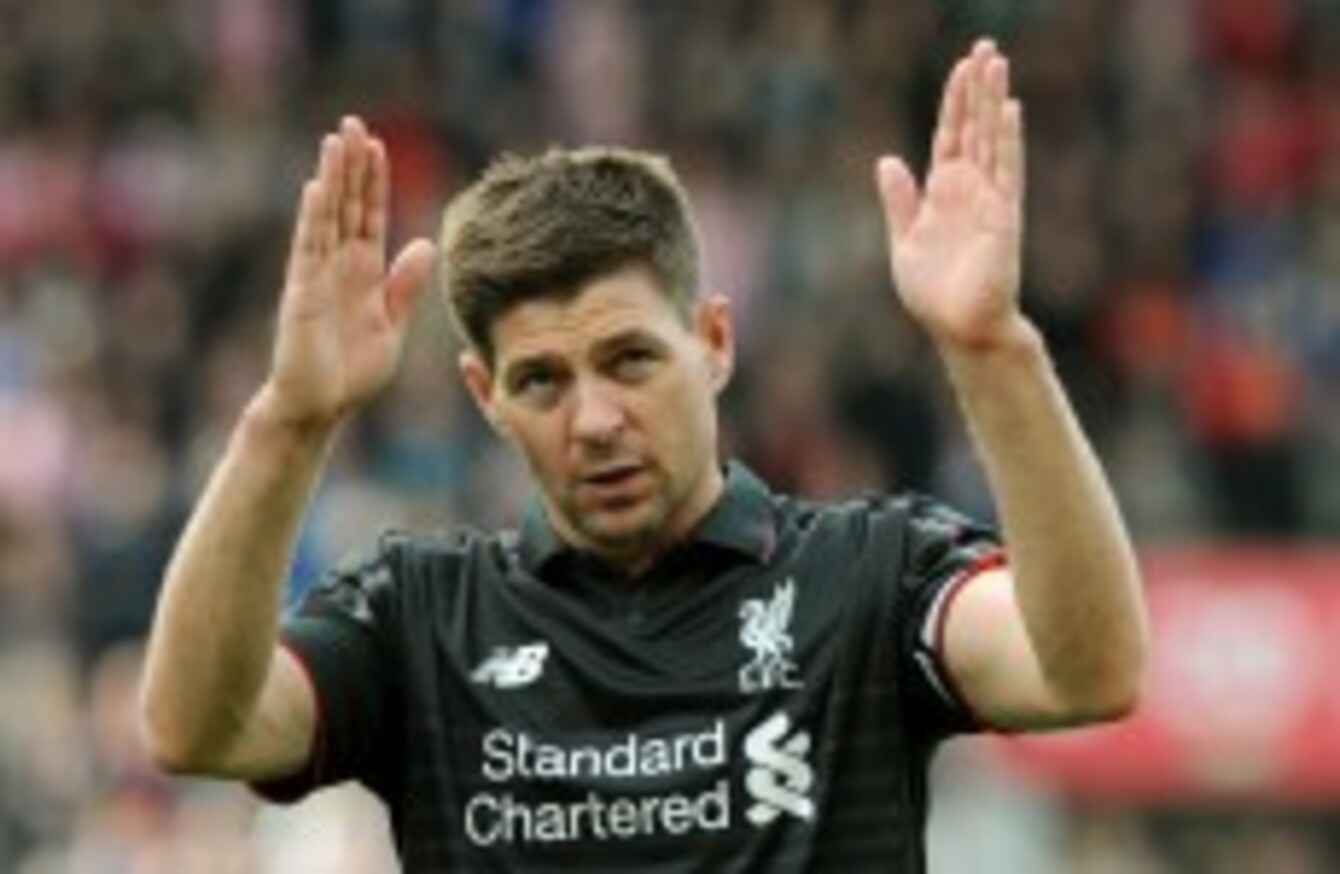 Gerrard reflects on his long career at Liverpool in his upcoming autobiography.
Image:
AP
/Press Association Images
Gerrard reflects on his long career at Liverpool in his upcoming autobiography.
Image:
AP
/Press Association Images
1. There is no love lost between himself and El Hadji Diouf
"We finished the season in fifth place and Diouf had sealed his place at the top of the list of Liverpool signings I liked least," Gerrard recalls of the season they signed Diouf.
"It seemed to me that Diouf had no real interest in football and that he cared nothing about Liverpool. For example, the way he spat a huge globule of gunky phlegm at a Celtic fan in a UEFA Cup match at Parkhead in March 2003 summed up his contemptuous and spiteful demeanour."
2. He admits Mario Balotelli will never be a top player
"After his promising debut against Tottenham he had lapsed in training and the subsequent games. His demeanour was very poor. I made up my mind pretty quickly after that about Balotelli," Gerrard explains.
"There was no friction between us. We got on fine. I still tried to help him and I kept looking for chances to praise him.
"But I could see Mourinho had been right when he said Balotelli is unmanageable.
"He is very talented with the potential to be world class, but he'll never get there because of his mentality and the people around him."
3. He never felt loved by Rafa Benitez
"On a basic human level I prefer a likeable manager, such as Gérard Houllier or Brendan Rodgers, but in terms of football I really don't mind working with a colder man… An emotionless and distant relationship with the likes of Rafa Benítez and Fabio Capello can sometimes produce more success," Gerrard said.
4. He had no time for England players' petty complaints during the 2010 World Cup
"They were long and petty, and the worst – which sticks in my memory — was when some of the players came to me to complain they had to walk 50 yards for a massage," he recalled.
"Some footballers in that 2010 squad had big egos and they behaved like kids from time to time. There was some unbelievable whingeing going on in that Rustenburg camp."
5. He would pick Xabi Alonso or Jamie Carragher as his assistant if he ever got the chance to manage Liverpool
"I sometimes allow my mind to wander and think, 'Wouldn't it be amazing to manage Liverpool one day?' Right now I can't know if I'd be good enough or if I would even be asked to do the job in the future.
"First and foremost I'd have to feel confident that I could be a successful manager. I would never take the job on the back of my name — or just because some fans would like me to step in on the basis they'd once supported me as a player.
"I know that being manager of Liverpool Football Club is a huge job. It needs the right man with the right credentials and know-how."
6. He texted players in a bid to convince them to come to Liverpool
"I slipped into the groove with Willian. I said hello and hoped he didn't mind me contacting him directly. I stressed how much I admired him as a player and then, having mentioned that I knew Liverpool were speaking to his agent, I used the standard line: 'If you need to chat or ask any questions I'm available at any time," he remembered.
"Our target in 2014 was ridiculously optimistic. Brendan asked me to take a crack at trying to talk Toni Kroos into signing for Liverpool. He smiled when I said we'd be p*****g into the wind with this one. We both admired Kroos immensely. I knew Real Madrid were gearing up to make Bayern Munich an offer and so I felt a bit awkward when I texted Kroos. The German was on his way to winning the World Cup with his country and Real were the champions of Europe. But God loves a trier, and so I gave it a whirl."
7. He wasn't impressed with Stuart Pearce's decision to choose Scott Parker as captain instead of him
"Scott Parker is a good player and honest; I've got a lot of respect for Scott as a player and a person. But to pick Scott Parker as England captain ahead of me?
"I don't know whether it was a dig at Liverpool or something more personal — but my overall perception was Pearce was doing some muscle-flexing in the toilet mirrors.
"My guess is it was a decision designed to focus attention on him, his way of saying: 'This is me. I'm in charge.'
"I might have had misgivings about his tactical insights as a coach, but I respected Pearce until that moment. I felt he treated me very badly. It was insulting — and wrong. I thought it was selfish. It was a political decision to make everyone think he had balls."