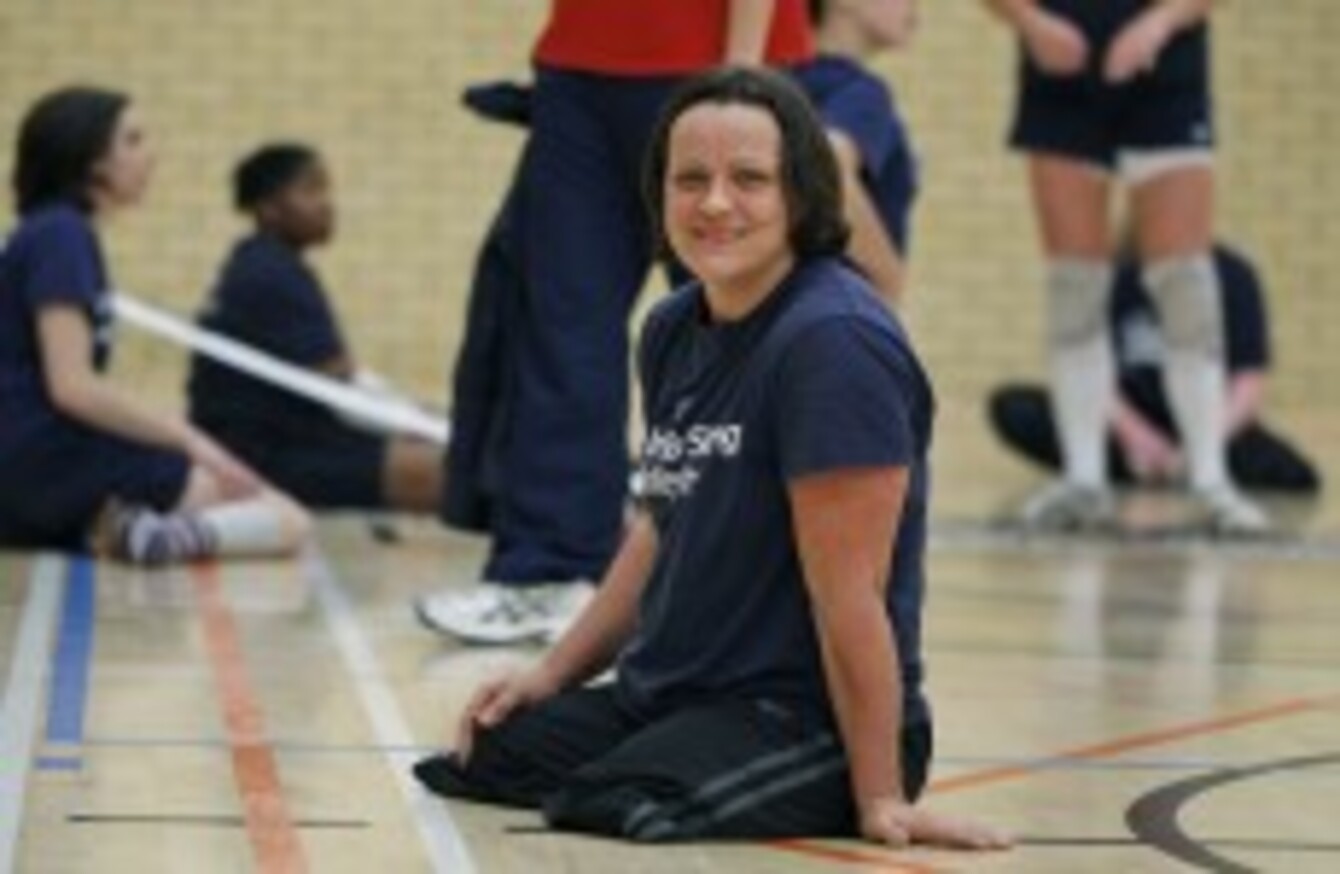 Wright during training.
Image: Lefteris Pitarakis/AP/Press Association Images
Wright during training.
Image: Lefteris Pitarakis/AP/Press Association Images
MARTINE WRIGHT WAS running late for work.
Staying out to celebrate London getting the 2012 Olympics had caused her to oversleep. In the subway, she didn't reach her usual car, which dropped her off nearest to her exit. Instead, she jumped onto a closer one just as the door closed.
Moments later, chaos.
A white light flashed and she felt herself being thrown. An off-duty policewoman found Wright in the wreckage and held her hand. Wright looked up. She saw a sneaker; it had been blown off her foot and skewered on a piece of metal.
The marketing manager lost both legs on the morning of July 7, 2005, in the subway bombings that killed 52 commuters and all four suicide bombers.
She was in a coma for 10 days. Her body was swollen to twice its normal size. Her brother and sister saw her in the hospital; they told the police it wasn't her.
Seven years later, Martine Wright is a full-time athlete. Her goal: this summer's Paralympics.
Martine remembers her mother holding her face, telling her she could have died or been brain damaged. But that didn't happen.
Wright, 39, learned to walk again with the help of prosthetic legs. She learned how to fly. She did a sky diving jump for charity. She got married to her longtime boyfriend, Nick Wiltshire. They had a son.
But somehow, moving on required something more. She needed a goal. Always athletic — she had played field hockey at university — she looked to sports.
I wanted to feel that competitiveness I used to feel at work — that sort of hunger for success," she said.
She tried wheelchair tennis, but the relatively new sport of sitting volleyball caught her eye because she didn't need a wheelchair to play.
Imagine regular volleyball, but with a lower net and the players with their butts on the floor. That's sitting volleyball. Wright jokes that the courts gleam after games.
It was at gyms like one at West London's Roehampton University, where the team trains, that Wright found camaraderie.
Where else can an athlete walk in and toss her fake legs against a wall, like galoshes piled up after children come in from the snow?
Credit: Lefteris Pitarakis/AP/Press Association Images
On a recent day, team-mates goofed around throwing balls at Martine's head while she chatted on the sidelines with a reporter.
They support one another even as they fight for their place on the squad.
"They're all fighters really," said team captain Andrea Green. And team-mates. And friends.
London's organizers make a point of giving attention to the Paralympics, which take place from Aug. 29 until Sept. 9. Queen Elizabeth II will open the Paralympics as well as the Olympics, a reflection of the nation's interest in offering equitable treatment to Paralympians.
But it isn't just about attention.
As the host nation, London was able to automatically qualify to send a team. But the British Paralympic Association had worries about the sitting volleyball team, which was relatively inexperienced. The association was determined that the team rise to the competition, to be able to take to the court with powerhouses like China and hold its own.
The association gave the team an ultimatum in the fall. They had to up their game, or they would not send a team to the Paralympics.
What are they
really like?
Rare insights on sport's biggest names from the writers who know them best. Listen to Behind the Lines podcast.
Become a Member
Penny Briscoe, the performance director for the British Paralympic Association, said the organization was determined to make sure they were ready, focused and gelling as a unit. Home team berth or no, the team was going to have to be good enough to compete against the best.
"It is about inspiring a nation of potential athletes who want to come and play," Briscoe said, explaining the tough line. "It is also to do with integrity. There are no free tracksuits for a Paralympics GB athlete."
The association ruled last week that the team will compete. But now there will be a decision on who should play.
That goes for Wright as well. Despite being one of the more high profile survivors of the July attacks and becoming an unflinching ambassador for the sport, Wright will not get a free pass. She must earn her place like any of the other players.
If you said to me seven years ago, look Martine, you're going to be going to one of the biggest shows on earth — London 2012 … I would think you're absolutely mad," she said.
"But I'm riding the wave. Who knows what the future can hold? But what I've got to do now is keep training and make sure I get selected."
If she does, she will wear number seven, the date that the bomb went off — moments after she sat down, looked at the Olympics story in the newspaper and wondered how she might get tickets.
Wright doesn't feel angry. She feels lucky. So many died, and so many relatives lost loved ones. The fact that she's tied to the Olympics and the Paralympics by a weird twist of fate is not simply a matter of coincidence — she says it is a reflection that things were meant to be this way.
And somehow, competing is already real. She can envision the opening ceremony. She wants her husband there, her parents and her son, Oscar, who she hopes will hold a sign reading "Mummy."
"There is good that comes out of bad," she said.