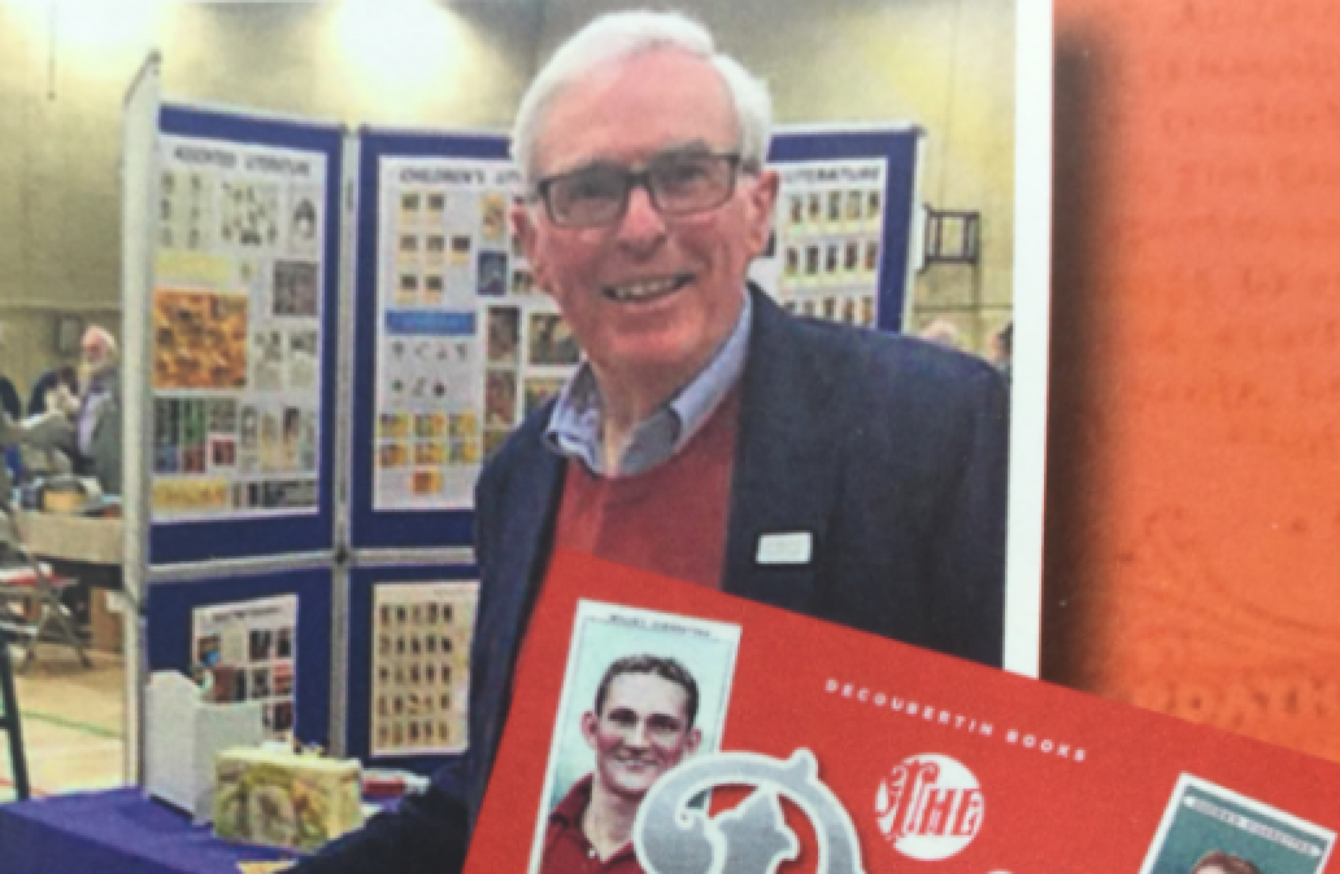 George Rowlands poses at a book signing.
George Rowlands poses at a book signing.
IN FOOTBALL, PEOPLE often have short memories.
While the stars of today are paid exorbitant fees by their employers, former players tend to be swiftly forgotten about.
Once they can no longer score goals or keep clean sheets, the teams in question frequently distance themselves from these fading stars.
While they are on the books at the club, the star players invariably can do no wrong and are treated like royalty. Once they retire, however, the good will towards these individuals promptly runs dry in many cases.
In the modern game, sides have become better at maintaining links with former players and showing a degree of appreciation for all they achieved during their illustrious careers. Dennis Bergkamp (current Ajax assistant coach) and Steve Gerrard (academy coach at Liverpool) are two examples of many that spring to mind.
Yet too often, particularly in the case of older players, multi-rich Premier League clubs, so keen to attract positive publicity when it suits them, fall silent when these one-time idols start to seriously struggle post-retirement.
Think of Harry Redknapp's story about legendary England captain Bobby Moore being thrown out of the ground by West Ham. Or Nobby Stiles being forced to sell his World Cup winner's medal in order to provide for his family. Or indeed, the rest of the famous 1966 English team, some of whom are suffering from ailments that many feel are linked with their time as footballers.
And these are just the high-profile players. Plenty of other less renowned ex-footballers have also fallen on hard times, though their stories sadly cannot garner the kind of attention reserved for World Cup winners.
Consequently, it is vital former footballers and their achievements are treated with the respect they deserve, rather than being at best forgotten and at worst dismissed or willfully ignored by the game's authorities.
George Rowlands may just be an ordinary lifelong fan of Liverpool FC, but unlike many associated with the game, he recognises the importance of preserving the beautiful game's history and honouring the players who were ultimately integral in turning British football into the lucrative industry it has become.
Rowlands' new book, 'The Red Men of Liverpool FC,' takes a quirky approach towards recalling some of the key figures that built the club up in the early days, long before it became renowned as a multi-million-pound business enterprise.
The book takes the reader back to a time before the widespread use of photography in print media, and when matches were rarely filmed.
Consequently, aside from going to watch the games, the only way kids back then could get a glimpse of their footballing heroes was through purchasing cigarette cards.
Some people may dismiss Rowlands' new book as something only footballing anoraks and obsessives could appreciate, but those who read it carefully enough will realise that not only does it give a unique insight into Liverpool's history, it also provides a glimpse of a bygone era. At the same time, 'The Red Men' highlights the legacy of some great players whose achievements have been somewhat overlooked, owing to the subsequent phenomenal success Liverpool enjoyed in the Bill Shankly and Bob Paisley eras.
And few people could be better equipped than Rowlands to oversee this project. Born in 1938 in Bootle, he has been an avid supporter of Liverpool FC for eight decades and remembers legendary players that younger Reds fans may never have even heard of.
Like many British kids of his generation, the Second World War loomed large over Rowlands' childhood.
I was evacuated during the war to Ironbridge in Shropshire," he tells The42. "So cigarette cards and things of that nature didn't come into my thoughts then. It was just existing with the family and playing out in the streets… I was about seven or eight when I came back (to Liverpool).
"Collecting cards and playing marbels was the done thing by everybody on the street. The cards then were getting on a bit, they were 20-30 years old that we had. They were pretty rough at that stage – they were bent, torn and dirty."
So the post-war years were dominated by two interlinking passions: cigarette cards and Liverpool FC — Rowlands would often sneak into matches at Anfield during half-time.
The then-16-year-old's work as an apprentice in an engineering shop did little to distract him from this passion for cigarette cards — on the contrary, in fact, as the youngster was tasked with buying cigarettes for his more senior contemporaries, he could hardly avoid them.
I'd go out and look for 150-200 cigarettes a day," he explains. "The only cigarettes I could get at the time were Turf and of course, the Turf had the images on them, as did Godfrey Phillips.
"So I would ask the chap in the shop to save me those images — only of footballers. They did everything — trains, planes and all sorts. So they would save me them, or you could collect them.
In those days, everybody smoked. And a packet, when finished, was just thrown on the floor — there were very few waste paper baskets on the ground in those days. So we used to collect them then.
"But we always used to cut them out in the shape of a cigarette card, swap them round and try to get a team together. You could never get a full team together because all of the Liverpool players weren't produced on those cards. There were only certain ones like Billy Liddell, Albert Stubbins and Laurie Hughes."
Having been hugely popular when Rowlands was growing, the cigarette card craze gradually dissipated and by the 1960s, it had more or less died out completely. The fact that cigarettes had a damaging long-term effect on people's health was becoming more widely known, and the British government was beginning to act. Laws were brought in to limit the advertising of cigarettes in various ways, and cigarette cards were one of the main casualties owing to these measures, with manufacturers belatedly conceding that this thinly veiled strategy to attract younger customers was highly inappropriate.
Nevertheless, Rowlands retained an affinity with both the cards and Liverpool FC even as the former pursuit became uncommon while his love for the Reds was complicated by a move to California, where he worked as a mechanical design draughtsman.
He later returned to Merseyside and continued in his chosen profession for a while before subsequently running his own engineering supply business on Liverpool's Dock Road for a number of years.
But once Rowlands retired in 2001, he was free to absorb himself more fully in two of his passions — Liverpool FC and cigarette cards.
He is currently part of various cigarette card clubs and is also a member of the philatelic society of Great Britain.
The book was roughly five years in the making. Finding the cards themselves was not a major problem — of the 5% he did not own, plenty of his card-collecting friends were more than happy to help out and let him make copies for publication.
Yet what complicated matters was Rowlands' decision to go a step further and track down each player's history and the key stats relating to the time they spent at Liverpool.
I thought: 'Why don't I combine them both and do stats on that one player, and then look into his history — where he was born, who was his father, what they did for a living, where he lived, the original teams he played for, the schools teams he played for? And then go through his stats for Liverpool Football Club, where he went to after LFC, his other achievements in life — some of them won medals in the war — and then find out where he died and was buried etc."
Unsurprisingly, ensuring all the information in question was as accurate as possible proved an arduous and at times painstaking process.
(The time-consuming part of it was) investigating the players themselves, because there are many history books on players that played for Liverpool FC, but I found that a lot of those books are incorrect in their birth dates, their death dates, when they signed, what clubs they went to. There are a tremendous amount of mistakes in these books, even the modern books.
"So I thought, I'll go right back to the beginning. I will buy the birth certificate of each of these players. There were only a couple that I couldn't find, but I put a 'circa' in the book when I couldn't find them, because there are always people that are not registered.
So I bought the birth certificate, I then bought the death certificate to get the dates correct and the places. In many cases, I bought the marriage certificate. The problem with some of the birth certs is that you can look at them and say he was born roughly in 1910 in Dublin, but you look at 1910 in the records and look two years either side of that, you might find 15-20 people with the same name.
"And funnily enough, you sometimes find at least five of those with the same father's name, so it gets very difficult. But if you get the life certificate, that actually gives the father's name, the mother's name and their maiden name. But then you can go back to the birth certificate and say: 'Oh, that's correct.' There's the mother, there's the father and there's the maiden name, so you know that is the man they're looking for. In many cases, I bought five birth certificates, only to find the last one was the one I wanted.
So I tried to be as accurate as I could as far as the birth and deaths (were concerned), and then finding out what they did afterwards."
As tricky as it sometimes proved, Rowlands insists he enjoyed "every minute of the process," particularly as he came across so many "brilliant people," such as John 'Jack' Parkinson and John Thomas 'Jack' Cox.
If you read Parkinson's story, you'll find that every year, Dundee FC used to have a 100-yard dash for professional footballers. It was Cox and Parkinson who got to the final. The winner got £12, second got £8. That was a lot of money to them in those days — they were only getting a couple of pounds a week.
"They both got to the final and Parkinson just pipped him. They were both doing that in 10 seconds — that proves to me what good athletes they were. They were on tracks and they were running in big spikes. The chap that won the two military medals, George Latham, he's a brilliant person. He was engaged in not just football, but the Olympic Games… So the stories fascinated me. The picture on that cigarette card suddenly jumps out at you (when you learn about the individuals)."
Younger readers will be reminded of the vastly different lives these players experienced compared with the stars of today, many of whom are cosseted in academies from an early age. By contrast, some of the footballers featured in 'The Red Men' experienced immense hardship and poverty before, and in some cases after, their football careers.
The average age (of death) for my cigarette card players was fairly high — about 74. But at least a quarter of them died in their 40s. And these seem to be the lads that came down from Scotland — most of the early players were coal miners. It was still an amateur game in Scotland and they were playing what we would call 'the dribbling game'.
"Teams were looking for players, particularly when Everton went to Goodison, Liverpool were left without a team. So first thing, they went to Scotland right away to get these chaps.
And they were down the mines all week, playing at the weekend, and some of them were brilliant players, such as (Alexander) Raisbeck. The mines had an impact on them (given) the workload.
What are they
really like?
Rare insights on sport's biggest names from the writers who know them best. Listen to Behind the Lines podcast.
Become a Member
"When they came down (to Liverpool), they were playing football in all kinds of weather — the ball was three times the weight that it is today. A lot of them got Alzheimer's Disease — they didn't recognise it then, but that's what it was.
They had a hard life before they came into football. With Raisbeck, there were 14 children in his family. His father died early on and his mother became a coal miner. She went down the pit with the boys. They were down there at 12 years old."
In comparison with the internationalisation of the Premier League today, foreign players were extremely rare in that era. However, one curiosity of the book is the relatively high number of South African players listed, a departure from the norm back then, as the book remains otherwise dominated by British and Irish footballers.
In 1924, the South African touring team came over to play in England," Rowlands explains. "(Liverpool Hall of Fame member) Gordon Hodgson and Arthur Riley came over (as part of the South African team). They were picked up by Liverpool — that's why you've got the South Africans coming in.
"Because they brought those two players over (the pair enhanced the reputation of South African players in general). In fact, I think Hodgson was one of the greatest players Liverpool ever had.
He played 377 games and scored 241 goals — that's an average of 0.64 goals per game (out of footballers who have played 100 games or more for the Reds, no one has a better goal ratio).
"(Hodgson) scored 17 hat-tricks and don't forget, for a hat-trick in those days, you had to score one after the other. You couldn't just score three in a game like today and that's a 'hat-trick'. So it was more difficult to do it then than it is now."
But as much as Rowlands enjoys collecting cards, the activity is really just an extension of his lifelong obsession with Liverpool FC. He remembers going to watch the team from about the age of nine, viewing the action from the boys' pen in the corner of the ground "all pinned in with wire netting all over us".
You don't really see the finesse of the games until your older," he adds. "You sit down in the stands, see the players and what they do. Whereas when you're at ground level, you don't really see much of the game.
"(Billy) Liddell was in the twilight of his career — I would have loved to have seen him earlier than that. He could hit a ball harder than anybody I've ever known — he would break your ribs if he hit you with it, he was brilliant. And of course, he never committed a foul. He was never booked in his life. He was also a very religious man.
But I think the one I was impressed mostly by and enjoyed every minute of was (Luis) Suarez. I know he's a later player, but what a player! As soon as he got the ball, the crowd were excited. He could hit a ball and could score from any part of the ground.
"People will say: 'Why aren't you mentioning somebody in the cigarette cards?' Well, I didn't see most of those — you're going back to 1893."
Source: jibberjabberman/YouTube
Rowlands cites the 2004-05 campaign when Liverpool won the Champions League as the most memorable he has witnessed, but in general, the 79-year-old is not overly enamoured with modern football and the changes it has brought.
I've been to Liverpool the last couple of years and you can go and sit there, it's a boring game — pass, pass, pass, pass — no thrust up the field at all. Particularly night games — I'm (nearly) 80 now and I have to get the train.
"I have to get the train, then get the bus and walk up the hill. It's raining, it's dark and it's cold. You get there, you see a load of rubbish being played, and you have to do the same thing as you go home.
When you get to our age, my friends' age, we really now want to go see Liverpool on a sunny day on a Saturday afternoon at three o'clock. But it's not happening now — the television has taken over, they're paying the wages. It's a shame, but they call it progress, I think."
And finally, the one obvious question to ask: is there one particular card of them all that he cherishes the most?
It's the one of Laurie Hughes," he reveals. "When I went down to talk to him, I had a card of his, and he said: 'Want me to sign that for you, George?' And I said: 'Yes.' Some collectors don't like people signing cards, because it tends to spoil the image of the card.
"But he signed it for me anyway and I think that's my best card. I had a long conversation with him and I went away saying: 'I know this lad.' It's most probably worth about a fiver, and some of them are worth £2,000. But a fiver is what my best card is worth.
Laurie died about six months after I spent time with him (on 9 September 2011 at the age of 87).
"So I wanted to put a book out, a record of the footballers. It can only be done once — you can't do it again really. It's a record for future people who are interested in Liverpool FC — not just collecting cards, but the club itself. But to me, it's part of LFC's history and these men should be remembered for building LFC up to where it is today."
The Redmen Of Liverpool Fc: The Tobacco Years is published by De Coubertin Books. More info here.
Subscribe to The42 podcasts here: