Updated at 21.48
WORLD WRESTLING ENTERTAINMENT majority owner, chairman, and CEO Vince McMahon grew up in an 8-foot-wide trailer in North Carolina, where he did not meet his father, a wrestling promoter, until the age of 12.
From those humble origins, McMahon, who turned 69 recently, rose to become the head of a billion-dollar company. In growing WWE from the regional organisation it was when he took over to the global empire it is today, McMahon has relied on an incredible work ethic that is unmatched in the wrestling business.
1. He doesn't believe in sickness
(Vince McMahon has an unpleasant [fictional] hospital stay on a 1998 episode of Monday Night Raw)
For more than three decades, he has lived, breathed, and sometimes bled WWE, both in the boardroom and on television, where he plays a fictionalised version of himself.
Employees feeling under the weather while working at WWE are unlikely to get much sympathy from the company's CEO.
Former WWE creative team members Vince Russo and David Lagana both write that McMahon has been known to tell glassy-eyed employees that "there is no such thing as sick."
"Vince is a workaholic, and if anything gets in the way of his work, it makes him angry," Lagana writes.
2. It was impossible to beat him into the office in the morning or outlast him at night
Vince Russo, who worked for McMahon as the then-WWF's head writer during the company's late '90s boom period, recalls that McMahon basically lived at the company's Stamford, Connecticut, office.
If Russo got in at 7 am, McMahon's car would already be there, and if he stayed until 10 pm, McMahon's car would still be there.
"In other words — the guy just never left the office!!!" Russo writes in a piece for What Culture.
3. He barely ever sleeps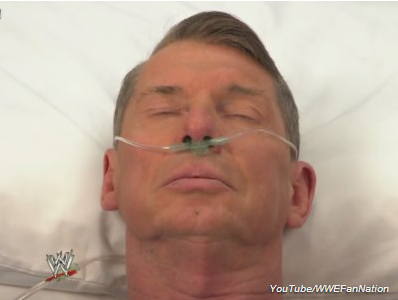 (Vince McMahon looking rather angelic on a 2010 episode of Monday Night Raw)
In a 2012 interview, McMahon tells Bloomberg Businessweek that he sleeps just four hours a night.
"I don't like to sleep," McMahon says. "I'm missing something when I'm sleeping."
4. He still has the final word on every single Monday Night Raw creative decision
At age 69, McMahon is still intensely involved with crafting the storylines that play out on Monday Night Raw, the WWE's weekly flagship television show.
He is famous for rewriting entire episodes if there's something in the script he doesn't like, even up to the moment the show goes live.
Grantland's David Shoemaker writes, "Vince has been known to micromanage everything from his performers' clothing to the most precise turn of phrase that the announcers say; he's been rumored to relay instructions down in real time into their headsets from his seat in the back."
5. Don't even think about sneezing around him
McMahon's thirst for control and laser-like focus have created a somewhat comical pet peeve: sneezing.
One ex-writer tells me that employees are not allowed to sneeze when they're in a meeting with McMahon because he sees it as a lack of self-control.
And in an April interview on Stone Cold Steve Austin's podcast, former WWE creative team member Paul Heyman says that McMahon actually gets furious with himself when he is the one sneezing.
"'I sneezed. I should be better than that. I should be able to control that,'" Heyman recalled McMahon telling him. "'In my world, pal, there is no sneezing.'"
6. He has almost no hobbies
Russo recalls that despite McMahon's long tenure running the world's largest sports entertainment company, he knows precious little about actual competitive sports.
And on a recent episode of Grantland's Cheap Heat podcast, longtime wrestler Mark Henry goes as far as saying that running WWE is McMahon's only passion.
"He just doesn't have interest in nothing but wrestling," Henry says. "And when you're a billionaire and your sole interest is trying to become a multi-billionaire, then you don't have time to just sit around and watch college football."
7. He's in incredible shape for someone his age
Exclusive Six
Nations Analysis
Get Murray Kinsella's exclusive analysis of Ireland's Six Nations campaign this spring
Become a Member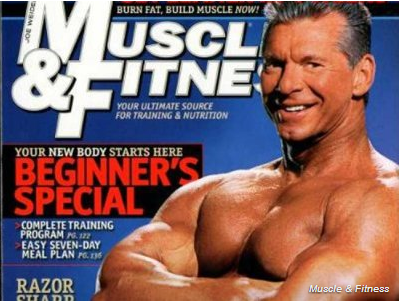 (Vince McMahon works out hard)
McMahon has always taken his physique seriously, and in 2006, at age 60, he was featured on the cover of Muscle & Fitness magazine.
In the cover story, it was revealed that McMahon worked out four days a week and that, at the time, he was capable of leg-pressing 1,200 pounds.
"Everything's better when you're in shape," McMahon is quoted as saying. "Food tastes better. Sex is better. Even breathing is easier."
8. He's even gotten into the ring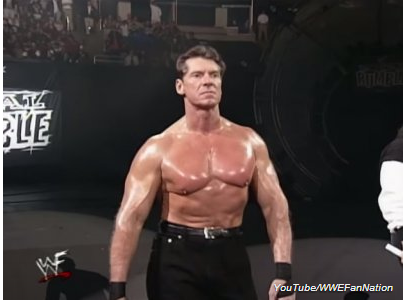 (Vince McMahon takes part in the 1999 Royal Rumble)
Vince McMahon's dedication to his company is so great that he has at times put his body at risk inside the ring.
According to the pro wrestling database Profightdb.com, McMahon has wrestled more than 60 matches, most recently in 2012.
"At 67 years of age, there may be a few people wondering why Vince keeps putting himself out there in harm's way, like when he brawled with CM Punk recently on Raw," Stone Cold Steve Austin 

tells Fighting Spirit Magazine in a 2012 story

. "Personally, I don't think he relies on himself too much — that's just the kind of person he is. I've heard people say that guys of a certain age need to get out of the ring, get off the football field, or whatever, but I would never place any limitations on Vince."
9. He started from the bottom, and he doesn't believe in excuses
After (just barely) graduating from East Carolina University in 1968, McMahon worked selling paper cups and crushing rocks at a quarry, a job he says he spent 90 hours a week at.
Finally, at age 27, he persuaded his father, owner of what was then known as the World Wide Wrestling Federation, to let him promote matches in the far-flung Bangor, Maine, region. The younger McMahon succeeded, climbed the company ladder, and he ultimately took over for his father in the early 1980s.
Soon after, McMahon began growing the company from a regional entity to a national one, and in 1984, he signed megastar Hulk Hogan.
As a result of his rapid ascent from rags to riches, McMahon is quick to dismiss people who say their upbringing has prevented them from becoming successful.
"When I hear people from the projects, or anywhere else, blame their actions on the way they grew up, I think it's a crock of ****," McMahon 

tells Playboy in a 2001 interview

. "You can rise above it. This country gives you opportunity if you want to take it, so don't blame your environment. I look down on people who use their environment as a crutch."