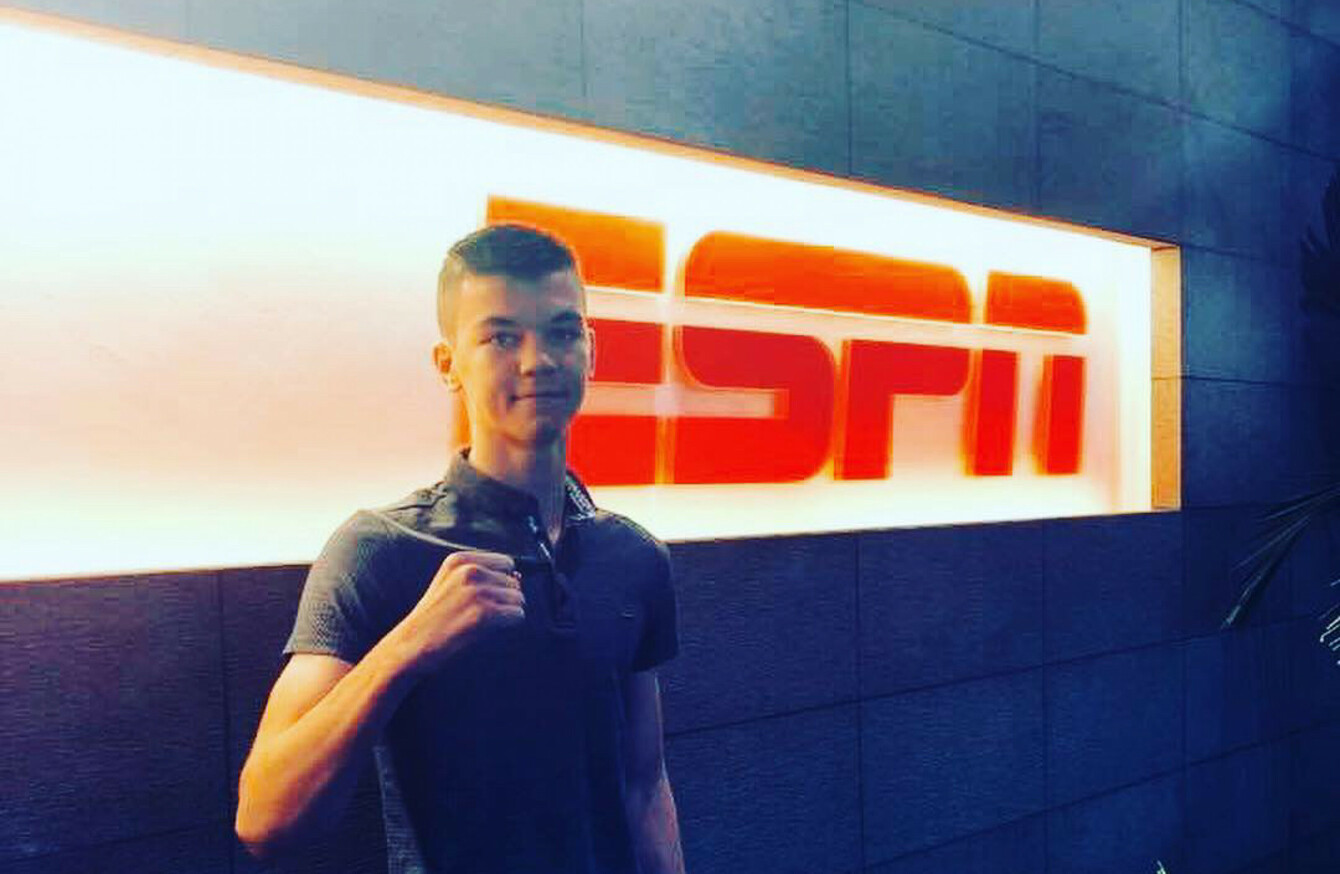 SUCH IS LIFE these days, Aaron McKenna is halfway to ESPN's West Coast headquarters in downtown Los Angeles to do some promo work for Thursday night's fight when he picks up the phone.
"Oscar," he says — that's Oscar De La Hoya to the rest of us — will be in the studio for a chat, as will highly-regarded presenter Bernardo Osuna.
The latter will interview the 19-year-old Monaghan welterweight on his ESPN Deportes show A Los Golpes, a weekly series which, since its inception in 2012, has continuously broadcast chats with some of the biggest Latin American names in the sport of boxing: Julio Cesar Chavez, Canelo Alvarez and Juan Manuel Marquez are but three bona fide icons to have graced the same studio in recent years.
McKenna could scarcely be less Mexican outside of the ring but he has a penchant for fighting like one, and in any case his promotional backing from De La Hoya — the great American-Mexican six-weight world champion — sees to it that he gets an outing on the telly on this particular Monday, just three days shy of his sixth professional bout versus the seemingly hard-hitting Abel Reyes, an actual Mexican, on ESPN Deportes and ESPN2.
None of this should be viewed as a distraction, mind.
"I've already done over 178 rounds of sparring", McKenna tells The42, "so I've been training really hard for this one. I'm in the best shape I've ever been in.
"I don't take any opponents for granted, anyway, but this guy is 4-1 with four knockouts, so he's definitely going to come to fight. I've put in the work to prepare for him.
"This is going to be my first six-rounder, and I'm really looking forward to showing my true boxing skills. Those extra two rounds make a big difference: I've more time to show my skills.
"The long rounds suit me more — I'm a six, eight, 10-round fighter. The further into a fight I go, the better I get, and I'll be as good — or better — in the last round as I was in the first.
It's great to be fighting on ESPN and getting that exposure. I can't wait, like, just to show everyone what I can do. I'm going to make a statement for everyone.
For the eight-time Irish champion, that "everyone" could yet include a 12-time Grammy winner.
'The Silencer' and his older brother, Stevie McKenna — a new addition to the punch-for-pay ranks in his own right — are no strangers to celebrity encounters on their circumnavigation of California's gym circuit. They could scarcely have expected to have their training session observed by 'The New King of Hip-Hop', however, when they went for a knock-around last Thursday morning.
"We just walked into the gym and Kenrick Lamar was there," McKenna says.
He was really sound, so he was — he was talking away. And after he was finished his workout, he watched my brother, Steven, spar and train. It was great to meet him.
"It was unreal, like," the teenager adds. "Unreal.
"He might be going to the fight, so he might! He must have been impressed."
They'll never headline Electric Picnic like their newest fan, but Smithborough's McKenna brothers have lofty ambitions beyond becoming Irish boxing's latest double act when Stevie finally takes to the professional ring in the coming months.
Aaron remains resolute in his pursuit of the goals he set out when he turned professional with Golden Boy Promotions and management group Sheer Sports this time last year: challenge for minor titles in 2019, and chase world honours a year later.
Stevie, who this writer was reliably informed did a number on a highly-touted and heavily-televised U.S. prospect in sparring recently — given it was sparring, the purported victim shall remain nameless — will harbour similar aspirations when he gets off the mark sometime on either side of Christmas.
For now, younger brother Aaron is excited merely to see Stevie step through the ropes where he hopes they can become a force together on America's west coast.
He has one eye back across the Atlantic, however, and a chance both to fulfil a lifelong dream and to repay the support both brothers have received from friends, family and the Irish public, which he describes as "absolutely brilliant altogether."
Thanks to @BoxAdidas for supplying me with my boxing kit. Tune in and watch me live on @espn Thursday night at fantasy springs resort and casino 🥊🇮🇪 #adidas #adidasboxing #boxing #fastisfeared pic.twitter.com/89EcFzyVhk

— Aaron Mc Kenna (@Aaronmckenna99) November 6, 2018
"It'll be unbelievable to have two brothers from Monaghan fighting over here in Los Angeles, in California," says 'The Silencer.'
"It's great to have Steven over here because we're good for each other, we make training competitive for each other. It'll be better when he gets fighting, of course.
"But I wouldn't say he's sick of me getting attention or anything like that. He's just looking forward to getting in the ring himself.
Hopefully sometime we can fight on the same card — that'd be unbelievable. Hopefully, one day, myself and Steven can get back home and fight in Ireland in front of all of those people that have supported us, all the Irish fans.
"My goal, anyway, is to get back to fight in St Tiernach's Park to fight for a world title. And it'd be great to have him there too."
Subscribe to our new podcast, Heineken Rugby Weekly on The42, here: