LET'S BE HONEST.
Until approximately 9.40pm last night, the 2016/17 NFL playoffs were a largely dull affair.
The six home teams did not just win, they won by an average of 18 points. This was a pale imitation of what the NFL playoffs were supposed to be; shadow-boxing where the only punches thrown were jabs.
And then Aaron Rodgers knocked us off our feet.
We shouldn't be surprised, of course. Rodgers has a lot of form in this regard. Indeed, you could argue that the Packers quarterback has now been involved in four of the top-five playoff games this decade.
First there was the 51-45 overtime loss to the Cardinals in 2010′s Wild Card round. Rodgers threw for 423 yards and four touchdowns before fumbling in the extra period and watching helplessly as Karlos Dansby returned the ball 17 yards for the game winning score.
There was the 2014/15 NFC title game, when Rodgers wasn't himself, but still helped Green Bay into a 16-0 lead at half-time only for Seattle to fight back and take a three-point lead with less than two minutes remaining.
On basically one leg, Rodgers lead a game-levelling field goal drive before he was forced to watch from the sideline as Russell Wilson found Jermaine Kearse for the game-winning touchdown: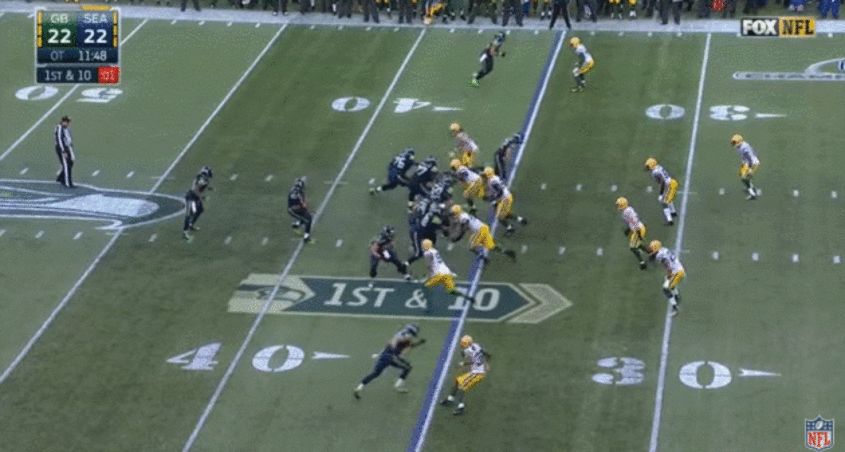 NFL NFL
And then, of course, there was last year when Rodgers threw two 'Hail Mary' style passes — the second of which found Jeff Janis in the end zone from 41 yards with five seconds remaining — on the same drive to force overtime in their NFC Divisional Round game with the Arizona Cardinals.
Again, #12 could only pace up and down the touchline as, on the first play of overtime, Carson Palmer dodged a sack, threw across his body, and found Larry Fitzgerald before the veteran wideout dodged several tacklers to take the ball 75 yards for the win.
You can see a pattern here. Aaron Rodgers plays like the all-time great quarterback we know he is, provides us with the game of the postseason, only to lose in the extra 15 minutes.
So you can see why the 33-year-old former University of California player was so keen not to let last night's game go to overtime. In fact, he was so determined he threw what might be the best pass in postseason history.
There have been more famous ones, of course. From the Pittsburgh Steelers' 'Immaculate Reception' in 1972, Dwight Clark's 'The Catch' ten years later and, most recently, David Tyree's 'Helmet Catch' against the Patriots in Super Bowl XLII.
But there are none better.
With so much going on, it's easy to forget the situation. Rodgers is just after taking a massive sack from Dallas safety Jeff Heath. I still have no idea how he was blindsided like that and managed to hold onto the football.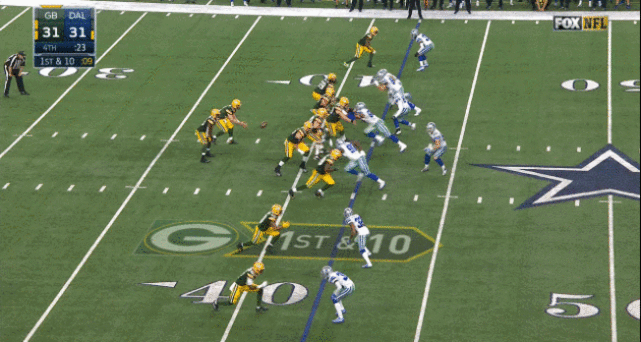 NFL Gamepass NFL Gamepass
After Dallas broke up the next play, the Packers were left with a third-and-20 from their own 42-yard line and just 12 seconds left on the clock.
Exclusive Six
Nations Analysis
Get Murray Kinsella's exclusive analysis of Ireland's Six Nations campaign this spring
Become a Member
Indeed, the only thing he had in his favour were two timeouts meaning he could at least throw to the middle of the field.
I'm not sure there's another quarterback in the NFL who makes the throw that follows.
I know there's not another quarterback that would design the play in the huddle themselves; like they're playing some sort of pick-up game with friends at Thanksgiving.
There are so many reasons the pass shouldn't work. Rodgers is scrambling to his left and throwing across his body, which automatically makes it a more difficult throw.
Then there's the fact that Jack Crawford has, eventually, beaten his block and significantly narrows the throwing window.
Finally, there's Jared Cook, a former third round draft pick who only started five regular season games for the Packers this year.
However, without Jordy Nelson, it was the 29-year old that Rodgers turned to, despite the former Titan and Ram being so perilously close to the sideline and a fourth down punt.
I can't overstate how difficult this catch is. I mean, look at his feet:
Crucially for Rodgers and the Packers, Mason Crosby did his job (technically twice) and nailed the game-winning field goal preventing his quarterback from having to endure any more overtime heartache.
And his reward? A chance to take part in a shoot-out with the league's most potent attack in their final-ever home game in their current stadium.
But, when he's shown all he needs is the ball back with 35 seconds left, it might take even more than what the Falcons have to offer to stop Rodgers.
Whatever happens next week, last night's game will take some beating.
The42 is on Instagram! Tap the button below on your phone to follow us!