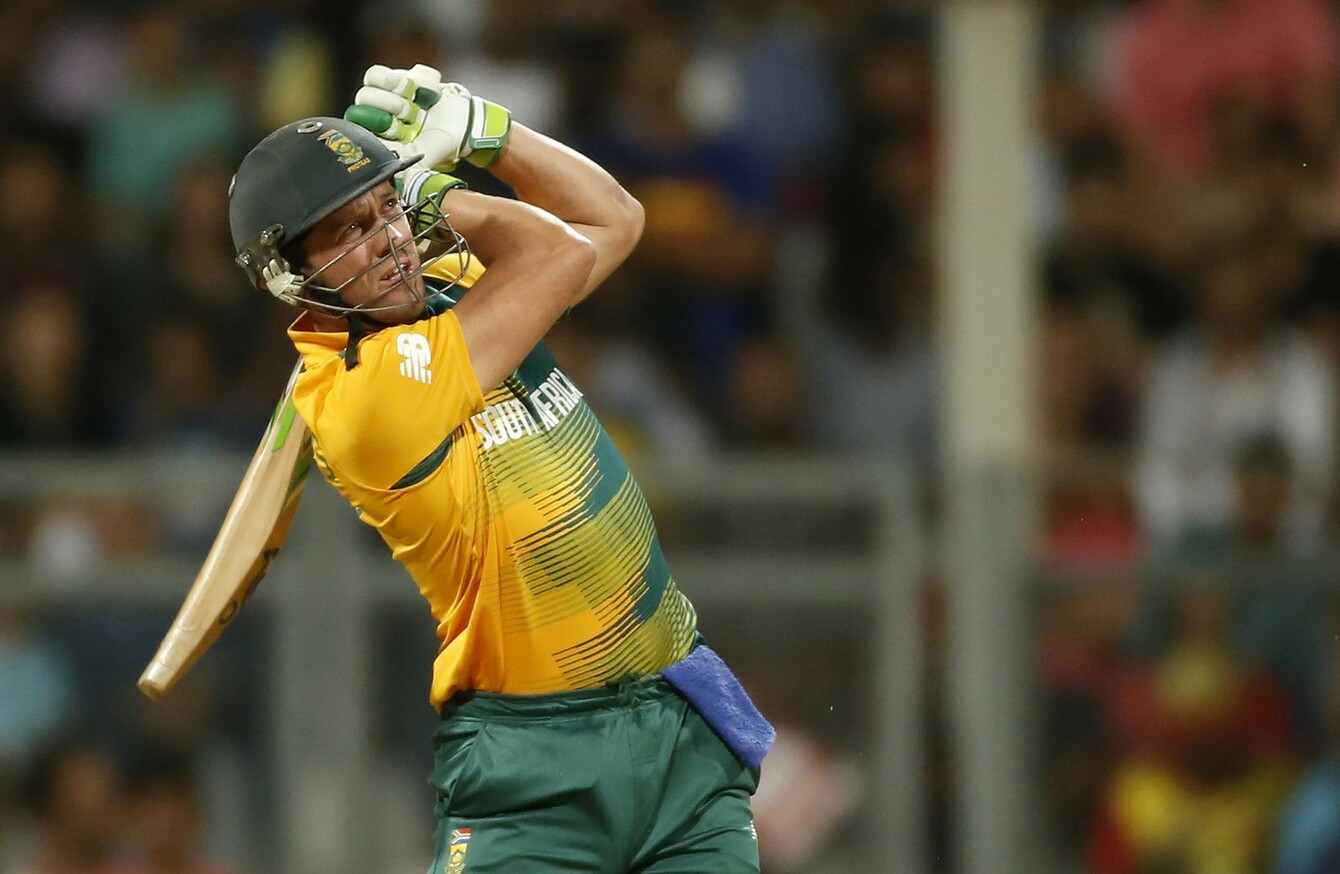 Image: Rajanish Kakade
Image: Rajanish Kakade
BELOW IS A passage from South African cricketer AB de Villiers' autobiography in which he discusses the importance of religion and faith in his life.
I strongly believe this book is not my story. It is the story of what God has planned and realised through me. I hope it can be read and understood as tales of His achievements, certainly not my personal achievements, and I would really like people to appreciate that whatever glory there may be needs to be clearly recognised as His glory, not mine.
These lines will make some people feel uncomfortable. I'm sorry. Religion can have that effect. I understand it is a personal and private matter, and I certainly do not wish to ram my convictions down anyone's throat. With that said, however, my faith and my relationship with God are incredibly important to me and, after long consideration, and plenty of prayer, understanding the downside, I am not afraid publicly to recognise God's role in my life.
This doesn't mean I see myself as better than anyone else. I am not. This doesn't mean I see myself as morally superior to anyone else. I certainly am not. What it does mean, however, is that I try very hard to be receptive to the teachings of the Bible, that I am sincerely committed to the Word of God and that I aspire to lead my life in that way.
Enjoying the peace of being alone in my car, driving home from the Wanderers to Pretoria that Sunday evening, I started to look at the trees and the clouds, and began to feel sentimental, emotional even.
Quietly, privately, I recalled the two moments in my life when God spoke directly to me, two specific moments I have not previously described to anyone, not even to my parents.
The first took place one evening in January 1995. We had been having a braai with our friends, the Erasmus family, at their farm, and we were heading home on the road from Settlers back to Warmbaths. My father was driving the Isuzu Frontier, with my mother in the passenger seat and my elder brothers Jan and Wessels in the back seat of the double cab. Aged 10, the youngest of three boys, I was alone, lying on a mattress in the back of the bakkie.
Source: TOP10 INSANE - Cricket/YouTube
Thinking about nothing in particular, staring at the stars, I suddenly started sobbing and then properly crying. It felt very strange. We were all Christians and, as a family, we generally went to church on a Sunday, but all of a sudden, lying on my back, I was overcome with a sense of God's presence. Nothing like this had happened to me before.
What was He saying?
I tried to make sense of everything and decided He was telling me what sort of person He wanted me to be. He wanted me to stay humble and always to appreciate what I have. Maybe He saw me as a typical big-shot hero at primary school, selected for all the sports teams, strutting around the playground at break, thinking I was something special. But here, in the back of the bakkie, it felt as if I was being brought heavily down to earth.
The second moment took place 14 years later on a boat in Sydney Harbour when, aged 24, I was a member of the South African cricket team celebrating our first series victory in Australia in the modern era.
We had won the second Test in Melbourne by nine wickets, taking a decisive 2-0 lead in the series, and had immediately flown north to Sydney. The squad enjoyed what could be described as an unrestrained all-nighter, and some of us returned to our hotel around 6 am. For brothers Morné and Albie Morkel, Dale Steyn, Neil McKenzie and me, that meant only around 40 minutes' sleep before we needed to head out again, joining some Australians who had invited us on a fishing trip.
By 8 am, we were boarding the boat. It would be fair to say we were not exactly alert. The hangovers were universally severe. I was man down, and my condition soon deteriorated because I almost always suffer from motion sickness on boats. The organisers had originally said we would be staying in the harbour and conditions would be calm, but someone suggested the fishing would be better if we headed out to the open sea. My heart sank at the prospect but, ever willing to go with the flow and be the 'team man', I said nothing and resolved to suffer in silence.
Maybe I didn't look too healthy as the boat started to soar and dive on an ever-increasing swell.
'Are you sure you'll be all right?' Morne asked me.
'Yeah,' I replied, lying.
Before long, I made my way to an upper deck and found a place where I could lie down on my own. There was absolutely no protection from a burning sun, and I was severely dehydrated, feeling terrible and getting worse by the minute. One hour passed, then another, and another …
Morné popped up to check on me. 'You OK?'
'It's no problem. I'm fine,' I lied, again.
What are they
really like?
Rare insights on sport's biggest names from the writers who know them best. Listen to Behind the Lines podcast.
Become a Member
Then, all of a sudden, out of the blue, something hit me and I began crying uncontrollably. I lay there, distantly aware of the excited banter among the fishermen on the deck below, crying my eyes out, once again feeling as if my body was being filled with the Holy Spirit.
The core message seemed essentially the same as it had been on the back of the bakkie all those years before, just as blunt and just as uncompromising. He seemed to be saying: 'What on earth do you think you are doing? Who on earth do you think you are? Some kind of hot-shot international cricketer, scoring runs and winning Test series with the Proteas, thinking you are special, getting drunk too often, taking yourself too seriously? You need to stay humble. You need to make time for the people who are close to you – and you need to appreciate what you have been given.'
I lay there on that boat, alone, sobbing, stunned.
The boat eventually returned to harbour and I made my way back to the team hotel. As soon as I reached my room, I immediately phoned my mum and dad back in South Africa, and told them how much I loved them and appreciated everything they had done for me.
For a second time, He had spoken, and I had listened.
As my life continues to unfold, I know how fortunate I am to experience moments of glory, moments like the one-day international against the West Indies at the Wanderers on Sunday, 18 January 2015, moments when everything falls into place and when everything goes my way, moments when I am being showered with praise and compliments.
These are great moments. I am grateful, but I never need to be reminded that it's never my glory. It's all His glory. I think I understand.
AB de Villiers – The Autobiography is published by Macmillan. More info here.
The42 is on Instagram! Tap the button below on your phone to follow us!