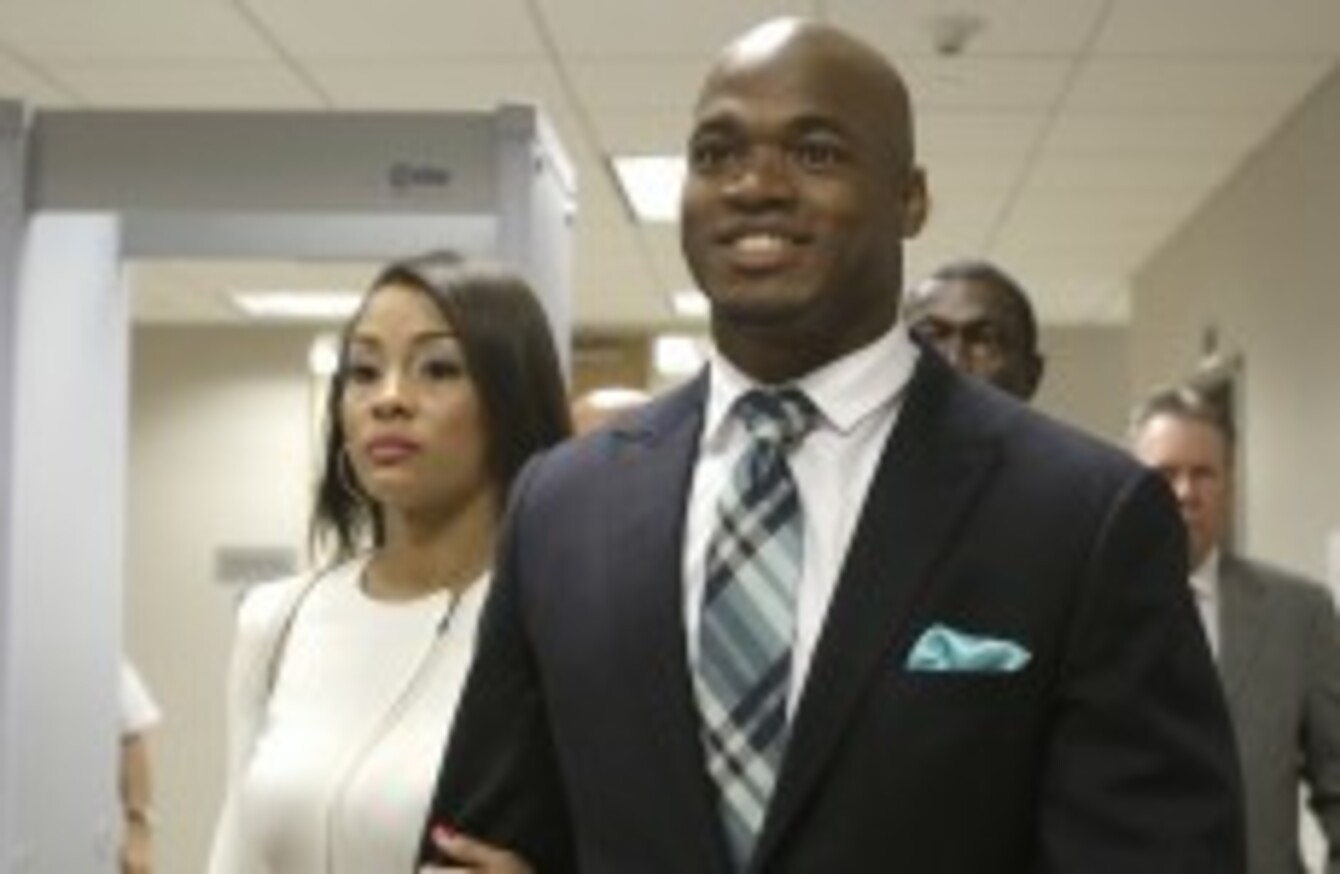 Adrian Peterson and his wife Ashley Brown Peterson leave the courthouse in Conroe, Texas.
Image: AP/Press Association Images
Adrian Peterson and his wife Ashley Brown Peterson leave the courthouse in Conroe, Texas.
Image: AP/Press Association Images
MINNESOTA VIKINGS RUNNING back Adrian Peterson will avoid jail time after reaching a plea agreement with prosecutors in the child abuse case against him.
Peterson, 29, was facing felony charges of reckless or negligent injury to a child after he was accused of whipping his four-year-old son with a tree branch.
The NFL star could have faced up to two years in prison and a $10,000 fine if he were convicted of the felony charge.
Instead, he pleaded no contest to a lesser charge of misdemeanor reckless assault and Texas judge Kelly Case said during a scheduled pre-trial hearing the deal had been approved.
Peterson was fined $4,000 and ordered to perform 80 hours of community service.
"I truly regret this incident," said Peterson outside the Montgomery County courthouse after the agreement was reached.
"I take full responsibility for my actions. I love my son more than any one of you can imagine.
"I am anxious to continue my relationship with my child. I am glad this is over… so me and my family can move forward."
Peterson has been on the NFL commissioner's exempt list since he was indicted, barred from taking part in Vikings team activities but still drawing his salary.
It was not immediately clear if Peterson will face further sanctions from the Vikings or the league in the wake of the plea deal, or whether he might quickly be reinstated and able to play.
"We will review the matter and make a determination," NFL spokesman Greg Aiello said in a written statement. "We cannot provide a timetable."
As reports of the plea deal circulated early Tuesday, Vikings general manager Rick Spielman was cautious in discussing Peterson's possible return to the team this season.
"We'll keep all of our comments under the Adrian situation until it's appropriate to speak," Spielman said. "And I'll just leave it at that."
But support for Peterson was high in the team locker room.
"We all know the kind of person he is, and we've stood behind him this whole time," said tight end Kyle Rudolph.
"Anytime you can have a veteran back in that locker room, the leader that he is in the locker room, out on the practice field would be huge for us."
Rookie quarterback Teddy Bridgewater, who got the starting nod as the team was reeling from the charges against Peterson, said he thought the longtime star would be welcomed back by his team-mates.
"I've only spent such a short period of time with Adrian, but as far as the other players have told me, he's nothing but a great guy. If he does come back, I'm pretty sure everyone will still take him in."