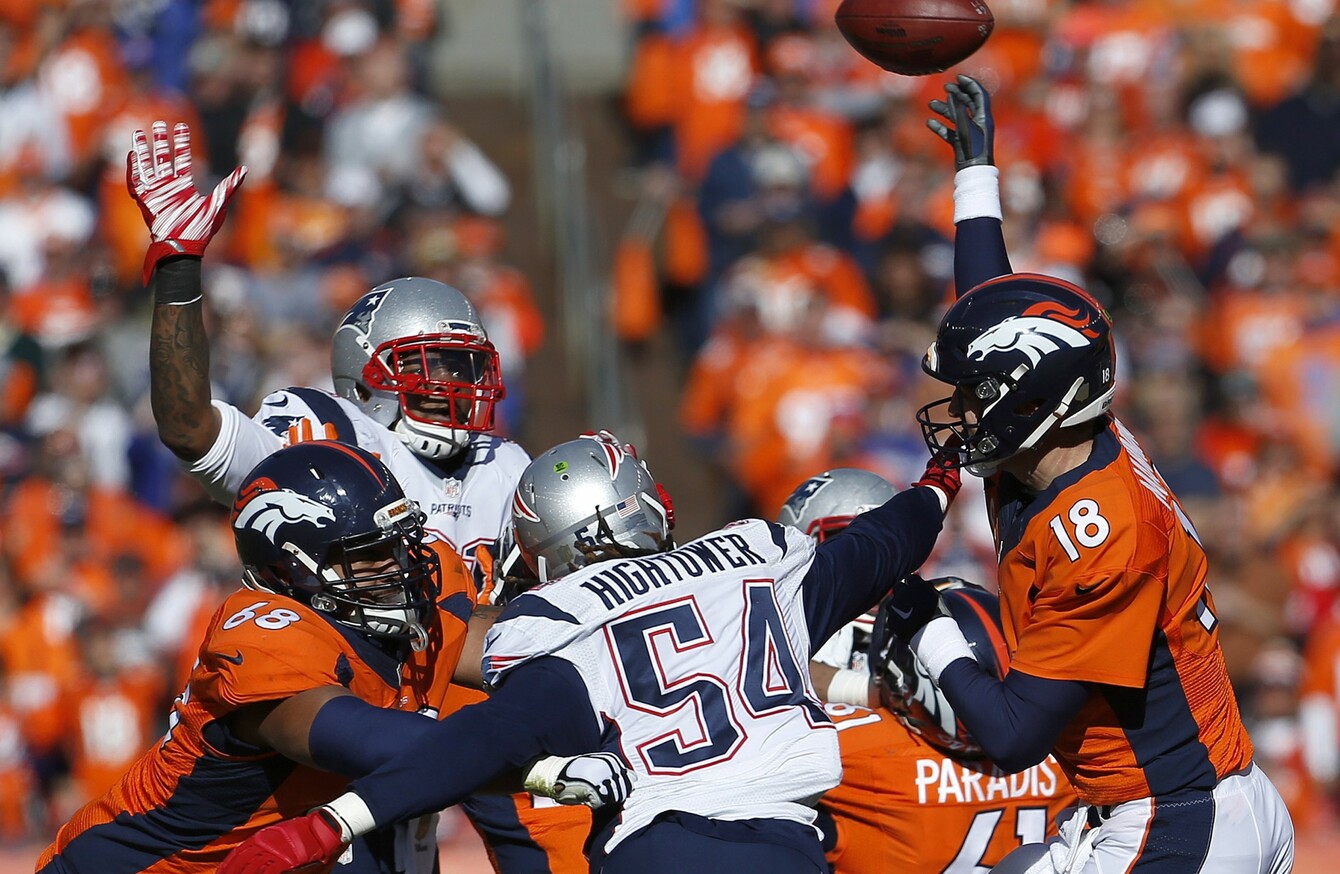 The Broncos and Patriots are going head to head this evening.
Image: Joe Mahoney
The Broncos and Patriots are going head to head this evening.
Image: Joe Mahoney
New England Patriots 18 @ Denver Broncos 20
THE DENVER BRONCOS are heading to Super Bowl 50 after taking full advantage of a rare missed extra point by New England Patriots kicker Steve Gostkowski to secure a 2-point win in the AFC Championship Game this evening.
Von Miller and the Denver defence did a phenomenal job on limiting Tom Brady's New England offence, hitting the quarterback no fewer than 23 times on Sunday and forcing two turnovers, but it was Gostkowski's first missed extra-point in over 520 attempts that would prove decisive.
After forcing the Patriots to punt on their opening possession, Peyton Manning turned back the years to the Broncos on an 87-yard touchdown drive to put the first scores on the board.
On a drive that featured lots of short, sharp passing, Manning ultimately benefited from a 50/50 defensive pass interference call, before splitting the Patriots' Cover-2 defence to find tight end Owen Daniels down the seam for a 21-yard score.
However, after a couple of drives came to nothing for both teams, the Patriots took advantage of an error from running back Ronnie Hillman who dropped this backwards pass, turning the ball over to New England.
https://vine.co/v/iihrHLzujVm
With great field position to begin with, Steven Jackson ran in for the touchdown but Steve Gostkowski missed the extra-point, his first miss to the season, to leave the game a 6-7 in favour of Denver.
https://vine.co/v/iihgu70r65e
After Tom Brady threw the game's first interception, picked off by Von Miller, Manning again found Daniels in the endzone for a 14-6 lead:
Both sides kicked a field goal late on in the half to send Denver into the break 17-9 ahead.
The second half was a war of attrition with the sides splitting a pair of field goals before the Patriots got the ball back with one minute, 52 seconds remaining. Brady drove his team down the field, eventually hitting Rob Gronkowski on for a touchdown to make it 18-20 with 12 seconds remaining:
However, the Pats would fail on their two-point conversion attempt and the onside kick and so it is Denver going back to their second Super Bowl in three years.