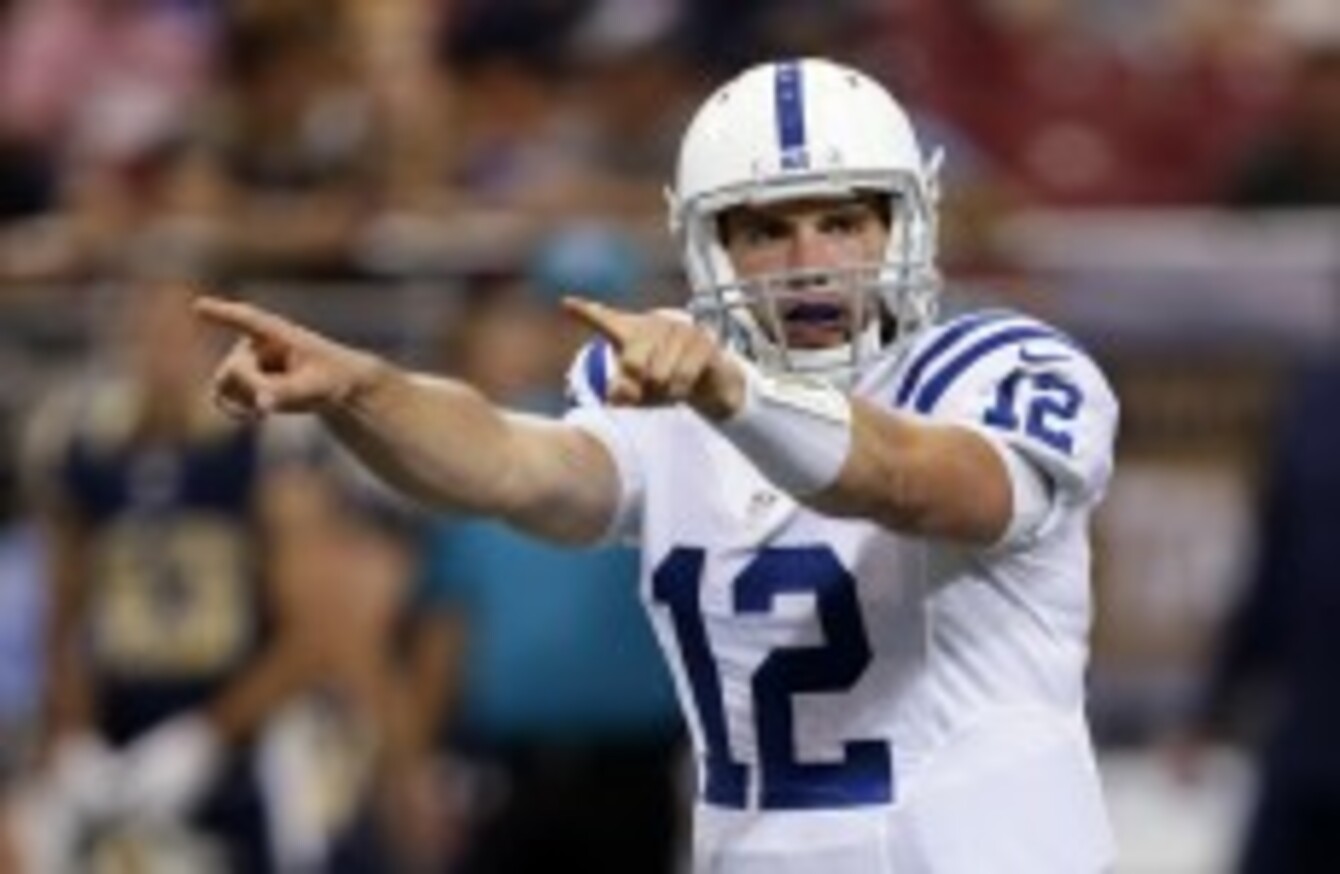 Andrew Luck should win his first AFC Championship this season.
Image: AP/Press Association Images
Andrew Luck should win his first AFC Championship this season.
Image: AP/Press Association Images
IT'S THE CONFERENCE that has provided two of the last three Super Bowl champions and many people are tipping the New England Patriots to become the first team since, well, the New England Patriots in 2005 to defend the Vince Lombardi trophy.
But as we'll see, the path to Super Bowl 50 is far from clear in the American Football Conference with so many cooks looking to spoil Tom Brady's broth.
AFC East
[image alt="Panthers Patriots Football" src="http://cdn.thejournal.ie/media/2014/08/panthers-patriots-football-630x471.jpg" width="630" height="471" title="" class="aligncenter" /end]
1. New England Patriots (12-4)
At the time of writing Tom Brady looks set to miss no game time even though the NFL is appealing the over-turning of his four-game suspension. But it really doesn't matter. The Patriots would win 11 games without him and they'll win 12/13 with him, more than enough to claim a 12th divisional title in 13 years.
2. Miami Dolphins (10-6)
The Fins made a massive move to improve their defence over the summer when they signed Ndamukong Suh to a monster deal. On offence, Miami will be much more comfortable in the second year of Bill Lazor's Chip Kelly-esque system but can you really see Ryan Tannehill lifting the Vince Lombardi Trophy?
3. Buffalo Bills (8-8)
If there's one thing we know about new Bills head coach Rex Ryan it's that he's a gifted defensive coach. However, though Buffalo has the potential to be a top-five defence — as Jets fans know — Ryan has never been someone to get the best out of his quarterbacks and the Bills biggest problem this year will be an inability to put points on the board.
4. New York Jets (7-9)
What better way to prepare for a new season than having a bit-part player punch your starting quarterback and break his jaw meaning he'll miss the first six weeks of the season? The Jets gave up more than 25 points per game last year while scoring less than 18. They're unlikely to be much better this season.
AFC North
[image alt="Bengals Dominant Line Football" src="http://cdn.thejournal.ie/media/2014/08/bengals-dominant-line-football-630x420.jpg" width="630" height="420" credit-source="AP%2FPress%20Association%20Images" caption="The%20Bengals%20and%20Steelers%20will%20battle%20it%20out%20with%20the%20Ravens%20for%20AFC%20North%20victory." class="aligncenter" /end]
1. Baltimore Ravens (10-6)
The Ravens may have the second best offensive line in football but could well experience some teething problems as they attempt to adapt to a new system after losing offensive coordinator Gary Kubiak. On defence, Baltimore may have lost Haloti Ngata but it's a sign of their depth that they still have one of the best front sevens in the league.
2. Pittsburgh Steelers (10-6)
The Steelers are probably the best team in the AFC North but it won't be enough for them to win the division this year. With potentially the best wide receiver (Antonio Brown) and running back (Le'Veon Bell) in football, there's no doubting their attacking strengths. However, the Steelers finished 27th in pass defence last year and arguably got worse this off-season and that will come back to haunt them.
3. Cincinnati Bengals (9-7)
The Bengals certainly have the attacking weapons in AJ Green, Tyler Eifert and Mo Sanu to take on the Ravens and Steelers but their inability to block the run on defence has not been addressed this summer. Coupled with the second most difficult schedule in the league and it's going to be a year without the playoffs for Cincinnati.
4. Cleveland Browns (4-12)
A questionable quarterback situation, two of the league's most boring running backs and the signing of two receivers — Brian Hartline and Dwayne Bowe — who are both coming off the worst year of their career. If the Browns average 16 points per game they'll be doing well.
What are they
really like?
Rare insights on sport's biggest names from the writers who know them best. Listen to Behind the Lines podcast.
Become a Member
AFC South
1. Indianapolis Colts (13-3)
Three years ago, the Colts went 2-14 and looked a franchise in disarray. Since the arrival of Chuck Pagano and Andrew Luck, however, their record is 33-15. We know they can do it in the regular season but this is the year they need to make a deep playoff run. Anything less than a Super Bowl appearance will be seen as a disappointment for the Colts.
2. Houston Texans (9-7)
After their brilliant appearance on this year's Hard Knocks there may be a lot of fans cheering on the Texans as their second team. However, while their defence of JJ Watt, Vince Wilfork and Jadeveon Connolly will terrify offensive lines throughout the NFL, Brian Hoyer just does not have the skillset to lead a depleted offence to the post-season.
3. Tennessee Titans (6-10)
Last year was an absolute disaster in Tennessee so at least they can comfort themselves with the knowledge it can't possibly be as bad again. Ken Whisenhunt says he's adapted his offence to suit new quarterback Marcus Mariota but it's defence where the main concerns still lie. Their secondary is one of the worst in the NFL though so this team could be involved in some shootouts this season.
4. Jacksonville Jaguars (5-11)
The Jags are one of those teams for whom, if everything goes right, they can finish with six-eight wins. However, it's been a long time since that's happened for Jacksonville and losing their top draft pick — Dante Fowler — for the entire season is not a good sign. Julius Thomas was the big addition on offence but he'll miss a month following finger surgery. When your luck's out, eh?
AFC West
1. Kansas City Chiefs (10-6)
The key to the Chiefs having the sort of season we expect are the results of their first four games. Match-ups with the Texans and Packers, as well as home fixtures with the Broncos and Bengals, could lead to anything from a 0-4 to 4-0 start. The pieces are in place on defence — Derrick Johnson, Justin Houston, etc — to keep games tight but we'll need to see the offence bring a lot more than they did last season if they're to emerge with a winning record.
2. San Diego Chargers (9-7)
The Chargers are one of those teams that could finish anywhere between 7-9 and 10-6 and a lot will hinge on how much of the workload rookie running back Melvin Gordon can take off quarterback Philip Rivers. It's hard to get excited about their defence though so it's unlikely San Diego will be going to the postseason.
3. Denver Broncos (9-7)
A new offensive scheme, an offensive line with more holes than Tom Brady's deflategate defence and the loss of Julius Thomas were already enough to count the Broncos out this season. Then we come to 39-year old quarterback Peyton Manning who finished last season like 49-year old quarterback Peyton Manning. The Broncos defence is great, but even that won't be good enough.
4. Oakland Raiders 6-10
They Raiders will be more competitive this season than they have been in a long, long time. However, as exciting as the likes of Amari Cooper is on offence and Kahlil Mack is on the other side of the football, they can't do it on their own. A steady start to the Jack Del Rio era would be seen by many Oakland fans as a good return.
Playoffs
Colts
Patriots
Chiefs
Ravens
Steelers
Dolphins
Disagree? Of course you do. Let us know your thoughts in the comments below.