AN ALL-IRELAND FINAL on the biggest stage in Gaelic games on Sunday, and Tipperary's Aishling Moloney couldn't be more laid-back.
The week run-in to All-Ireland final day is always a hectic one. A litany of off-the-field commitments — from photo calls and making sure family and friends have tickets to media interviews — it's all-go. But the 19-year-old sharpshooter is happy to sit and chat.
This week also marks her return to college. Back to DCU for her second year, where she studies PE and Biology teaching.
"Even this week, it keeps your mind off things, being back," Moloney tells The42 at the media day in Croke Park, looking out on the field where her side will do battle with Tyrone in the intermediate decider on Sunday.
There's a lot of hype around Shane Ronayne's charges going into the clash. 2017 has been a clean sweep to date — unbeaten in all competitions, Lidl Ladies National League Division 3 champions and Munster victors.
They've clocked up a tally of 51-193 in 14 games this year, and of that Moloney has chipped in with 13-40 of that.
But the job isn't finished yet. The pinnacle would be winning the title on Sunday, especially after losses in 2008 and 2013.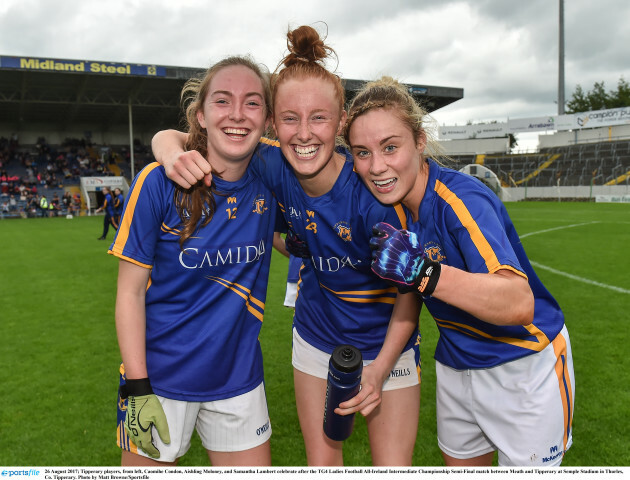 Matt Browne / SPORTSFILE Matt Browne / SPORTSFILE / SPORTSFILE
"Personally, I haven't really thought about it that much, but we are looking forward to it as a group," she smiles.
"It's new for some of the girls, some of the girls haven't played here (Croke Park), some girls have back in 2013 against Cavan. I played here with my club.
"People are saying it's a bit of an advantage but to be honest, I don't think it's much myself. The best team on the day will win."
That day four years ago, the Munster side fell short at the hands of the Breffni county. The Cahir dual player remembers it well. She was in the stands, watching. 15-years-old at the time.
"A sickener," she recalls. "I remember looking on to some of the girls like Jen Grant though, looking up to them, getting autographs of them.
"Even getting an autograph off my cousin when I was younger in the dressing room! I've never told anyone that because I think they've forgotten, I didn't want to bring it up.
"Playing alongside some of them girls now like Jennifer Grant, Mairead Morrissey… I really look up to them, as people."
Her playing experince in Croke Park was more positive, however. Moloney starred, and tagged on five points in a Player of the Match-winning display as Cahir were crowned All-Ireland intermediate club camogie champions.
Looking back through the pictures say it all, and it's an occasion Moloney will cherish forever. Family values are hugely important to her, and to have her Dad involved with the team made it all the more special.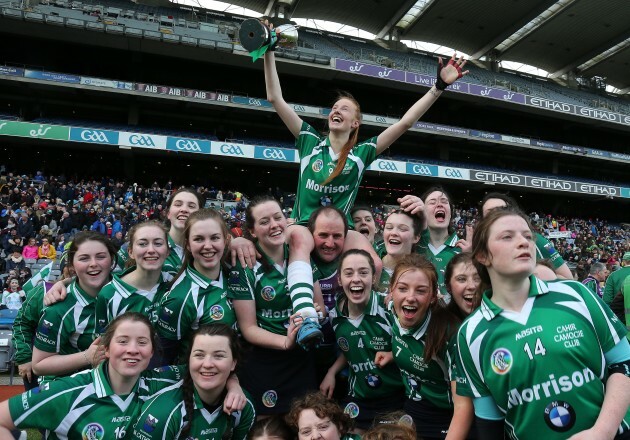 Lorraine O'Sullivan / INPHO Lorraine O'Sullivan / INPHO / INPHO
"I'll never, ever forget that day. Ever. Everyone always goes back to club, county comes, but everyone always goes back to their club. That was definitely up there with the top so far.
"Having my Dad on the sideline, the two of us just jumped to each other, crying. They're emotional moments. Seeing grown men crying and being with my parents on All-Ireland final day, collecting the cup, it was absolutely brilliant."
Living in a football-mad house in Dublin — her housemate Sarah Rowe is lining out with Mayo in the senior final — there's no shortage of GAA-talk around the dinner table.
And it's the same back home in Tipperary. She laughs that her mother mightn't have as prominent of roots in sport as her Dad's side, but her admiration for her parents is clearly evident.
"She says she played a bit of rugby but she can't even catch a ball at home when I'm throwing it to her so I don't know what she's talking about!" she grins.
"Dad now, is a big hurling man. Mad to get me playing more hurling but I'm as stubborn.
"There is a big GAA family there, but I suppose I've grown up into it. It's no different to me, in say going to mass every day of the week as going training.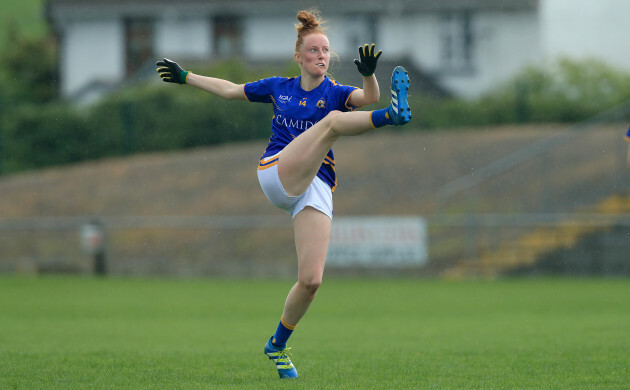 Donall Farmer / INPHO Donall Farmer / INPHO / INPHO
"It was always in my dream to play for Tipp. When I was smaller out in the back yard, kicking with my Dad, about five, against the wall. Him, as proud as punch looking at me."
Much to her Dad's disappointment, this year she hasn't had the chance to play a whole pile of the small ball. County football with Tipp has been a huge commitment alone, without considering two codes at club level, college, work and life in general.
She's also had a niggling injury to deal with — damage to her shoulder picked up against Wexford in the quarter-final.
"I didn't think I'd make it back for the Meath game (semi-final) and just about did. I really injured my shoulder that day.
"I went into the doctor the next day, I'd to tell him I had to lie down, I nearly fainted with the pain. He was jerking it every way.
"Going forward now, there is a slight thing there but we'll worry about that after the game. The adrenaline will kick in and we'll know no different in the match."
In that semi-final, the adrenaline fairly kicked in as she hit 1-4. But the Royals pulled off a big comeback to give Moloney, and Tipp a right scare. Like the 'big family' they are, the Munster champions held on with pure grit and determination to book their coveted final place though.
An 'intense and physical' affair she says, and she's expecting more of the same from Tyrone on Sunday.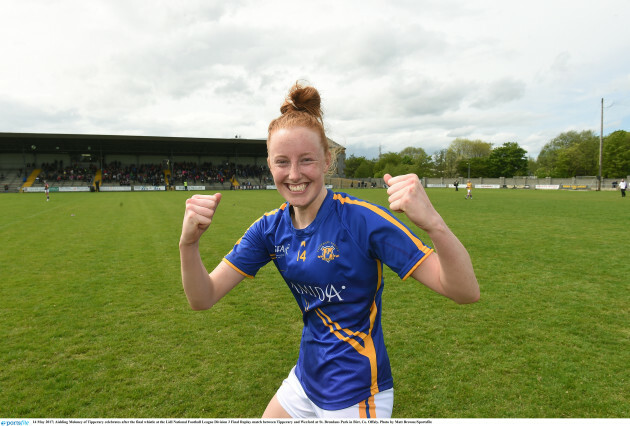 Matt Browne / SPORTSFILE Matt Browne / SPORTSFILE / SPORTSFILE
"An extremely tough challenge," she agrees. "Tyrone are down from senior. The competed in the All-Ireland senior final with Dublin a few years ago. I'm sure they have some of those girls still playing.
"We're not taking this one (lightly) at all. We know the big, massive challenge that's ahead of us. A challenge is what everyone wants though. It's not going to be an All-Ireland final if it's not going to be a challenge."
Of course, all focus is on Sunday. But Moloney also has a senior county final the week after to look forward to with the Cahir footballers.
So, she can't go too mad on Sunday night either way?
"Oh, I dunno," she grins, in typical laid-back Moloney fashion "We'll get it in someway!"
Subscribe to The42 podcasts here: